Type of Tour
Hiking
Nature
Walking Tour
Adventure

Covid update
Samaria Gorge
Hiking Through Raw Beauty
About This Tour
Put on your walking shoes for a full-day Samaria Gorge hike in Crete. Traveling with a comfortable air-conditioned coach, we head into Crete's White Mountains to the entrance of the spectacular gorge, one of Europe's longest. 
Starting our trip to Samaria Gorge we pick you up from your hotel on the east side of Crete, early in the morning and start the route towards Omalos. In the bus there will be a tour guide who will provide you with useful information about the place, the history, the formation of the White Mountains, the flora, the fauna and of course some tips for the safety and regulations inside the gorge. 
During the trip we have a short refreshment stop and then we follow the way to Xyloskalo which is the entrance to the Gorge. The hiking is free which means you can keep your own pace while crossing the gorge. Finishing the Samaria Gorge hike you will reach the amazing beachside village of Aghia Roumeli which is one of the most unspoilt beaches of South Crete. Our Coach will be waiting for you either at Sfakia or Sougia where you will reach by taking the boat from Aghia Roumeli.     
The gorge of Samaria is one of the biggest in Europe. It begins from the base of the White Mountains and ends up to the Libyan sea at Agia Roumeli village. Its length is 16km. The gorge and the area surrounding it contain unique species of flora and fauna and in the gorge you will find natural springs with drinking crystal clear cold water. Also, there you can see the famous Cretan Wild Goat (Capra aegagrus creticus) also known as Kri Kri.
Finally our comfortable bus will return us back to the hotel, late in the afternoon.
Free cancellation 24 h before the tour
Also included
Pick-up & drop-off transportation
Professional certified guide
Boat tickets
Excluded
Lunch and drinks
Tips and gratuities
Know Before You Go
Hiking required at various times
Although there is water stop in the gorge, its advised to bring your water with you for the way
What You May Need
Walking shoes
Camera
Sun hat
Sunscreen
Beach towel
Swimwear
Recyclable water container
More Photos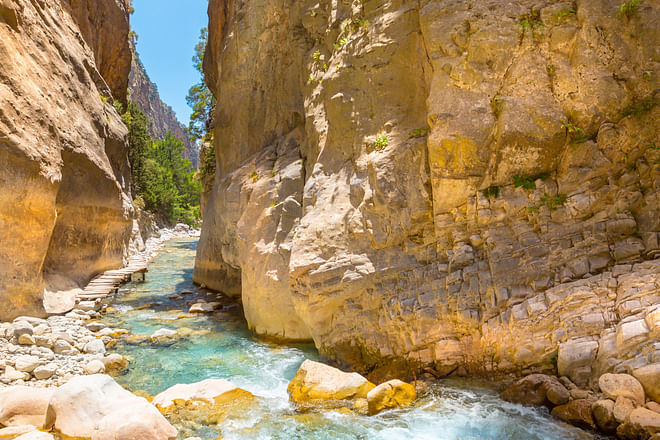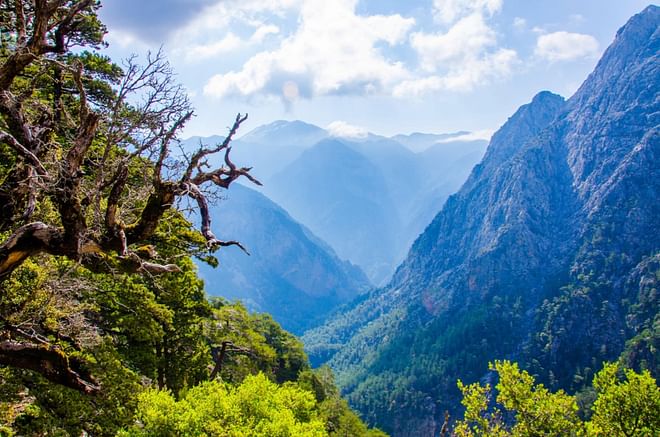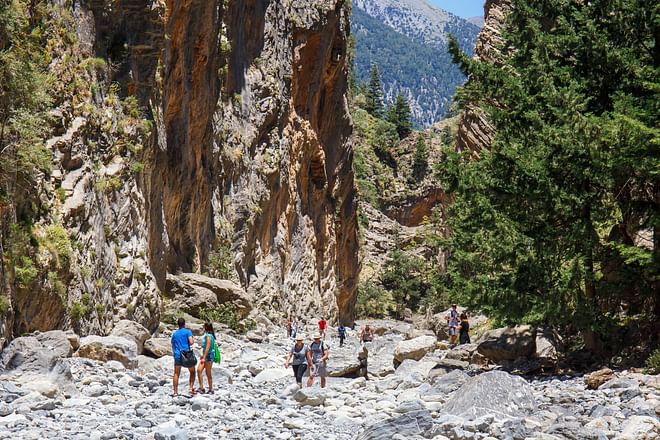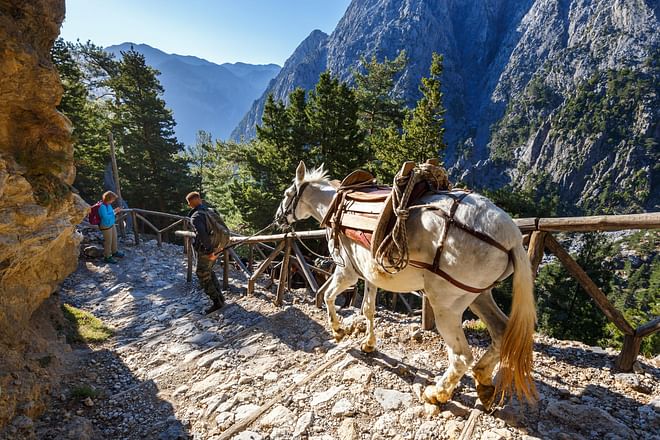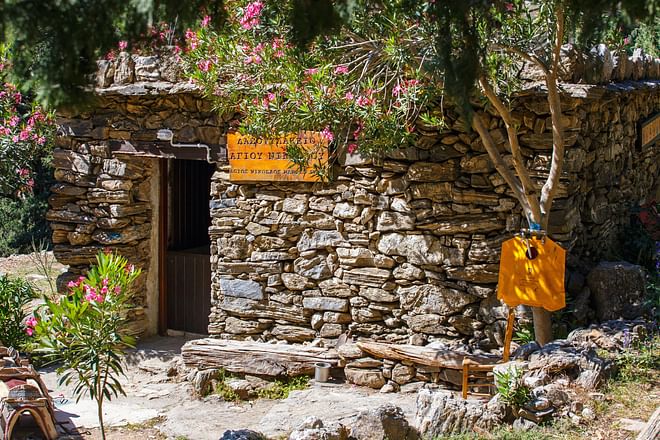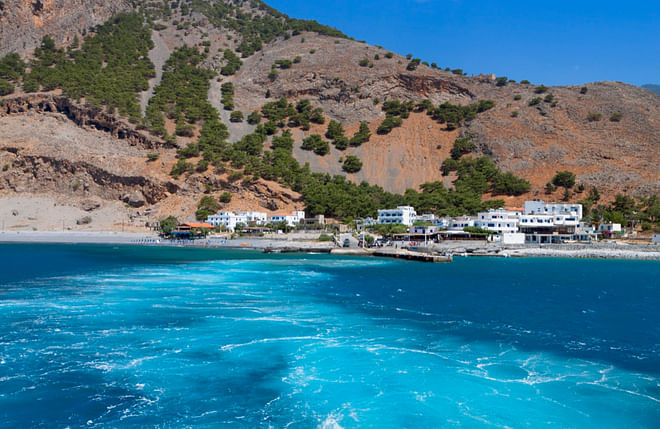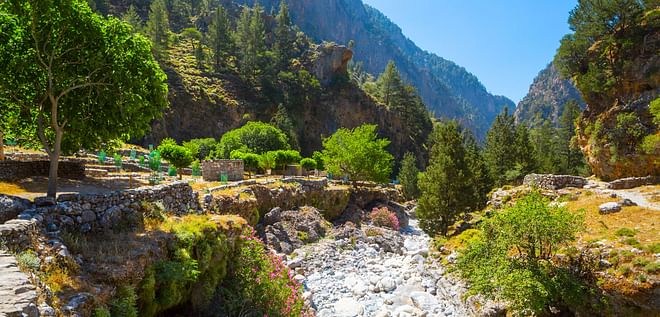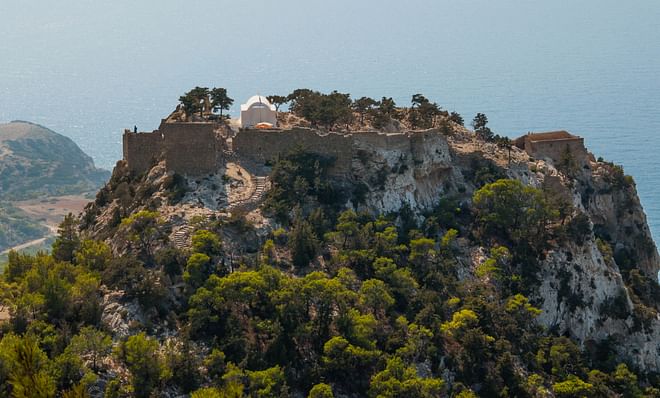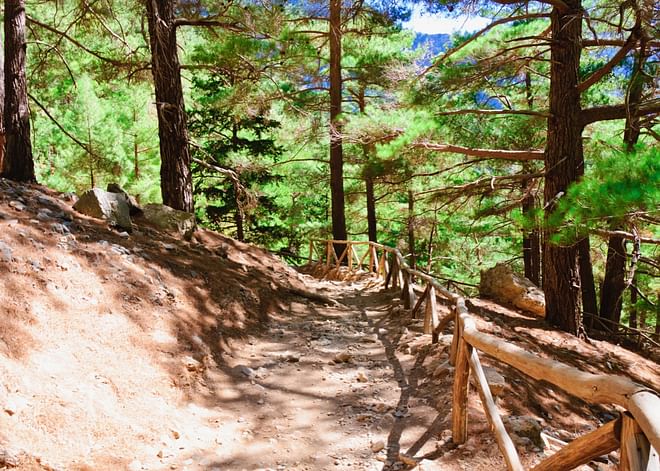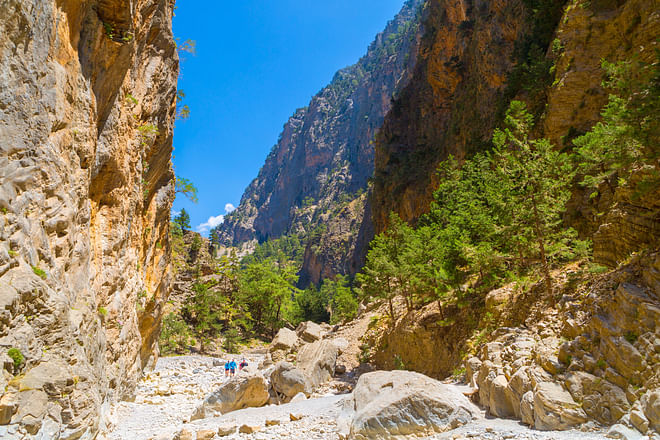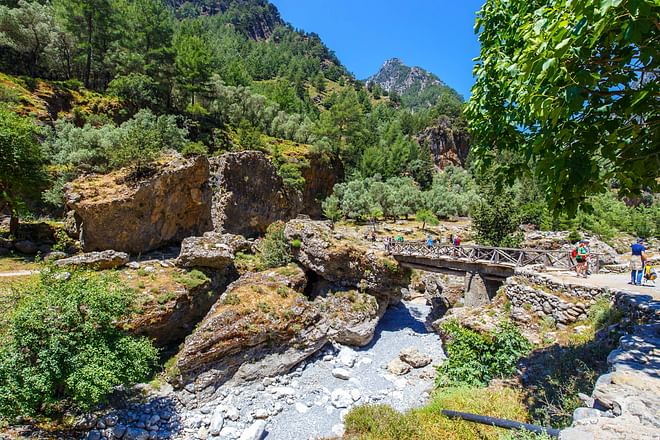 Crete - Samaria gorge
Crete - Samaria Gorge. Donkey led by guide. Used to carry tired tourists around the gorge.
Crete - Samaria Gorge. St. Nikolas Forestry
Crete - St. Roumeli bay at the exit of Samaria Gorge
Passage of famous Samaria Gorge, Crete, Greece
St. Roumeli, Samaria Gorge, Crete, Greece
Passage of famous Samaria Gorge, Crete, Greece
Samaria Gorge, Crete, Greece
Mountains around Samaria Gorge National Park of Greece on Crete island
Another passage in Samaria gorge, Crete, Greece
{[ modalShow]} / {[count]}