Type of Tour
Vip And Exclusive
Arts And Culture
Walking Tour

Covid update
Private Lindos Tour
A private tour of Lindos
About This Tour
Our private tours are operated with certified guides and professional drivers on luxurious mini vans of up to 7 people. They are perfect for families or group of friends that want to have an exclusive tour of the island with a personal guide and a program that is customized to their needs.
Rhodes is an island rich in history and legend as you will discover in this enchanting tour. After a drive along the east coast, passing through rustic villages, vineyards and olive groves, we will make a stop in a traditional olive oil factory. There we will taste the great varieties of the famous Greek olive oil and walk through its preparation through the years. We will then reach the village of Lindos.
You will be captivated by the Acropolis crowning the 400-feet rocky cliff and the whitewashed town surrounded by the azure sea.  There is a 20-minute climb through the narrow streets of the town, and up 250 steps to the Temple. We will explore the ancient site of the last conquerors, including the 4th century B.C. Doric temple of Athena and the double-winged portico. Other highlights include a Byzantine church and the remains of the castle citadel of the Knights of St. John. From the summit there are views of the fishing harbour of Psarto were tradition says St. Paul landed to evangelise the island.
After our tour of the acropolis we will have ample time to discover the small alleys of the white village of Lindos and enjoy the souvenirs, shopping and have opportunities for a coffee or a cocktail and if you want to also enjoy a great meal in one of the many restaurants.
Our minivan will return us back to the hotel/accommodation.
Free cancellation 24 h before the tour
More Photos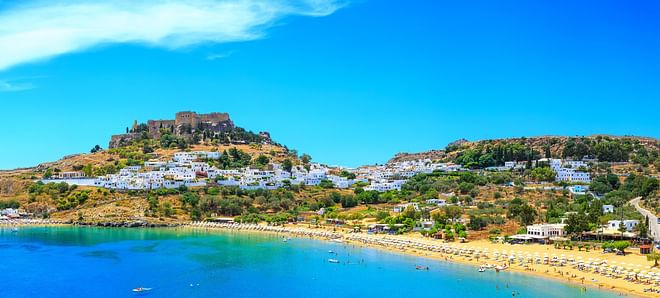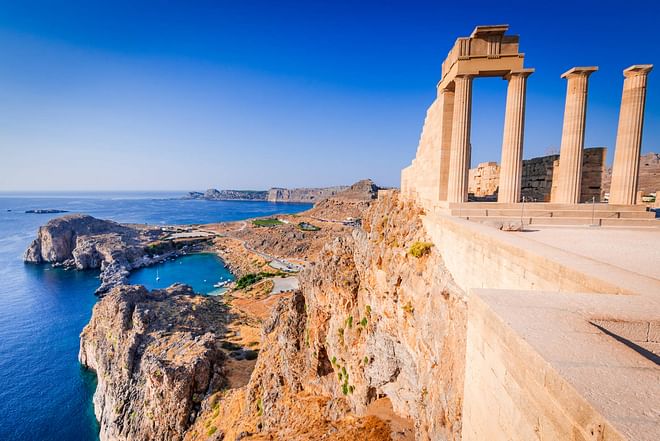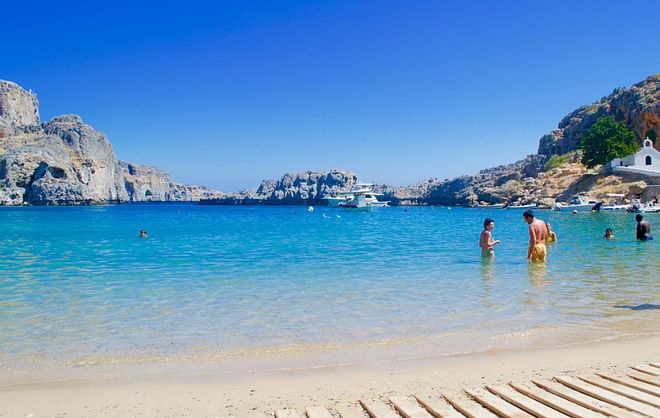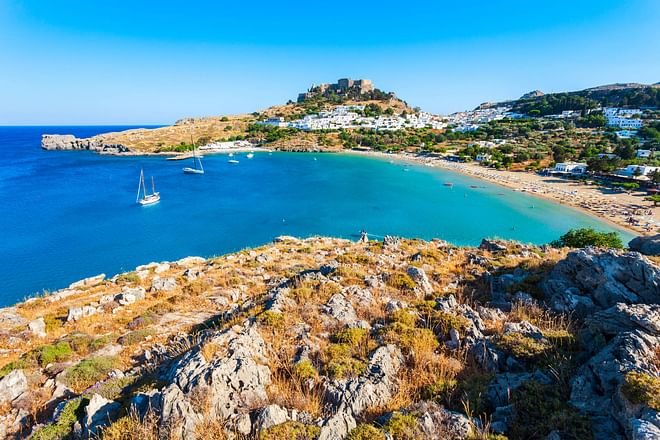 Panoramic view of Lindos Bay, Rhodes, Greece
Acropolis of Lindos, Rhodes, Greece
St. Paul's Bay in Lindos, Rhodes, Greece
Quiet street in Lindos, Rhodes, Greece
Aerial panoramic view of Lindos, Rhodes, Greece
Breathtaking panoramic aerial view of Lindos town from the Acropolis of Lindos in Rhodes, Greece. Amazing colorful sunset scenery in Rhodes.
{[ modalShow]} / {[count]}