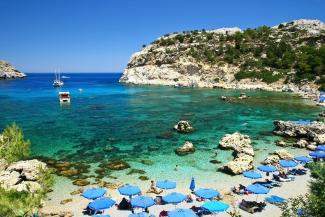 10 Top Suggestions for Anthony Quinn Bay
Submitted by discoverd1 |
Anthony Quinn Bay, also known as Vagies Bay, is a popular tourist destination located on the island of Rhodes in Greece. It is accompanied with crystal-clear turquoise waters, rocky cliffs, and lush green surroundings.
---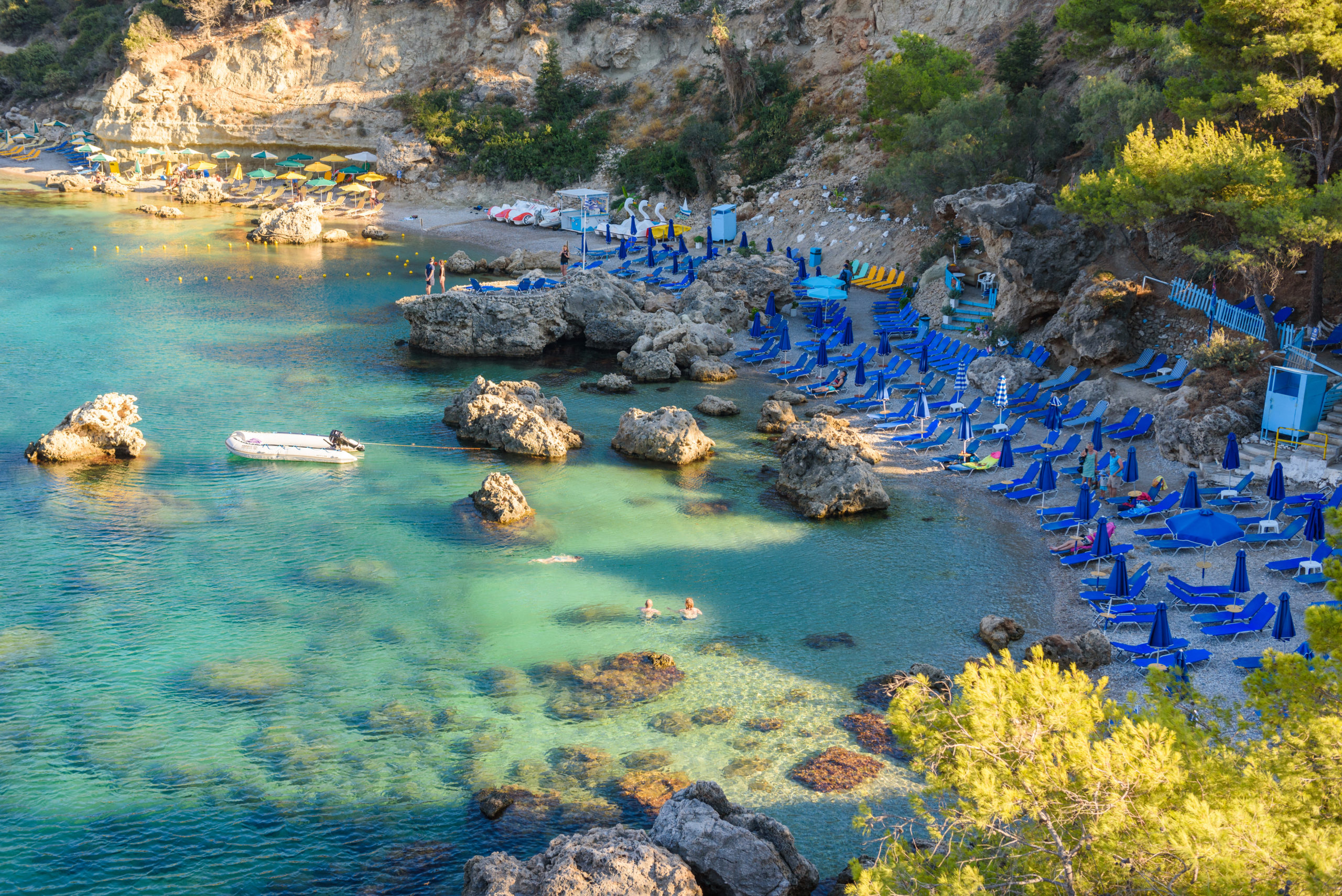 Here are some details about Anthony Quinn Bay:
1. Scenic Beauty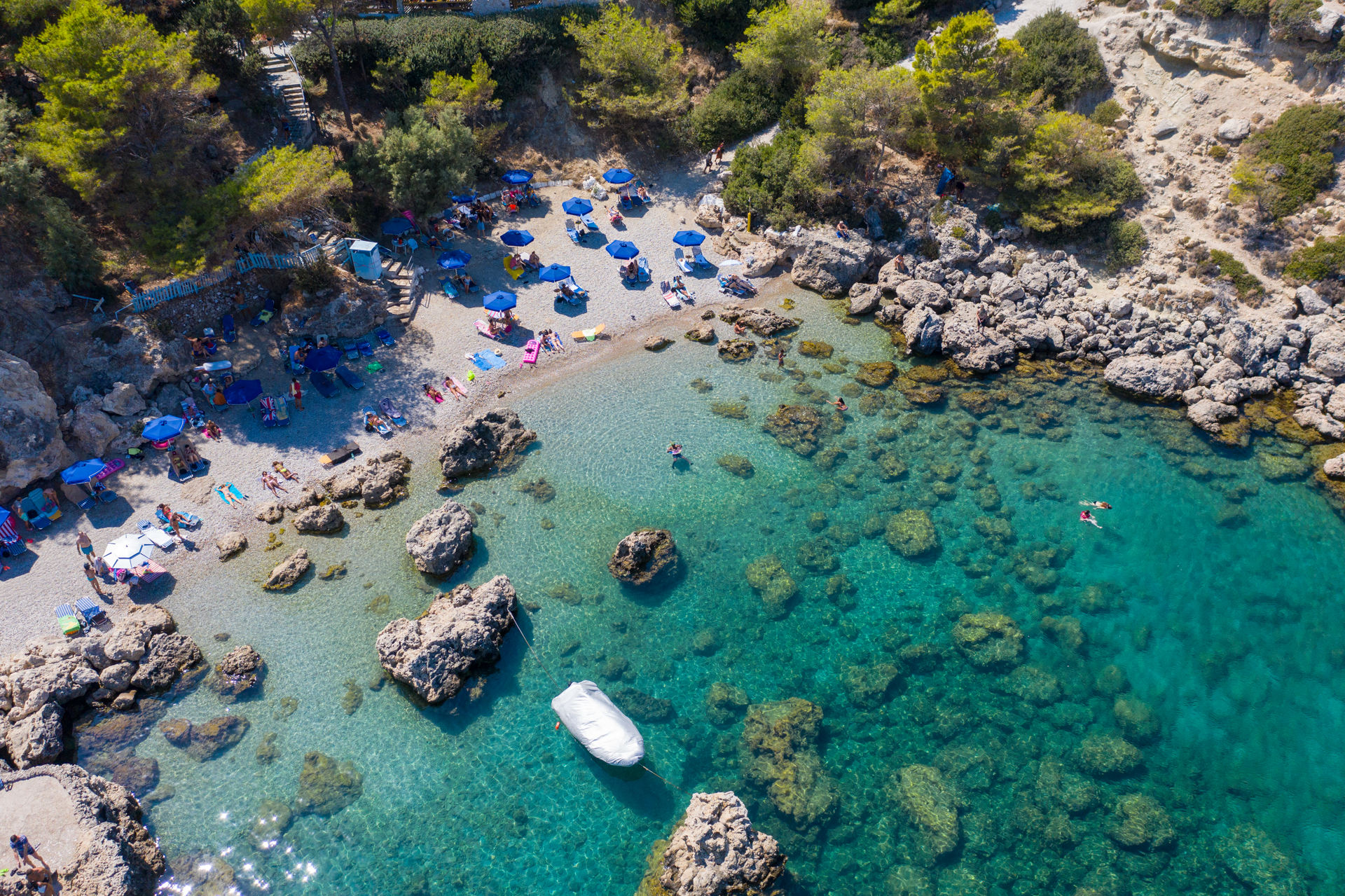 The bay is renowned for its stunning natural beauty, characterized by crystal-clear turquoise waters, rocky cliffs, and lush green surroundings. It offers a picturesque setting that attracts visitors from around the world. The cliffs provide some shade during the day, making it a comfortable place to relax and enjoy the beach.
2. Anthony Quinn Bay Boat Day Tour
A relaxing approach to unwind and take in the scenery of the ocean while indulging in a tasty meal is a Pleasure Cruise with Lunch included. A lunch cruise may be a remarkable experience, whether you're organising it for a special event, family get-together, or romantic getaway. 
In a single day, visit four of Rhodes Island's most stunning beaches! Following lunch on board at the sandy Tsampika beach, we'll transport you to Kallithea Bay, Afandou Beach, and lastly the renowned Anthony Quinn Bay. 
3. Anthony Quinn 
The bay is named after the renowned Hollywood actor Anthony Quinn. He fell in love with the place during the filming of "The Guns of Navarone" in 1961. Anthony Quinn purchased the bay after the movie and used it as his private retreat.
4. Beach and Swimming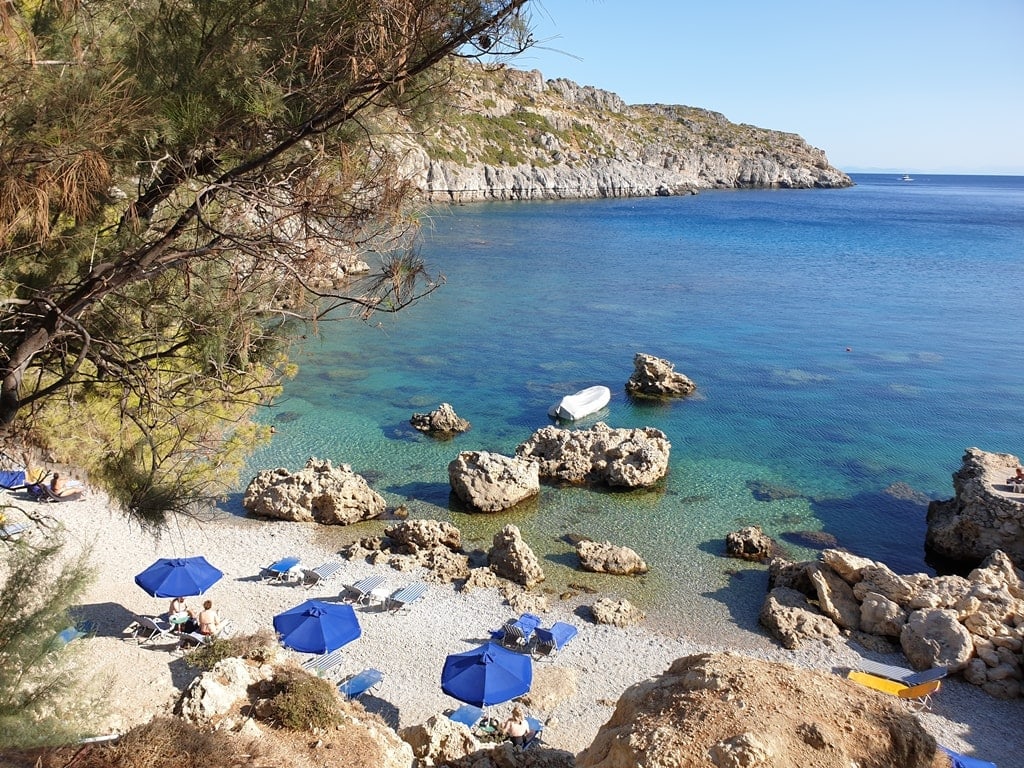 The bay features a small pebble beach, making it an ideal spot for swimming and sunbathing. The water is known for its vibrant colors and is perfect for snorkeling and diving, thanks to the rich marine life and underwater caves in the area.
5. Facilities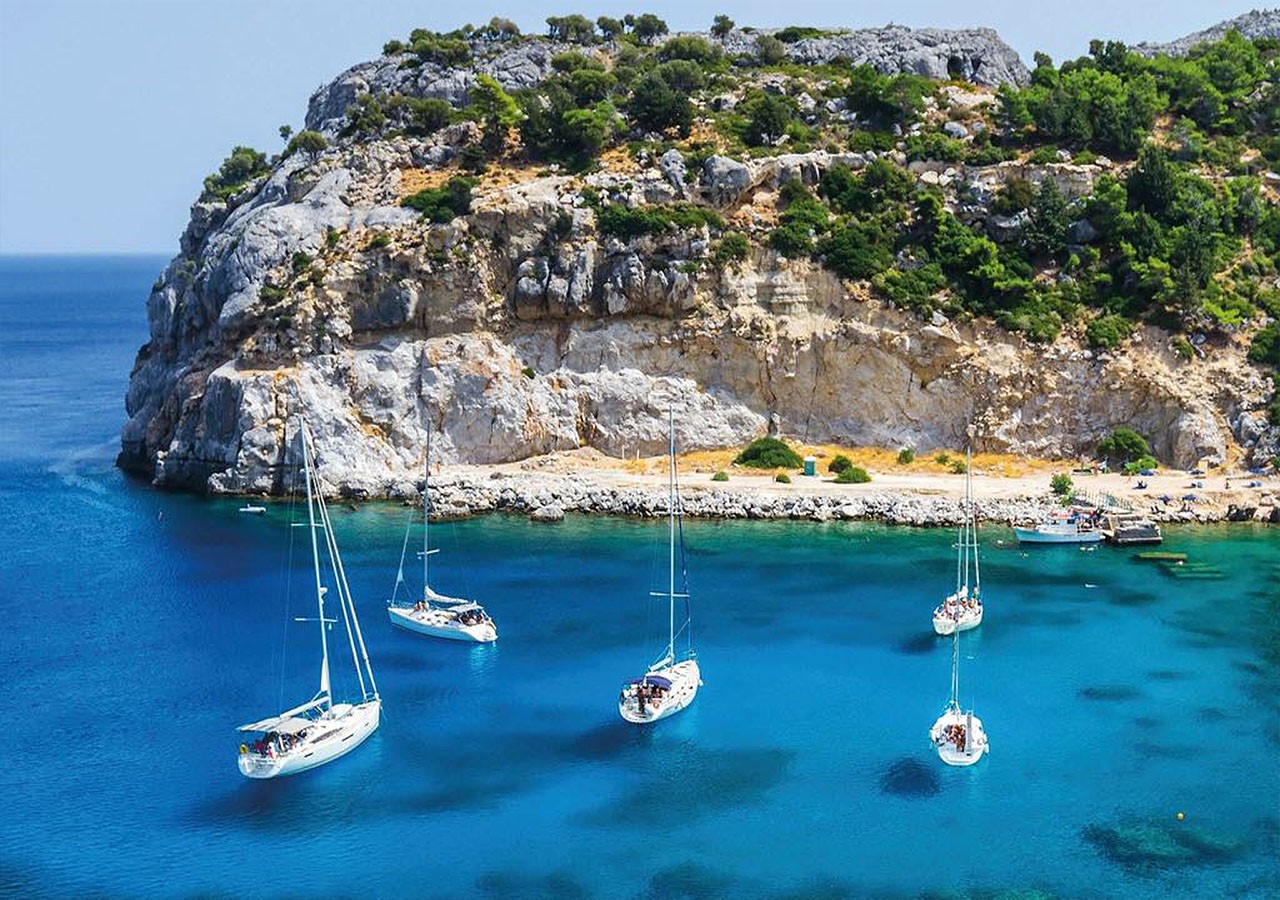 There are facilities available at Anthony Quinn Bay, including sunbeds and umbrellas for rent. Additionally, there is a beachside taverna that serves refreshments, snacks, and traditional Greek cuisine, allowing visitors to relax and enjoy their time by the bay.
6. Accessibility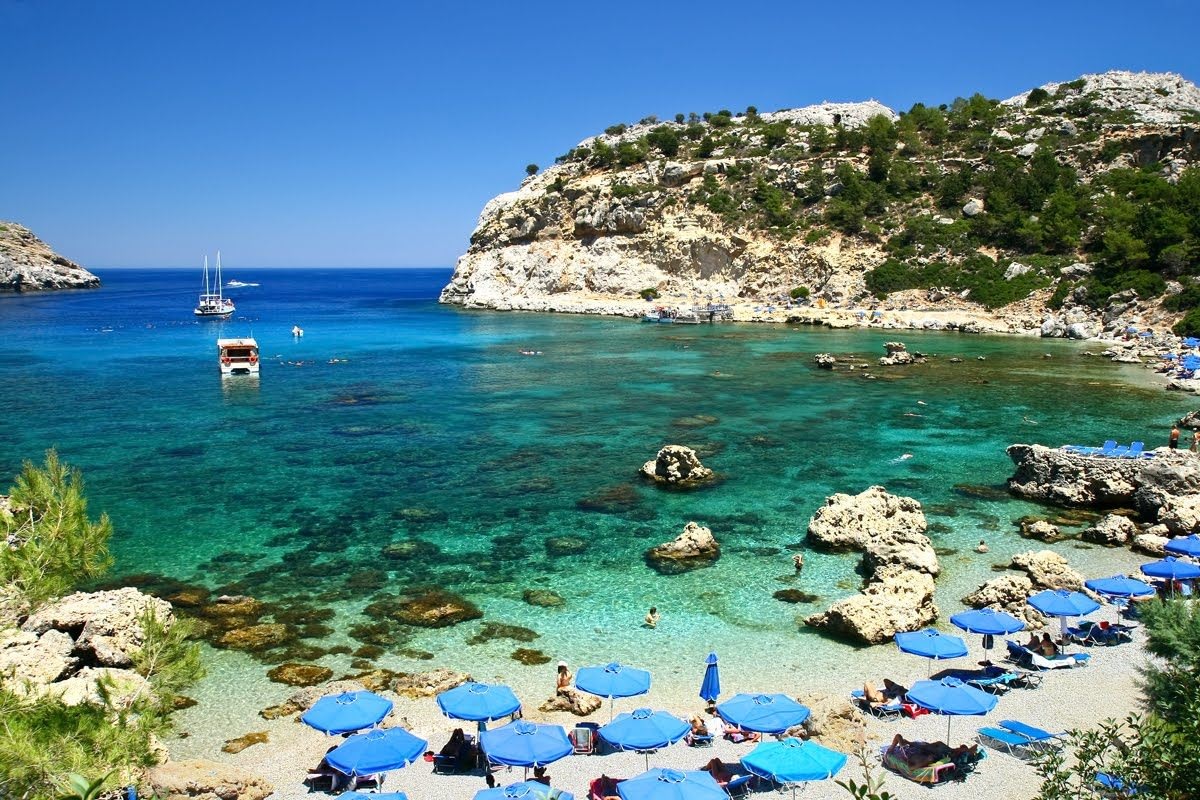 The bay is easily accessible by car or taxi, with parking available nearby. There is also a bus stop close to the bay, making it convenient for those relying on public transportation.
7. Underwater Sculpture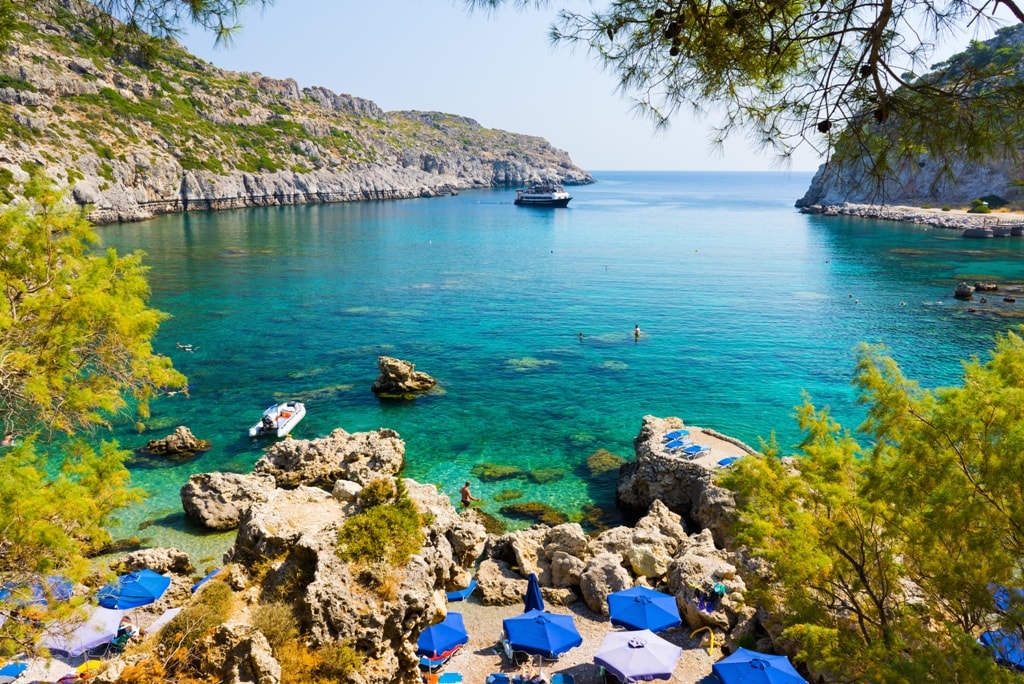 One unique feature of Anthony Quinn Bay is the presence of an underwater sculpture. The statue, known as "The Dance of the Sea," was created by an Italian artist and submerged in the bay. It adds an artistic touch to the underwater landscape and is a popular attraction for divers and snorkelers.
8. Hiking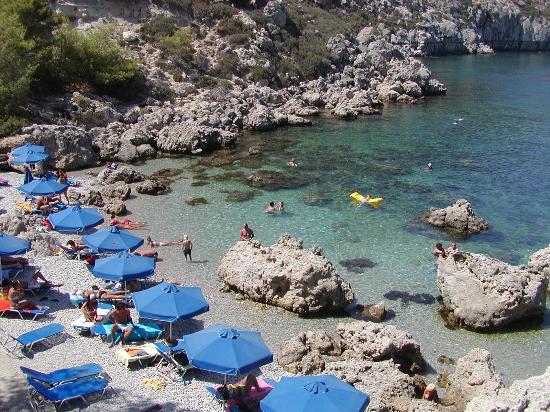 If you're interested in hiking, there are trails that lead from Anthony Quinn Bay to nearby areas, such as Ladiko Beach and Faliraki. These trails offer scenic views of the coastline and are a great way to explore the natural beauty of Rhodes.
9. Crowds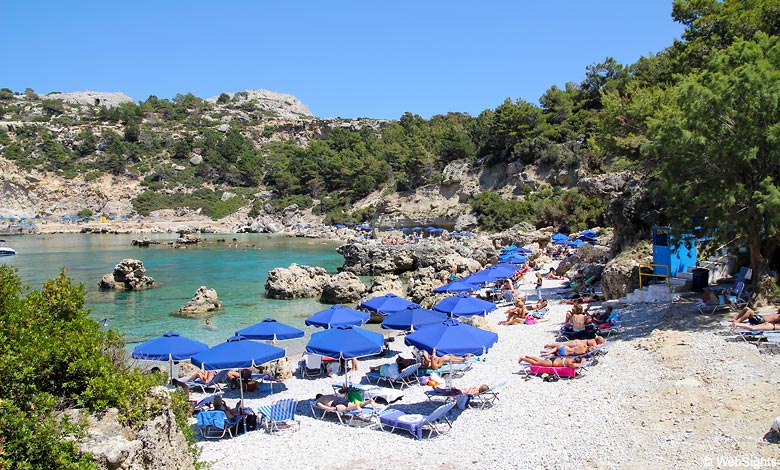 Anthony Quinn Bay can get crowded during peak tourist season, especially in the summer months. It's recommended to arrive early in the day to secure a good spot on the beach and avoid the largest crowds.
10. Nearby Attractions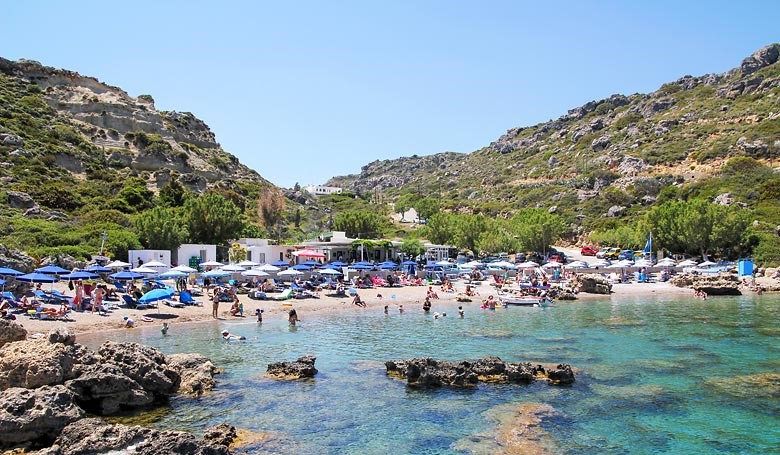 If you're looking to explore other attractions in the area, both Faliraki and Ladiko are within close proximity to Anthony Quinn Bay. Faliraki is a lively resort town known for its nightlife, water parks, and sandy beaches. Ladiko Beach, located just north of Anthony Quinn Bay, is another beautiful bay with calm waters and scenic surroundings.
How to get to Anthony Quinn Bay from Faliraki?
To get to Anthony Quinn Bay from Faliraki on the island of Rhodes, you have several transportation options. Anthony Quinn Bay is located a relatively short distance from Faliraki, making it a convenient day trip destination. Here's how you can get there:
By Car or Taxi:

The most convenient way to get to Anthony Quinn Bay from Faliraki is by car or taxi.
If you have access to a car, simply drive south from Faliraki. Follow the coastal road toward the town of Ladiko.
Anthony Quinn Bay is situated between Faliraki and Ladiko. Look for signs indicating the way to the bay.
The drive should take around 10-15 minutes, depending on traffic.

By Bus:

Another option is to take a local bus from Faliraki to Anthony Quinn Bay.
The bus system in Rhodes is well-developed, and there are bus stops in Faliraki.
You can check the bus schedule and routes at the Faliraki bus station or online.
Buses may not run as frequently as in larger cities, so be sure to check the schedule in advance.

By Walking or Biking:

If you enjoy outdoor activities, you can also walk or bike from Faliraki to Anthony Quinn Bay.
The distance is not too far, and it can be a pleasant walk or bike ride along the scenic coastline. It's a great option if you're looking for some exercise and want to enjoy the views along the way.

Guided Tours:

You can also consider joining a guided tour that includes a visit to Anthony Quinn Bay. Many tour operators on the island offer such excursions, which can be a convenient way to explore the area.
Is Anthony Quinn Bay worth visiting?
Anthony Quinn Bay is a monument to both the attraction of history and the splendor of nature. This undiscovered gem in Rhodes, Greece, presents a rare chance to fully experience the wonders of the Mediterranean.
This bay has something to offer everyone, whether you're a lover of nature, a student of history, or just looking for a relaxing beach experience. Anthony Quinn Bay is definitely worth seeing because of its alluring beauty, intriguing history, and peaceful atmosphere.
Why then wait? Make travel plans to Anthony Quinn Bay so you may see the enchantment for yourself.
 
Conclusion
Remember to bring sunscreen, towels, and any other beach essentials you may need for a comfortable day at Anthony Quinn Bay. Enjoy the breathtaking views and the relaxing atmosphere as you soak up the beauty of this picturesque spot on the island of Rhodes.
Visiting Anthony Quinn Bay can be a delightful experience for those seeking natural beauty, tranquil waters, and a touch of cinematic history. It's a wonderful place to spend a relaxing day by the sea while enjoying the scenic surroundings.