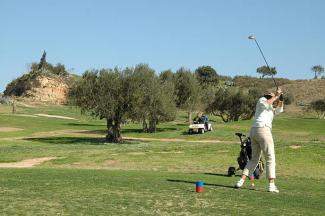 Top 9 Τhings to Εxpect at Afandou Βeach
Submitted by discoverd1 |
Afandou Beach is a popular tourist destination located on the Greek island of Rhodes in the southeastern part of the Aegean Sea. Rhodes is part of the Dodecanese group of islands and is known for its stunning beaches, ancient history and vibrant culture.
---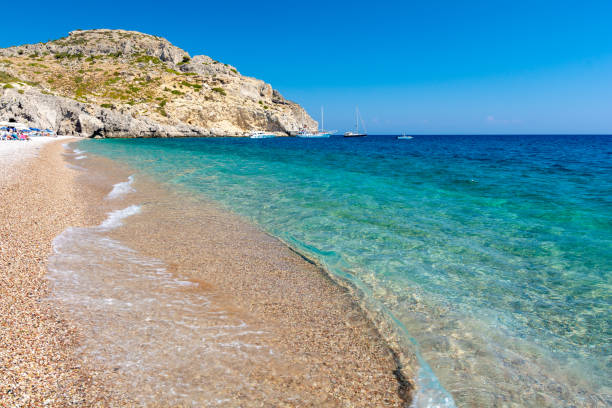 Here are some key details about Afandou Beach:
1. Picturesque Beach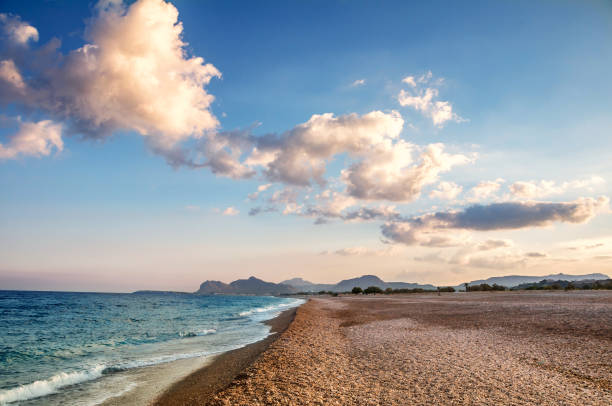 Afandou Beach is known for its long stretch of golden sand and crystal clear waters. The beach is well maintained and has facilities such as sun loungers and umbrellas available for hire. The shallow waters make it suitable for swimming, especially for families with children.
Afandou Beach is known for its long stretch of golden, sandy shores. The fine sand is perfect for sunbathing, building sandcastles or taking a leisurely stroll by the water.
The waters of Afandou Rhodes are exceptionally clear and have a stunning turquoise hue. They invite swimming, snorkeling and other water activities.
One of the distinctive features of Afandou Beach is its shallow waters close to the shore. This makes it ideal for families with children as well as those who enjoy wading and swimming in calm, safe waters.
Although the majority of the beach offers smooth, sandy stretches, there are interesting rock formations and rock outcroppings along certain sections of the shoreline, adding to the visual appeal of the beach landscape.
Afandou Bay is surrounded by lush greenery and vegetation, providing a natural and serene ambiance. The contrast between the vibrant greenery and the blue of the sea creates a breathtaking panorama.
The beach faces the Aegean Sea and visitors can enjoy stunning sea views, especially at sunrise and sunset. The colors of the sky and the sea mix to create a fascinating seascape.
To enhance visitor comfort, you'll often find rows of umbrellas and deck chairs lining the shoreline, providing shade and relaxation options for those seeking respite from the sun.
Along the beach you will also find beach bars and tavernas where you can enjoy refreshing drinks, traditional Greek cuisine and seafood while admiring the beach scenery.
2. Beach Day Trips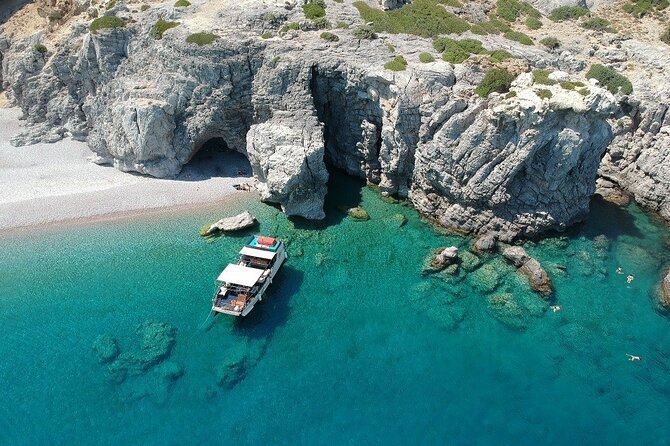 If you are looking for a fun cruise around some of the best beaches of the Island?
A relaxing approach to unwind and take in the scenery of the ocean while indulging in a tasty meal is a pleasure cruise with lunch included. A lunch cruise may be a remarkable experience, whether you're organising it for a special event, family get-together, or romantic getaway. 
Depending on the location, you'll have the chance to take in breath-taking views of the nearby sea, beach, or metropolis. Depending on the weather and conditions, the cruise itinerary may be fixed or allow for some flexibility. 
Discover D1 Tours offers a Pleasure Cruise with Lunch on Board to relax enjoy the beauty of the water while indulging in a delicious meal.
3. Numerous of Watersports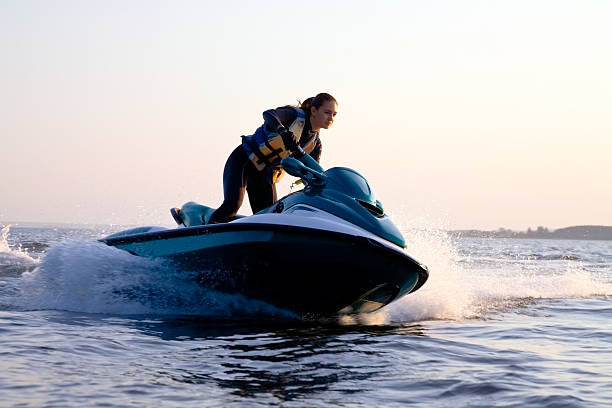 Afandou Beach on the Greek island of Rhodes is a popular destination for water sports enthusiasts. The beach offers a range of water sports and activities suitable for different interests and skill levels.
The prevailing winds in the region make Afandou beach an excellent spot for windsurfing. Whether you are a beginner or an experienced windsurfer, you can rent equipment and take lessons to enjoy this exciting water sport.
Jet skiing is an exciting way to explore the waters around Afandou Beach. You can rent jet skis and ride the waves, offering an adrenaline rush and a unique perspective of the coastline.
Stand-up paddle boarding (SUP) is a popular and quieter water activity on Afandou Beach. This is a great way to explore the calm, shallow waters near the shore and have a peaceful and picturesque experience.
For an exhilarating adventure, consider trying parasailing. You'll be attached to a parachute and pulled by a boat, allowing you to soar above the sea and enjoy stunning views of the coastline.
Banana boat rides are a fun and family activity. You'll board an inflatable banana-shaped boat pulled by a speedboat, creating an exciting and bumpy ride.
Water skiing is another interesting option at Afandou beach. Whether you're a beginner or an experienced skier, you can rent equipment and let yourself be pulled behind a speedboat while gliding across the water's surface.
4. Amazing Village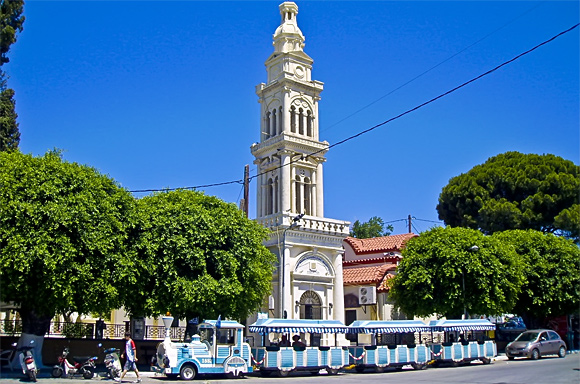 The nearby village of Afandou is a lovely place to explore. It features traditional Greek architecture, taverns serving local cuisine, and shops selling souvenirs and handicrafts. The village is also home to the Church of the Virgin Mary, a beautiful Byzantine church.
The village of Afandou retains the atmosphere of a traditional Greek village with its narrow, winding streets, whitewashed buildings and colorful flowers adorning the balconies and courtyards. This contrasts with the more touristy areas of the island.
One of the most important monuments of Afandou village is the Church of the Virgin Mary (Panagia Katholiki). This beautiful Byzantine church dates back to the 11th century and features intricate frescoes and an imposing bell tower.
The central square of Afandou is a hub of activity. It's a great place to relax in the shade of the trees, have a coffee or meal in one of the traditional tavernas and soak up the local ambiance.
Afandou village has several shops and boutiques where you can find locally made crafts, souvenirs and traditional Greek products such as olive oil, honey and local wines.
The village is known for its authentic Greek cuisine. Guests can enjoy traditional dishes at local taverns, including fresh seafood, grilled meats, moussaka and other regional specialties.
Afandou is known for its pottery and you can visit workshops where skilled artisans create and sell pottery items, including decorative ceramics and tableware.
From certain points in Afandou village you can enjoy panoramic views of the surrounding countryside, the sea and the mountains in the distance. It's a great place to take photos.
Like many Greek villages, Afandou hosts various festivals and cultural celebrations throughout the year, often linked to religious events and traditions. These festivals provide an opportunity to learn about local customs and enjoy music, dance and traditional cuisine.
Afandou Village is ideally located near Afandou Beach, one of the longest and most beautiful beaches on the island. You can easily combine a village visit with a day at the beach.
How far is Afandou from Rhodes Town?
The approximate 19-kilometer distance makes it convenient for day visits or overnight stays. Both Afandou and Rhodes Town provide distinctive experiences that are sure to make your trip to Rhodes unforgettable, whether you select for the comfort of a rental car or the cost-effective choice of public transit.
5. Discover Golf Courses

Afandou is known for having one of the best golf courses in Greece, Afandou Golf Course. It is an 18-hole course surrounded by picturesque scenery and is a popular destination for golfers.
The golf course was designed by famous golf architect Donald Harradine. It offers a challenging but enjoyable layout that is suitable for both experienced golfers and beginners.
The golf course is set amidst picturesque natural surroundings, with views of the Mediterranean Sea and surrounding countryside. It is known for its lush green fairways and well-maintained grounds.
The Afandou golf course comprises 18 holes, offering a complete and varied golfing experience. The course layout includes a mix of par 3s, par 4s and par 5s, ensuring that golfers of all skill levels can find a suitable challenge.
The golf course offers a range of facilities to enhance the golfing experience, including a driving range, putting greens and a pro shop where golfers can rent equipment and purchase golf supplies.
If you are new to golf or want to improve your skills, Afandou Golf Course offers golf lessons and instruction. Qualified golf instructors are available to provide advice and coaching.
The Afandou Golf Course clubhouse offers a place to relax before or after your round of golf. It often includes a bar and restaurant where golfers can enjoy refreshments and meals.
The golf course occasionally hosts tournaments and events, which can be a great way to experience competitive golf and meet other golf enthusiasts.
Afandou Golf Course is easily accessible by car from various parts of the island, including Rhodes Town and neighboring resorts.
If you don't have your own golf clubs or equipment, you can usually rent them at the golf course.
6. Accessibility

Accessibility to Afandou, both to the village and the beach, on the Greek island of Rhodes is relatively simple due to its location and well-developed infrastructure.
By plane:
Rhodes International Airport (Diagoras Airport): Most travelers arriving in Rhodes arrive via Rhodes International Airport, located on the west coast of the island, approximately 20 kilometers (about 12 miles) from Rhodes Town and about 40 kilometers (about 25 miles) from Afandou.
From Rhodes Airport to Afandou:
Taxi: You can easily find taxis at the airport that can take you directly to Afandou. This is a convenient but relatively more expensive option.
Car Rental: Renting a car at the airport is a common choice for travelers who want more flexibility in exploring the island. From the airport you can drive to Afandou, approximately a 30-40 minute drive depending on traffic and road conditions.
Public Bus: Rhodes Airport is connected to Rhodes Town by public buses. Once in Rhodes Town, you can take a bus to Afandou. Bus times can vary depending on the time of year, so it's a good idea to check in advance.
By ferry:
Ferry Ports: If you are traveling to Rhodes from other Greek islands or the mainland, you will arrive at one of the ferry ports on the island, such as Rhodes Town (Rhodes Port) or other more ports small like Kamiros Skala or Kameiros.
From ferry ports to Afandou:
Taxi or car rental:Taxi and car rental services are available at ferry ports, including Rhodes Town. You can hire a taxi or rent a car to reach Afandou from the ports.
Public Bus: Public buses operate from ferry ports to various parts of the island, including Afandou. Bus times and routes may vary, so it is advisable to check in advance.
By the road:
Rhodes has a well-developed road network, allowing easy access to Afandou by car from different parts of the island. Road signs on the island are generally in Greek and English, making navigation easier for international visitors.
7. Beach Clubs and Bars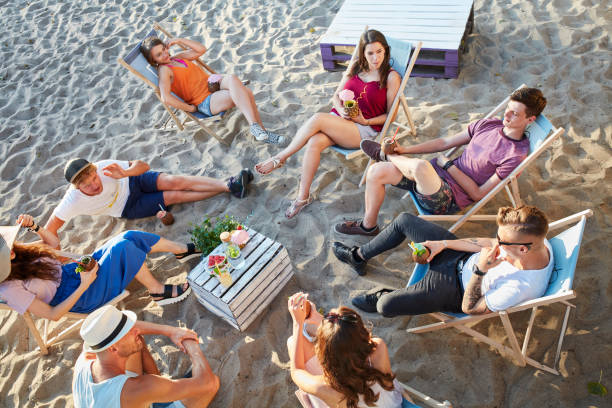 There are several bars and beach clubs along Afandou Beach where you can enjoy refreshments, cocktails and music while enjoying the beautiful surroundings.
Sea Sound Beach Bar is a popular beachfront establishment offering a relaxed atmosphere, comfortable lounge chairs and a wide selection of cocktails and refreshments. It often hosts events and parties during the summer season.
Located near Afandou Beach, Cavo Ladiko Beach Bar is known for its relaxed ambiance, great views and friendly service. It's a great place to relax with a drink while enjoying the beauty of the surroundings.
Nirvana Beach Bar is another option where you can enjoy drinks and snacks in a beachfront setting. It is a place to soak up the sun during the day and often hosts evening events.
As the name suggests, this beach bar is associated with a diving center, making it a great place for divers and snorkelers. It offers a relaxed atmosphere and drinks to refresh yourself after a day of water activities.
The Apollo Beach Bar is located on a quieter part of the beach, providing a more serene environment for those who prefer to have a peaceful drink by the sea. They often host live music and special events.
Xenios Beach Bar is known for its friendly staff and cozy atmosphere. It's a great place to enjoy Greek and international cocktails while lounging on the beach.
Varkarola Beach Bar is located at the northern end of Afandou Beach and is famous for its beautiful views of the sea and cliffs. It's a picturesque place to relax with a drink.
8. Afandou Accommodation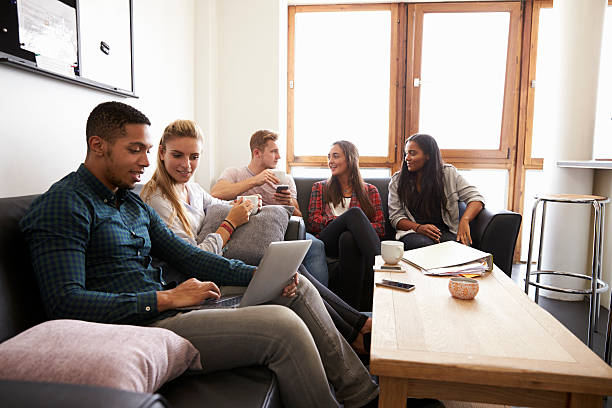 Whether you're looking for beachfront hotels, family-friendly resorts, cozy guesthouses or vacation rentals, you'll find a range of choices in and around Afandou.
Afandou has several hotels and resorts, some of which are located along the beach. These establishments often offer amenities like swimming pools, restaurants, bars and organized activities. They cater to a wide range of travelers, including families, couples and solo tourists.
Many accommodations in Afandou include self-catering apartments and studios. These can be a great choice for travelers who prefer more space, privacy, and the ability to prepare their own meals. They are often equipped with a kitchenette or full kitchen.
In and around Afandou village you will find charming guesthouses and guesthouses that offer a more intimate and traditional Greek experience. These accommodations often have comfortable rooms and offer a personal touch from the hosts.
Vacation rentals, including villas and vacation homes, are available in the Afandou area. These properties are ideal for large groups or families and offer the comforts of home, including multiple bedrooms, private pools and outdoor spaces.
If you are an outdoor enthusiast, there are campsites near Afandou where you can pitch your tent or park your campervan. Camping can be an economical option for those who enjoy a more rustic experience.
Some of the area's larger resorts offer all-inclusive packages that include meals, drinks, and entertainment. These can be a convenient choice for travelers who prefer not to worry about meal arrangements during their stay.
There are boutique hotels in and around Afandou that offer a unique and elegant atmosphere. These accommodations often have distinctive decor and offer a more personalized experience.
For budget-conscious travelers, you can find affordable hotels, hostels, and guesthouses in the area. These options allow you to enjoy the beauty of Afandou without breaking the bank.
9. Panoramic Views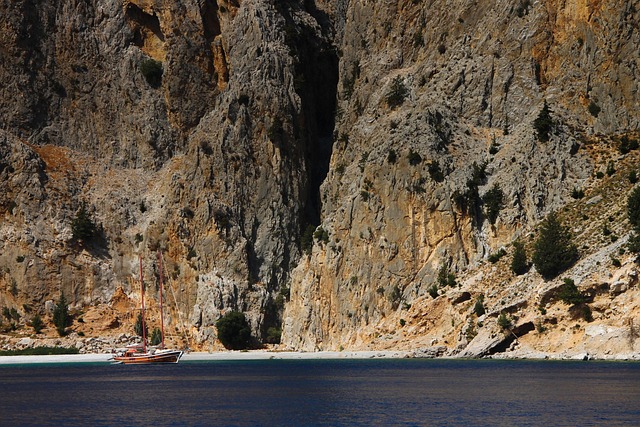 The beach offers stunning views of the Aegean Sea, making it a great place to take photos or simply enjoy the scenery.
Afandou Beach itself offers stunning views of the azure waters of the Aegean Sea and golden sands. It's especially beautiful at sunrise and sunset, when the colors of the sky create a breathtaking backdrop.
To the north of Afandou Beach are dramatic cliffs overlooking the sea. From this vantage point you can enjoy panoramic views of the coastline, including the nearby town and the vast sea beyond.
If you visit Afandou Golf Course, you will be treated to picturesque views of the manicured fairways, lush greenery and surrounding countryside. It is a serene and tranquil setting.
Heading inland from Afandou, you'll find a backdrop of hills and mountains, including Mount Profitis Ilias. These rugged landscapes create a striking contrast with the coastal landscape.
The village of Afandou itself is nestled among olive groves and traditional Greek architecture. The white buildings and red tiled roofs provide a charming view as you explore the village's winding streets.
The Church of the Virgin Mary in the village of Afandou is an architectural gem. Its design and hilltop location provide excellent photo opportunities and stunning views of the surrounding area.
Taking a walk through the countryside around Afandou can lead to unexpected and breathtaking views. The roads wind through olive groves, vineyards and picturesque villages, offering an authentic insight into the Rhodes countryside.
Some of the cliffs close to Afandou Beach are popular among divers and offer not only adrenaline-filled experiences but also exceptional views of the sea and coastline.
The surrounding area of Afandou is rich in Mediterranean flora, including olive trees, cypress trees and various wildflowers. The contrast of green with the blue of the sea is a common and magnificent sight.
Sunsets over the Aegean Sea are a daily spectacle. Whether you're on Afandou Beach, at a seaside bar, or atop one of the nearby cliffs, watching the sun dip below the horizon is a memorable experience.
How to get from Traounou Beach to Afandou?
Traounou and Afandou beaches are both located on the Greek island of Rhodes and are relatively close to each other, making travel between the two easy. Here's how to get from Traounou beach to Afandou:
By car or taxi: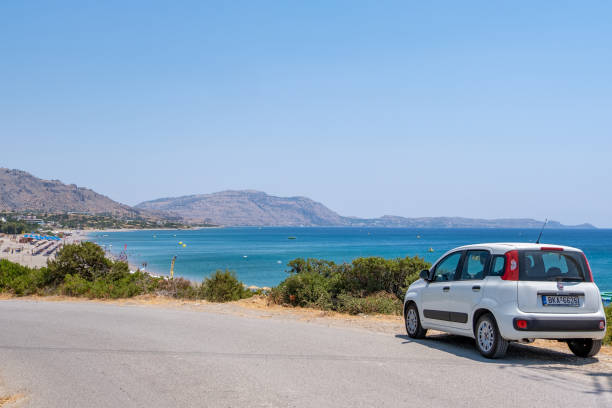 The most convenient way to travel between Traounou Beach and Afandou is by car or taxi. Both beaches are accessible by the island's road network and the distance between them is relatively short, usually taking around 10 to 15 minutes by car.
If you have your own rental car, simply follow the road signs and use a GPS navigation system to navigate from Traounou Beach to Afandou. The route generally involves taking the main road along the east coast of Rhodes.
Alternatively, you can hire a taxi to take you from Traounou beach to Afandou.
Taxis are easily available on the island and your driver will know the best route to reach your destination.
Public buses: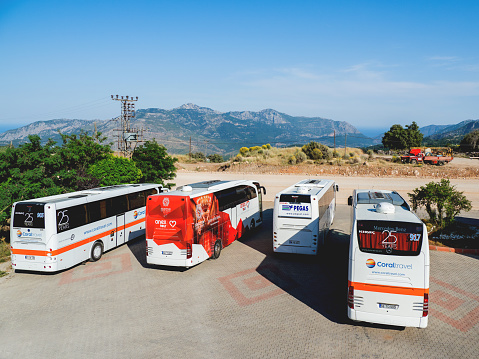 Rhodes has a public bus system that connects different parts of the island, including Traounou Beach and Afandou. However, bus times may vary depending on the season, so it's a good idea to check the latest schedules and routes in advance.
You can take a bus from Traounou Beach to a central location, like Rhodes Town or a nearby village, and then take another bus that goes to Afandou.
Walk or cycle: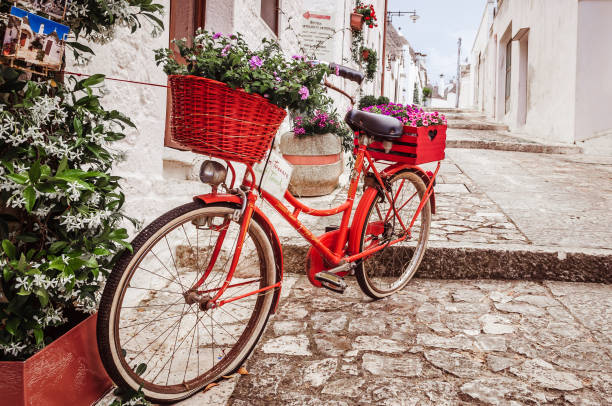 If you are feeling adventurous and love outdoor activities, you might consider walking or cycling between the two beaches.
The distance is relatively short, but keep in mind that the road may not have dedicated pedestrian or bicycle lanes, so be careful.
Combination with other activities:
While you're in the area, consider exploring other nearby attractions and beaches, such as Faliraki Beach or Anthony Quinn Bay.
Planning your transportation to include multiple stops can help you get the most out of your visit to the east coast of Rhodes.
Conclusion
Overall, Afandou Beach is a relaxing and picturesque destination on the island of Rhodes, offering a blend of natural beauty, water sports and cultural attractions for visitors to enjoy. Whether you're looking to relax on the beach or explore the surrounding area, Afandou Beach has something to offer every traveler.