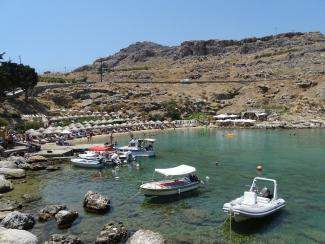 Top 7 Things to See & Do at St. Paul's Bay Lindos
Submitted by discoverd1 |
St. Paul's Bay is a picturesque bay located near the town of Lindos on the island of Rhodes in Greece. It is one of the most famous and beautiful bays on the island and is a popular destination for tourists.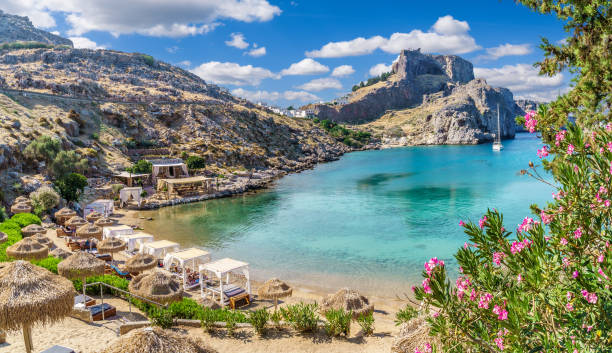 Here are some key points about St. Paul's Bay in Lindos:
1. Boat Tours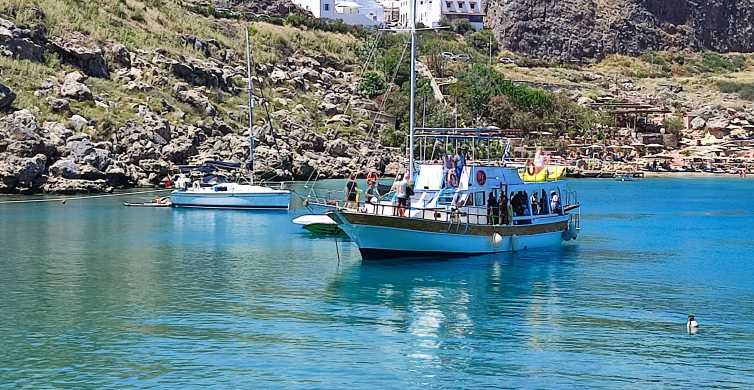 Visitors can also take boat tours that offer a unique perspective of the bay and its surroundings. These tours often include stops at nearby beaches and coves.
Most boat tours departing from St. Paul's Bay offer scenic cruises along the coastline. You'll have the opportunity to enjoy the stunning views of the bay, the rugged cliffs, and the historic town of Lindos from the water.
Sunset boat tours departing from St. Paul's Bay are particularly popular for their romantic atmosphere. Watching the sunset over the Aegean Sea can be a memorable experience.
If you prefer a more personalized experience, you can also consider chartering a Private Boat. This option allows you to customize the itinerary and enjoy a more intimate excursion with your group.
At your own leisure, explore Lindos, one of Rhodes island's most popular destinations! The Lindos Express trip is a well-liked excursion that gives you access to a luxurious coach without using public transport. It also enables you to see the picturesque hamlet of Lindos and see its main attractions in a condensed amount of time.
Enjoy your Lindos Express tour with Discover D1 Tours and make the most of your visit to this beautiful village and its historic Acropolis!
2. Scenic Beauty 
The bay is known for its stunning natural beauty, with crystal-clear waters, golden sandy beaches, and impressive rock formations. The surrounding landscape is characterized by rugged cliffs and lush vegetation.
The bay features a beautiful sandy beach with soft, golden sand that is perfect for sunbathing and relaxing. The contrast between the golden sand and the azure waters creates a postcard-perfect setting.
From various vantage points around the bay, you can enjoy panoramic views of the bay itself, the surrounding cliffs, the town of Lindos, and the open sea. It's a breathtaking sight, especially during sunrise and sunset.
You can take boat tours that allow you to appreciate the bay's beauty from the water. These tours often take you to nearby coves and beaches, providing even more opportunities to soak in the stunning scenery.
3. Historical Significance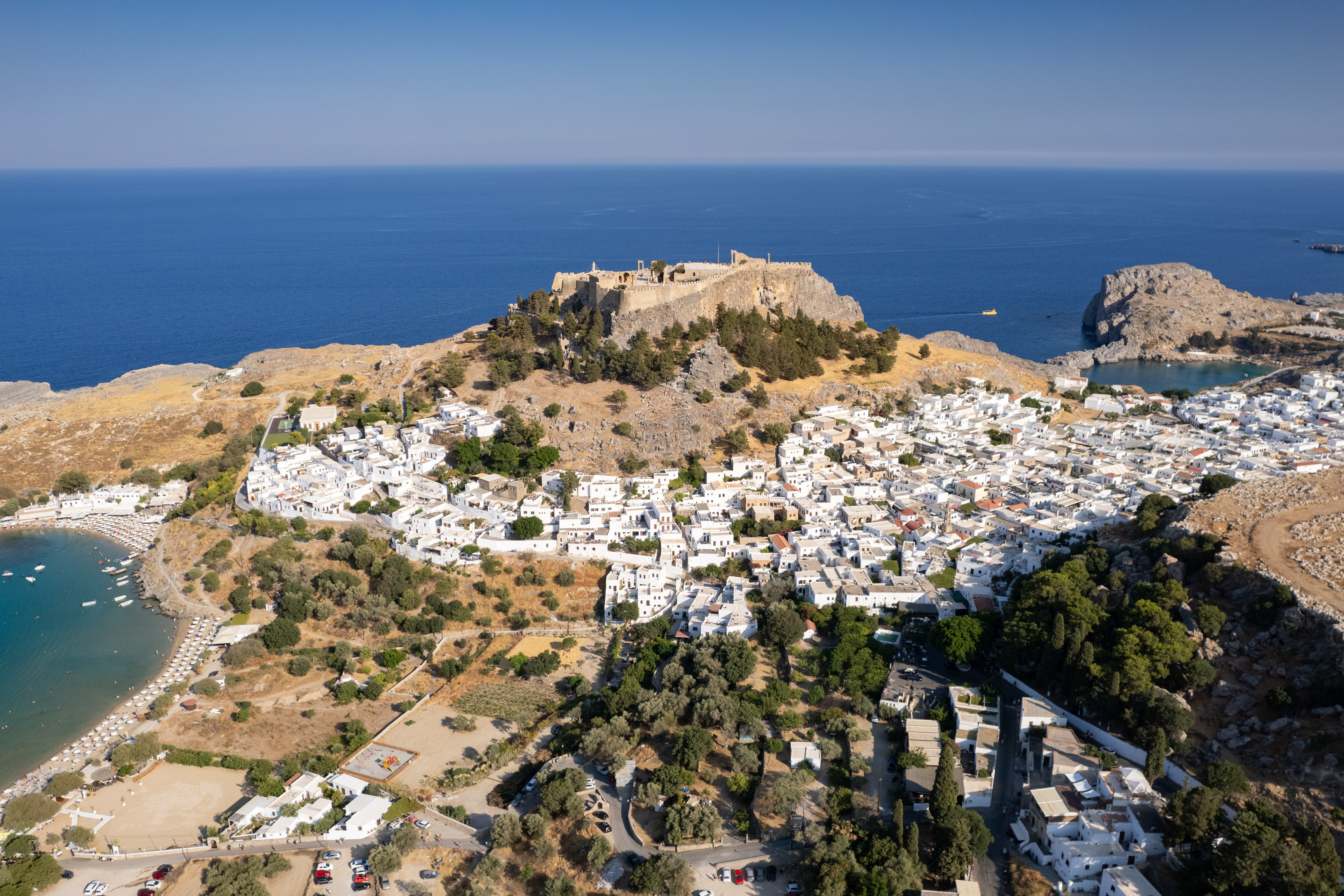 St. Paul's Bay has historical significance, as it is said to be the spot where the Apostle Paul landed when he arrived in Rhodes during his missionary journey in the 1st century AD. There is a small chapel dedicated to St. Paul on the hill overlooking the bay.
Tradition holds that during one of his journeys, Paul arrived on the island of Rhodes, specifically at St. Paul's Bay. It is said that he sought shelter and safety in this bay while on his way to other destinations.
Perched on a hill overlooking St. Paul's Bay, there is a small chapel dedicated to St. Paul. This chapel, known as the "Chapel of St. Paul," commemorates his visit to the bay and serves as a place of worship and pilgrimage for Christians. It is believed that the chapel was constructed in honor of his presence on the island.
Over the centuries, St. Paul's Bay has become a site of historical and religious significance for Christians. Pilgrims and visitors often come to the bay to visit the chapel, reflect on its historical context, and enjoy the peaceful surroundings.
4. Beach and Water Activities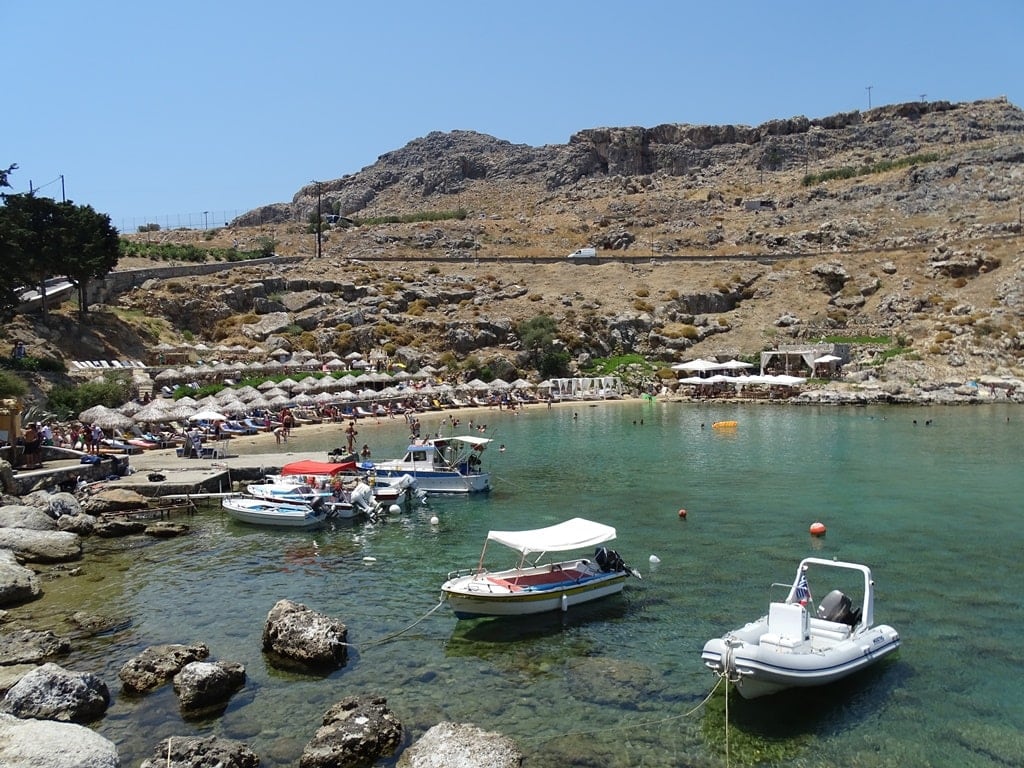 The bay offers a great spot for swimming, snorkeling, and sunbathing. The calm and sheltered waters make it suitable for families and water sports enthusiasts alike. You can rent sunbeds and umbrellas on the beach.
With its soft, golden sandy beach and warm Mediterranean climate, St. Paul's Bay is perfect for sunbathing and relaxing. Many visitors enjoy lounging on the beach, soaking up the sun, and taking in the beautiful surroundings.
You can rent kayaks and paddle around the bay to explore its coastline and rocky formations. It's a great way to get a different perspective of the bay and enjoy a bit of exercise on the water.
Stand-up paddleboarding (SUP) is another popular activity in the bay. The calm waters make it a suitable place for beginners to try paddleboarding. Rental equipment is often available.
You can bring beach games such as beach volleyball, paddleball, or frisbee to enjoy with friends and family on the sandy shore.
Many visitors bring picnics to enjoy by the beach. There are often shaded areas where you can set up a picnic and savor a meal with a view.
St. Paul's Bay is known for its romantic atmosphere, especially during sunset. Couples often visit to watch the sun go down over the bay, making it a popular spot for honeymooners and those celebrating special occasions.
Is Lindos St Paul's bay sandy?
The immaculate sandy shoreline of Lindos St. Paul's Bay Sandy Beach is one of its most notable qualities. Miles of fine, golden sands make for a cozy and welcoming spot to unwind and enjoy the Mediterranean sun. Swimming and other water sports are ideal in this serene atmosphere created by the crystal-clear waves softly lapping against the coast.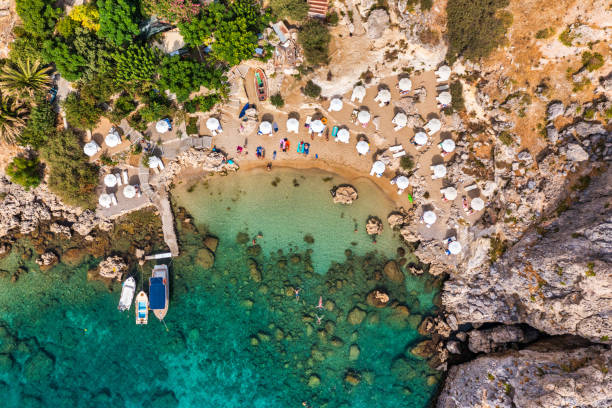 How deep is St Paul's bay Lindos?
The position and tides can have an impact on St. Paul's Bay's depth in Lindos, Greece. Since the bay is generally rather shallow close to the beach, swimming and other water sports are permitted there. But the depth might rise as you get further off from the coast. When swimming or participating in other water sports in St. Paul's Bay, it's crucial to use caution and be aware of the conditions because the depth might fluctuate depending on the tides and other natural characteristics.
5. Access
You can reach St. Paul's Bay by walking from the town of Lindos. The walk down to the bay from the ancient acropolis of Lindos is particularly scenic. The bay is accessible via a winding path and a series of steps.
Once you are in Lindos, you will need to walk to St. Paul's Bay as there is no direct road access to the bay. The walk is quite scenic and enjoyable. Follow these steps:
a. From the central square of Lindos, follow the signs leading to the Acropolis of Lindos. The walk uphill to the Acropolis is well-marked and takes you through the narrow, picturesque streets of Lindos.
b. As you continue uphill, you will reach the ancient Acropolis of Lindos, which is a historic site worth exploring. The path leading down from the Acropolis takes you to St. Paul's Bay.
c. Follow the winding path and series of steps that descend from the Acropolis to St. Paul's Bay. The path is relatively easy to navigate, but it can be steep in some places.
Once you descend the path and steps, you will arrive at the beautiful St. Paul's Bay. The bay features a sandy beach, crystal-clear waters, and stunning natural surroundings.
What time does St Paul's Bay open?
In Lindos, Greece, there is a natural harbor and beach area called St. Paul's harbor. It also lacks established hours for opening and closing. St. Paul's Bay in Lindos is open whenever it's convenient for you, making it a great place to explore and unwind all day long. It is available for your enjoyment whenever you choose to visit, whether you are an early riser seeking a quiet morning by the beach or prefer the attractiveness of the bay in the afternoon.
6. Restaurants and Cafes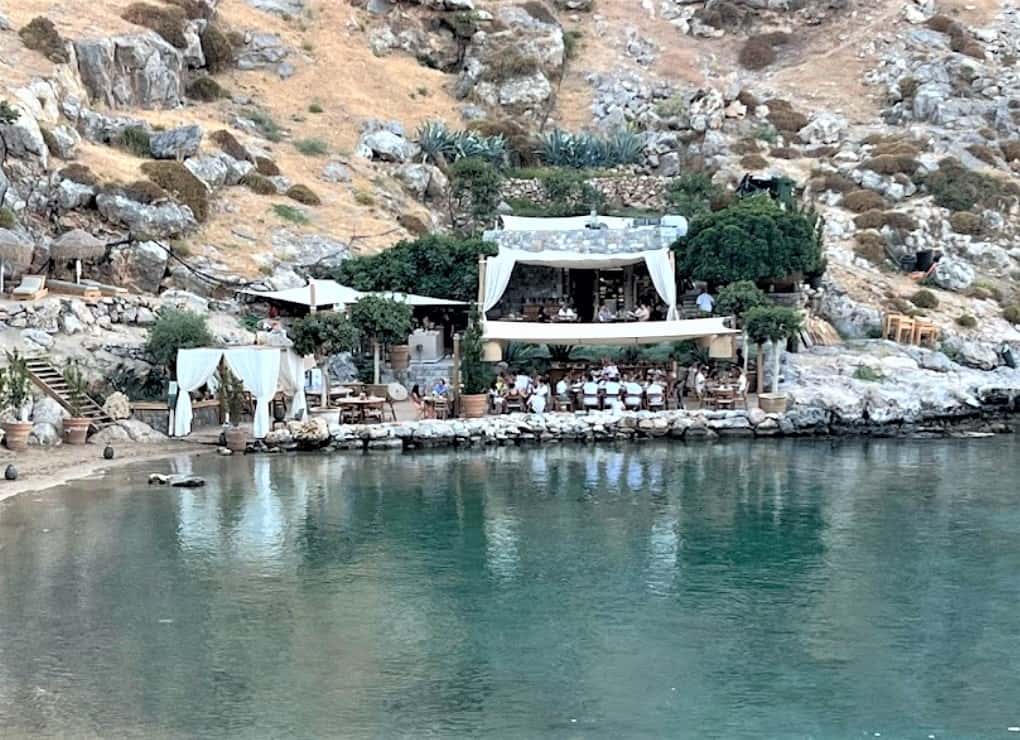 There are several restaurants, cafes, and tavernas near St. Paul's Bay where you can enjoy traditional Greek cuisine and refreshments while taking in the stunning views.
St. Paul's Bay Taverna: This taverna, located right by the bay, offers traditional Greek dishes and fresh seafood. You can dine on a terrace overlooking the sea, making it a perfect spot for a romantic meal.
Lindian House: A cozy restaurant with a terrace that provides fantastic views of St. Paul's Bay. They serve a mix of Greek and Mediterranean dishes, including fresh seafood and grilled meats.
Ktima Lindos: A family-run restaurant near the bay, Ktima Lindos offers a warm atmosphere and Greek cuisine prepared with locally sourced ingredients. Their terrace provides a lovely setting for dining.
Stefany's Restaurant: Located close to St. Paul's Bay, Stefany's Restaurant offers a wide range of Greek dishes, including moussaka, souvlaki, and fresh salads. You can enjoy your meal on their terrace with panoramic sea views.
Mythos All Day Cafe: A cafe near St. Paul's Bay where you can enjoy coffee, cocktails, and light snacks. They also serve breakfast and have a relaxing atmosphere.
Mythos Restaurant: Located in the heart of Lindos, Mythos Restaurant offers traditional Greek cuisine with a modern twist. Their rooftop terrace provides lovely views of the town and the bay.
Mavrikos: This historic restaurant in Lindos offers a fine dining experience with a menu featuring fresh seafood and Greek specialties. It's known for its elegant ambiance and quality cuisine.
7. Weddings and Events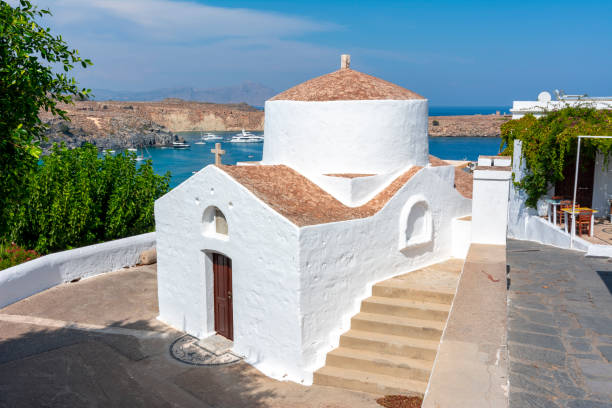 St. Paul's Bay is a popular location for weddings and other special events due to its romantic and picturesque setting.
Many couples choose St. Paul's Bay as the backdrop for their wedding ceremonies. The picturesque bay, with its crystal-clear waters, sandy beach, and dramatic cliffs, provides a beautiful and romantic setting for exchanging vows. The nearby Chapel of St. Paul on the hill overlooking the bay is a common location for wedding ceremonies, adding a touch of historical and spiritual significance to the occasion.
After the ceremony, you can arrange a wedding reception at one of the nearby restaurants or event venues in Lindos. Many restaurants in the area offer wedding packages and can cater to various-sized wedding parties, providing a range of Greek and Mediterranean cuisine options.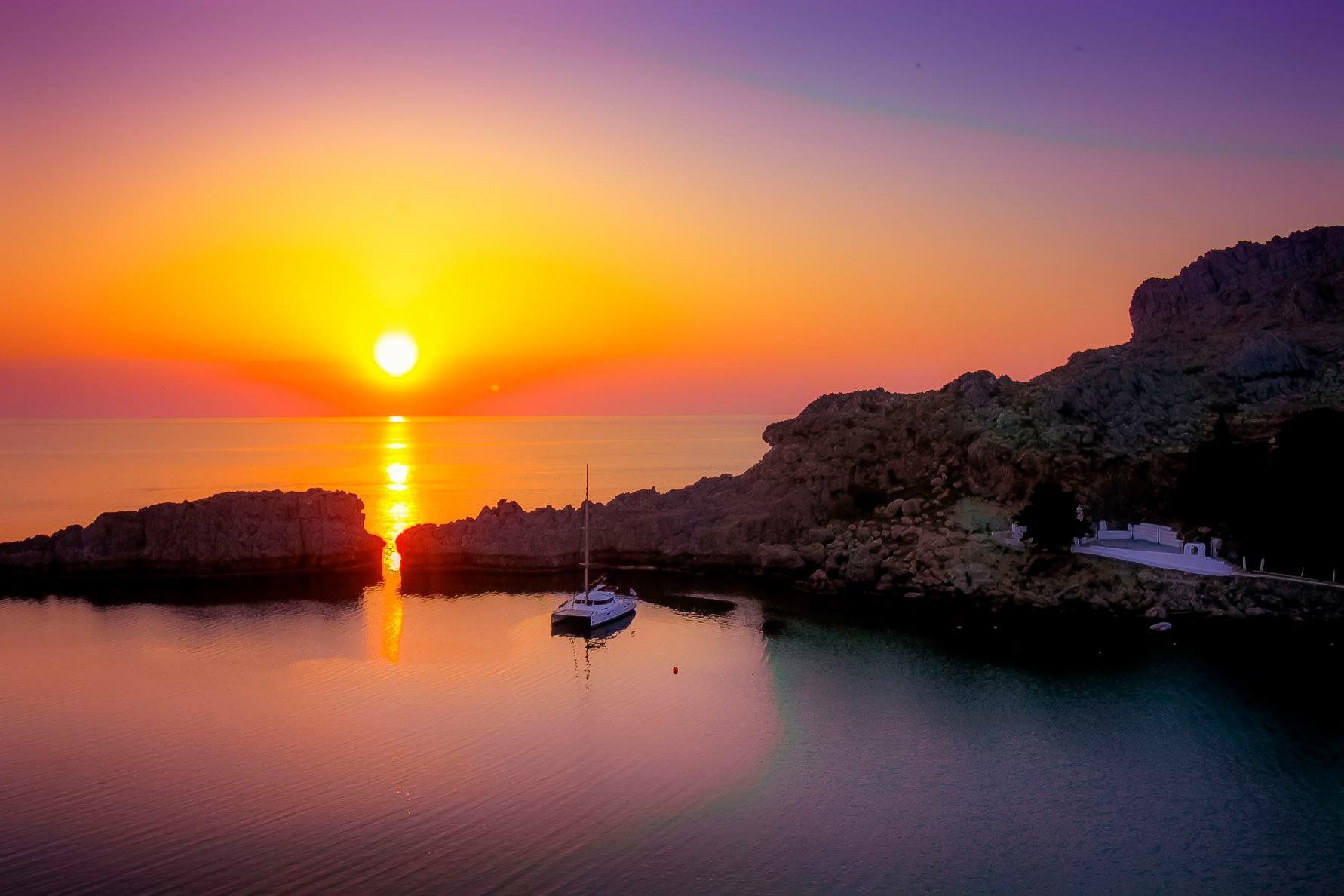 To simplify the process of planning a wedding or event at St. Paul's Bay, you can enlist the services of local event planners or wedding coordinators. They can assist with securing permits, arranging transportation, coordinating catering, and handling all the logistical details to ensure a seamless event.
Lindos offers a range of accommodations, including hotels, villas, and vacation rentals, to accommodate your wedding guests. It's essential to plan accommodations well in advance, especially if you have a large guest list.
Depending on the size of your event, you may need permits or permissions from local authorities. It's important to research and comply with any regulations related to hosting events at St. Paul's Bay.
The best time for weddings and events at St. Paul's Bay is typically during the spring and summer months when the weather is pleasant and the island is at its most vibrant. However, keep in mind that this is also the peak tourist season, so it's advisable to book venues and services well in advance.
What time can you tour St Paul's cathedral?
Visitors can enter the cathedral between 8:30 AM and 4:30 PM. At 4:15 PM, the last admission occurs.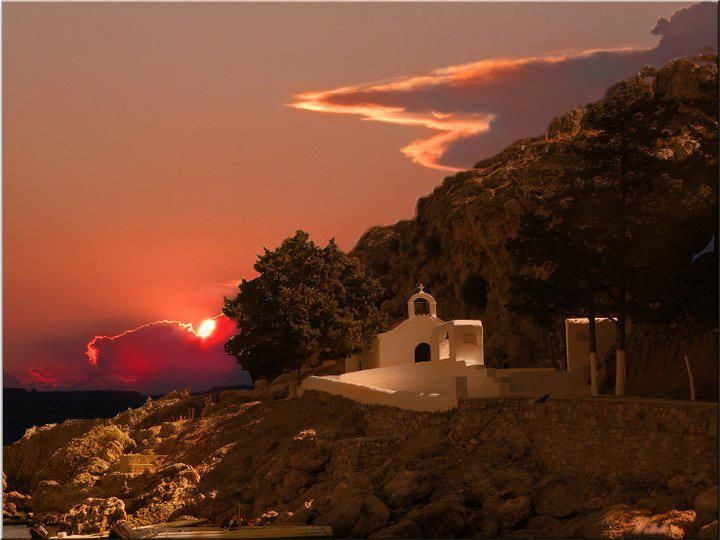 Do you need to book to visit St Paul's?
World travelers are drawn to St. Paul's Cathedral because it is both an architectural wonder and a historical treasure. It is best to get your tickets in advance, take in the breathtaking architecture, and make use of the numerous tours offered to guarantee a smooth and enjoyable visit. You will gain a deep understanding of London's history and cultural legacy from your visit to St. Paul's Cathedral, which is guaranteed to be an enriching experience.
Conclusion
Overall, St. Paul's Bay in Lindos is a must-visit destination for anyone traveling to Rhodes, offering a combination of natural beauty, historical significance, and recreational opportunities. It's a serene and idyllic spot that captures the essence of the Greek islands.