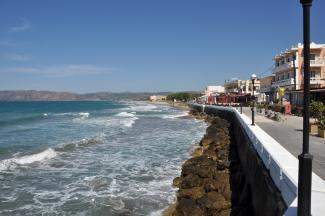 A Full Guide to Kissamos in Crete
Submitted by discoverd1 |
Do you want to learn more about Kissamos town in Chania Crete? Find out key highlights and attractions in Kissamos below.
---
1. Kissamos Port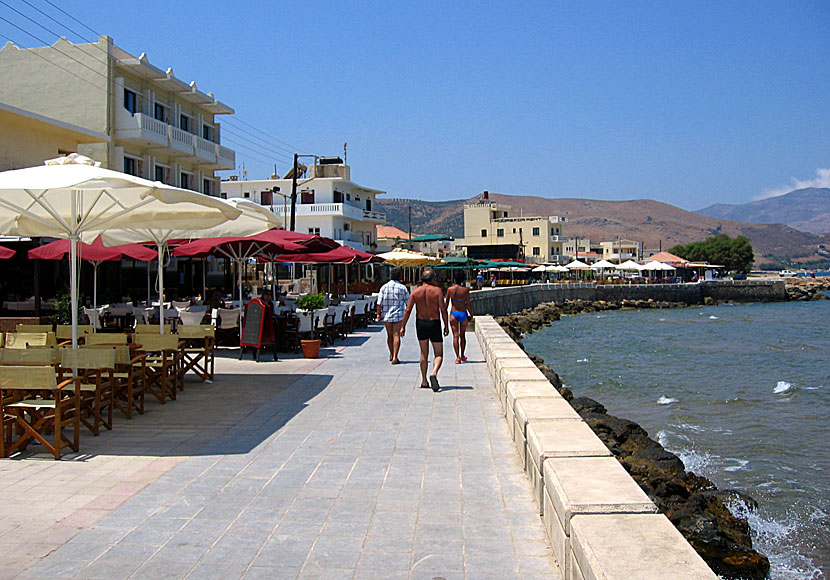 Kissamos (also known as Kastelli) is a town located on the northwest coast of the island of Crete, Greece. It is situated approximately 42 kilometers west of Chania, the regional capital. Kissamos is known for its picturesque landscapes, beautiful beaches, and historical significance.
Kissamos has a small port that serves as a gateway for boat trips to nearby destinations like Balos Lagoon and Gramvousa Island. The port is not a major commercial or passenger port like those found in larger cities, but it plays a crucial role in connecting visitors to the stunning attractions in the region.
Kissamos Port is the starting point for boat excursions to Gramvousa Island and Balos Lagoon. These boat trips are very popular among visitors to Crete, offering a chance to explore the stunning beaches, clear waters, and historical sites in the area.
While Kissamos Port is relatively small, it has the necessary facilities for tourists, including ticket counters, cafes, and restrooms.
The port is conveniently located in the center of Kissamos town, making it easily accessible for tourists staying in the area.
Many tourists reach Kissamos Port by car or public transportation from other parts of Crete, including Chania. The distance from Chania to Kissamos is approximately 42 kilometers.
Boat trips from Kissamos Port to Gramvousa and Balos Lagoon typically operate during the tourist season, from late spring to early autumn. The exact schedule may vary depending on weather conditions and demand.
If you are staying in Chania and prefer not to travel to Kissamos, there are also boat excursions to Gramvousa and Balos Lagoon available from the main port of Chania.
2. Kissamos Beaches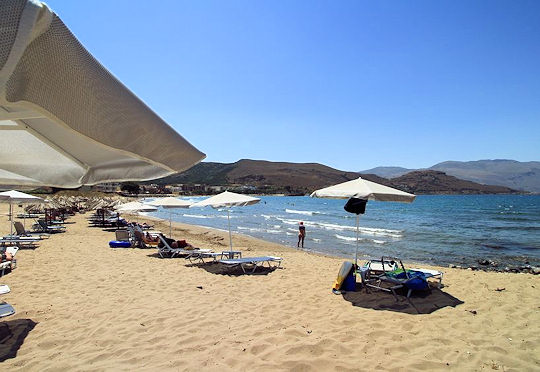 The area is renowned for its stunning beaches, such as Mavros Molos, Telonio, and Falassarna. These beaches offer crystal-clear waters and golden sands, making them ideal for relaxation and water activities.
Mavros Molos Beach is the main beach of Kissamos town and is well-organized with sunbeds and umbrellas available for rent. The shallow waters make it suitable for families with children.
Telonio Beach is situated next to Mavros Molos, Telonio Beach is also well-organized and provides a great spot for swimming and sunbathing.
Considered one of the most stunning beaches on Crete, Falassarna offers a vast expanse of soft golden sand and crystal-clear waters. It's divided into several coves, and the beach is organized with sunbeds and umbrellas. The sunset views from here are particularly breathtaking.
Accessible by boat from the port of Kissamos, Balos is a natural wonder with shallow turquoise waters and unique pinkish sand. It's located on the Gramvousa Peninsula and surrounded by impressive rock formations.
While not directly in Kissamos but still within a reasonable driving distance, Elafonissi is one of the most famous and photogenic beaches on the island. It features a stunning mix of white and pink sand and shallow, clear waters.
A quieter and more secluded option, Sfinari Beach offers a peaceful environment for those seeking a more relaxed atmosphere.
Another quieter option, Drapanias Beach is less crowded and provides a serene setting for beachgoers.
This beach is located near the port of Kissamos and offers a lovely place for swimming and sunbathing.
Each of these beaches has its own unique charm and characteristics, making Kissamos an excellent destination for beach lovers looking to explore the natural beauty of Crete. Whether you prefer popular and organized beaches or more secluded spots, Kissamos has a beach to suit your preferences.
What to do in Kissamos Crete?
3. Gramvousa Island and Balos Lagoon Boat Trip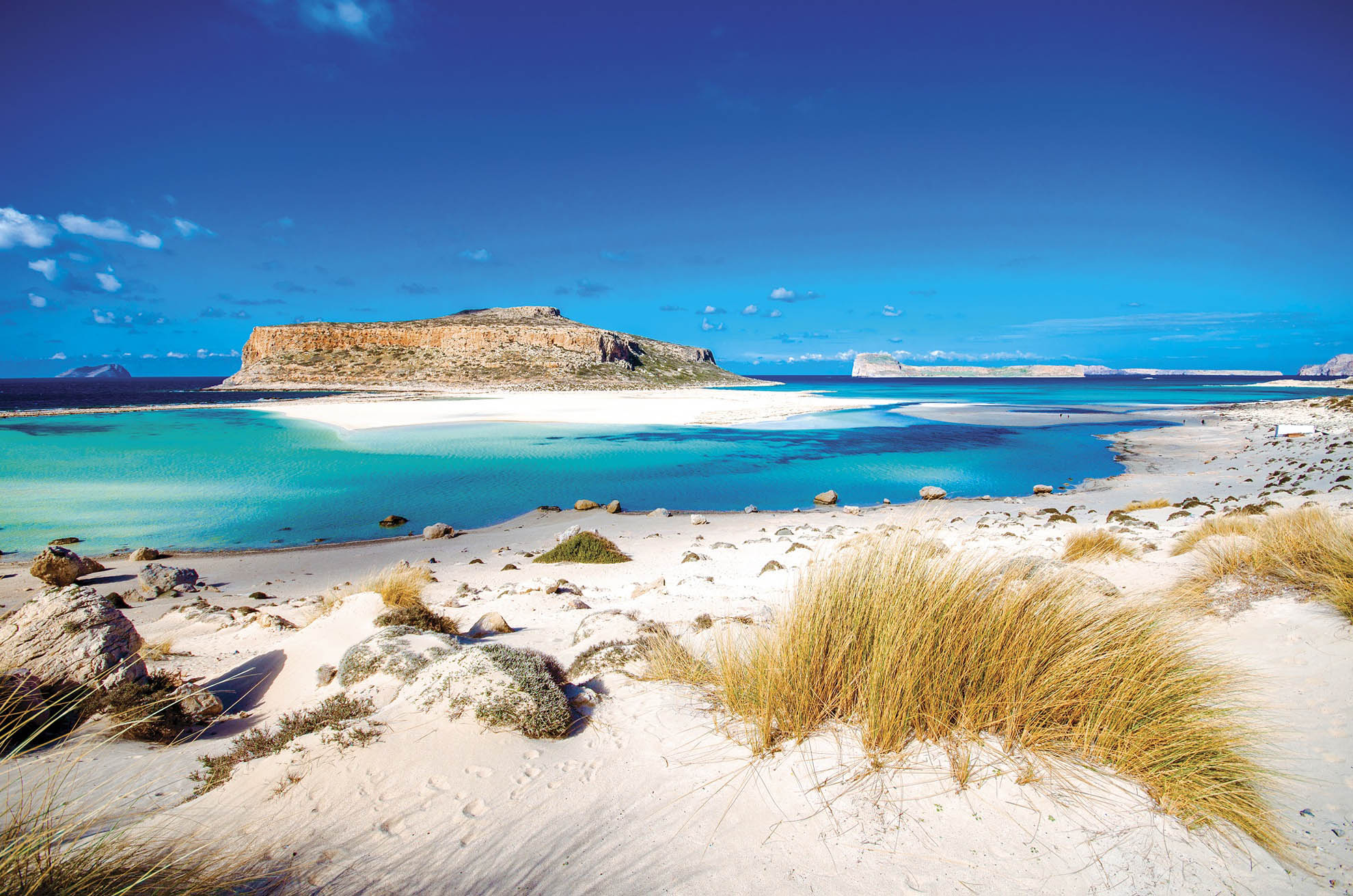 A Balos & Gramvousa Boat Trip from Kissamos takes you to the uninhabited island of Gramvousa and the nearby Balos Lagoon. These natural wonders are known for their turquoise waters and stunning scenery.
Gramvousa Island and Balos Lagoon are two incredible natural attractions located on the northwest coast of Crete, Greece. Both destinations are known for their stunning landscapes, crystal-clear waters, and historical significance. They are often visited together on boat trips from the nearby town of Kissamos.
Gramvousa is an uninhabited island situated close to the northwest tip of Crete. It is famous for its Venetian fortress, which sits atop a steep hill and offers panoramic views of the surrounding sea and coastline. The fortress was built by the Venetians in the 16th century and served as a strategic outpost during their rule over Crete. Today, visitors can hike to the top of the hill to explore the well-preserved ruins of the fortress and enjoy the breathtaking vistas.
Balos is a unique and mesmerizing lagoon located between the Gramvousa Peninsula and the northwest coast of Crete. It is renowned for its shallow turquoise waters, pinkish sand, and exotic appearance. The lagoon is a protected Natura 2000 site due to its exceptional beauty and ecological importance. Access to Balos Lagoon is mainly by boat, which departs from Kissamos port. Alternatively, adventurous visitors can reach the lagoon by hiking a steep and rocky path from the parking area at the top of the Gramvousa Peninsula.
Boat excursions to Gramvousa Island and Balos Lagoon are popular among tourists, providing a relaxing and scenic way to reach these remote destinations.
A visit to Gramvousa and Balos usually takes a full day. Be sure to bring essential items like sunscreen, water, hats, and comfortable shoes for the hike if you choose to explore the fortress.
Balos Lagoon is an ideal spot for swimming and snorkeling, with its shallow and clear waters teeming with marine life.
The sunset from the top of the Gramvousa fortress or at Balos Lagoon is a memorable experience, so consider planning your trip to catch this magical moment.
4. Elafonissi Beach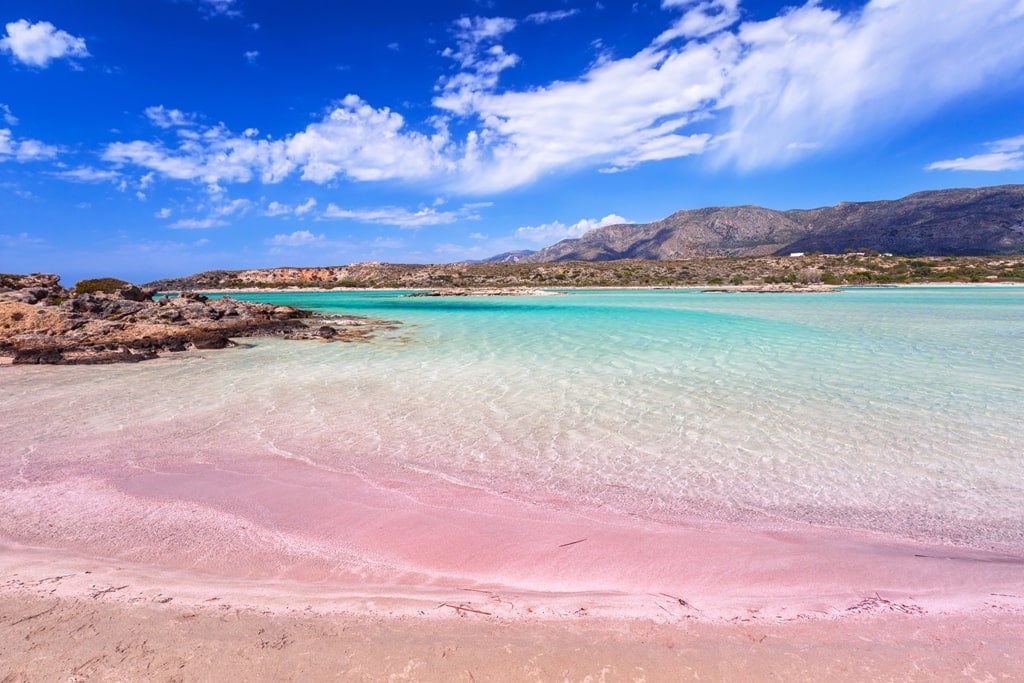 If you want Elafonissi Tour from Chania. On the southwest coast of Crete, there is a magnificent beach called Elafonissi, which is well-known for its turquoise waves and pink-hued sand. 
You will be welcomed by the beach's spectacular splendour as soon as you get at Elafonissi. Spend the day discovering the region and admiring the local natural beauty.
You'll think you're in heaven as you enjoy the lovely sandy beaches lined with pink coral sand and the sea and lagoon's crystal pure waters. Head to the island by wading through the lagoon's knee-deep water (on sometimes, the channel will close, allowing you to travel the entire distance without getting your feet wet).
On the south side, there are several little beaches, and the farther you walk, the calmer it becomes. Typically, the water is relatively shallow and suitable for kids.
5. Visit the Ancient City of Polirrinia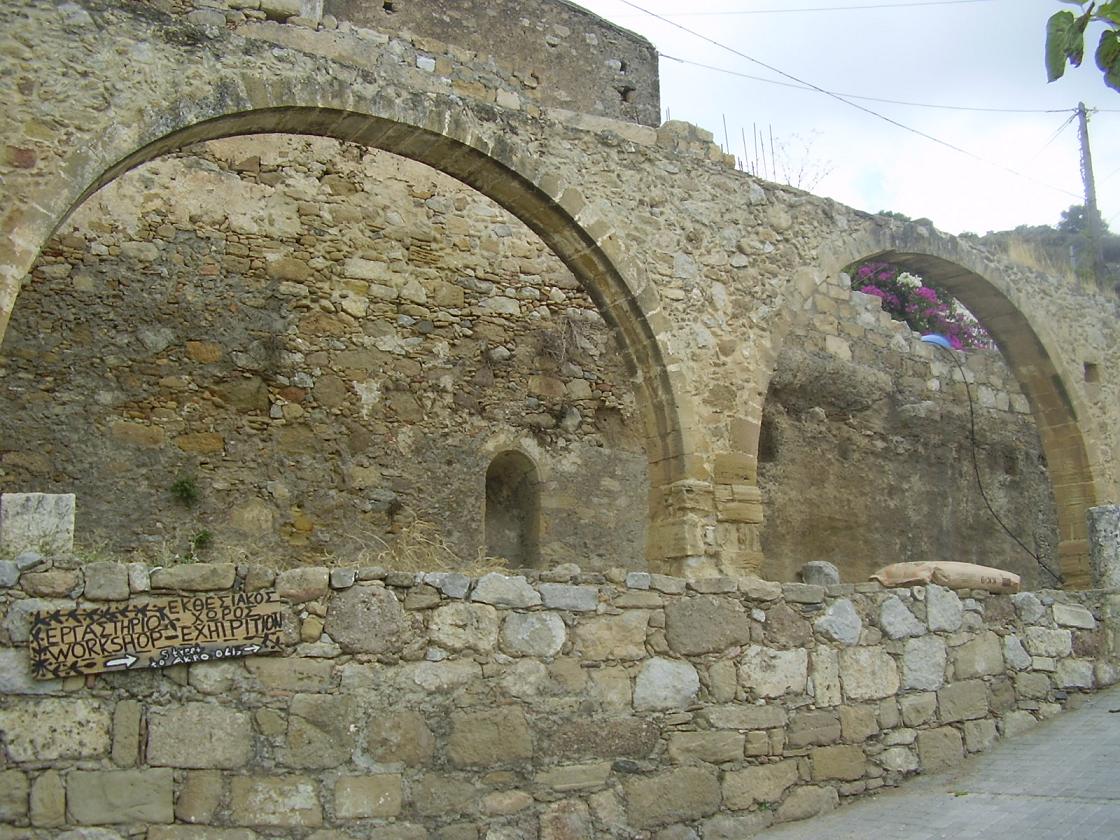 The Ancient City of Polirinia (also spelled as Polyrrhenia or Polyrinia) is an important archaeological site located on the northwest coast of the island of Crete, Greece. It lies about 7 kilometers southeast of the modern town of Kissamos (Kastelli) and dates back to antiquity, having been inhabited since the Geometric period (9th century BCE).
Polirinia was a fortified city, and its imposing walls were an essential defensive structure. The walls were constructed using large limestone blocks and served to protect the city from invasions and attacks.
The ancient city had an acropolis, a raised and fortified area situated on a hill, providing a strategic advantage for defense and monitoring the surroundings.
Polirinia had several temples and sanctuaries dedicated to various gods and goddesses, such as Artemis, Apollo, and Asclepius. These religious sites played a significant role in the city's social and cultural life.
The city had a central marketplace, known as the agora, where economic and social activities took place. It was a bustling hub of commerce and communal gatherings.
Outside the city walls, there were burial grounds known as the necropolis, where various types of tombs and funerary structures have been discovered.
Polirinia was one of the most important city-states in ancient Crete and was a member of the Dorian Hexapolis, a league of six Dorian cities on the island. Its strategic location and strong fortifications made it a significant player in the region's history.
The city flourished during the Classical and Hellenistic periods but gradually declined during the Roman era. The decline of Polirinia was likely due to a combination of factors, including changes in political alliances and economic shifts.
Today, visitors to the Ancient City of Polirinia can explore the well-preserved ruins, walk along the city walls, and admire the historical structures that provide insights into the life and culture of ancient Cretans. The site offers a captivating journey into the island's past and is an excellent destination for history enthusiasts and anyone interested in ancient civilizations.
As with any archaeological site, it's essential to respect the historical remains and follow any guidelines or regulations in place to preserve these valuable heritage sites for future generations.
6. Falassarna Beach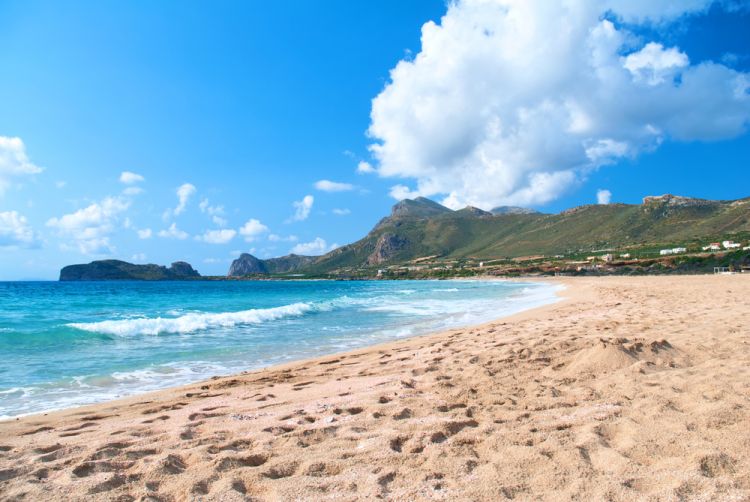 Falassarna (also spelled as Phalasarna) is a beautiful coastal area and popular beach destination located on the northwest coast of the island of Crete, Greece. It is approximately 17 kilometers west of the town of Kissamos (Kastelli) and around 50 kilometers from Chania, the regional capital.
The main attraction in Falassarna is its stunning beach, which is often ranked among the best beaches in Crete and Greece. The beach stretches over four kilometers and is divided into several sections. It offers fine golden sand and crystal-clear turquoise waters, making it an idyllic spot for swimming and sunbathing.
Falassarna is renowned for its magnificent sunset views over the sea. Many visitors come to the beach in the late afternoon to witness the spectacular sunsets that paint the sky with vibrant colors.
The area is also of historical significance, as it was the site of the ancient city of Falassarna. While the ruins of the ancient city are not as prominent as some other archaeological sites on Crete, it adds a historical dimension to the natural beauty of the location.
The ancient city of Falassarna was once an important harbor town during the Hellenistic period and flourished as a significant commercial and cultural center.
Apart from the beach and archaeological interest, Falassarna's landscape is characterized by picturesque hills, olive groves, and a tranquil atmosphere, making it an excellent destination for nature lovers and those seeking a peaceful escape.
The clear waters and reliable winds in the area make Falassarna a popular spot for water sports enthusiasts, particularly windsurfing and kitesurfing.
The beach is well-organized with sunbeds, umbrellas, and various beachside facilities, including tavernas and cafes where visitors can enjoy local cuisine and refreshing drinks.
Falassarna is a must-visit destination in Crete, attracting both locals and tourists alike. Whether you're looking for relaxation on a stunning beach, a chance to immerse yourself in history, or simply to witness awe-inspiring sunsets, Falassarna offers a memorable and enriching experience.
7. Kissamos Archaeological Museum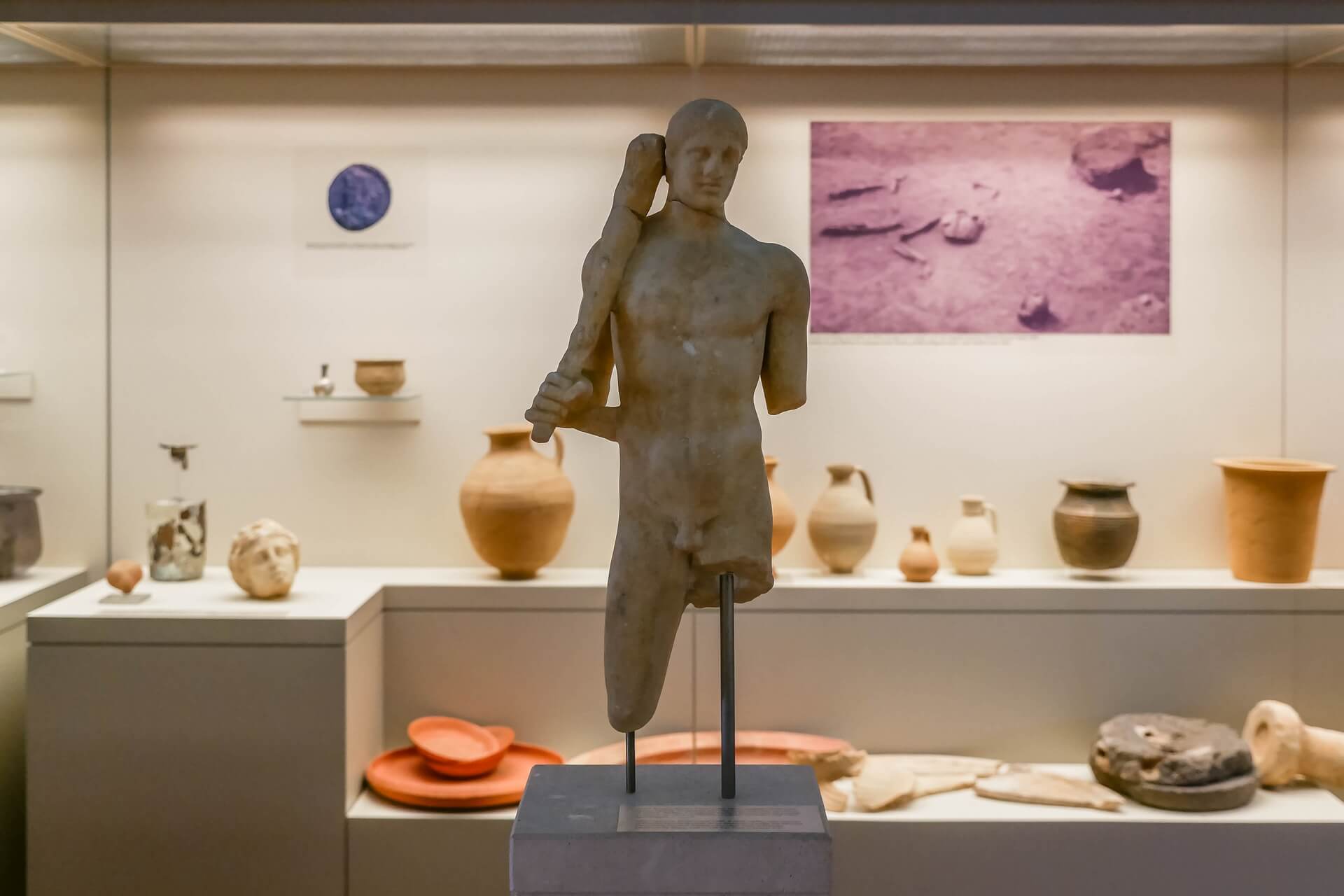 Chania Archaeological Museum is located in Chania, the regional capital of Crete, approximately 42 kilometers east of Kissamos. The museum houses a diverse collection of artifacts from various archaeological sites across western Crete, including Kissamos and its surrounding areas.
The museum's exhibits cover a wide range of historical periods, from prehistoric times to the Roman and Byzantine eras. Visitors can find archaeological findings such as pottery, sculpture, coins, jewelry, and other artifacts that provide insights into the island's rich history and cultural heritage.
While the Chania Archaeological Museum may not focus solely on Kissamos, it is an excellent place to learn about the broader history of western Crete, including the ancient city of Polirinia and other nearby archaeological sites.
8. Taste Cretan Cuisine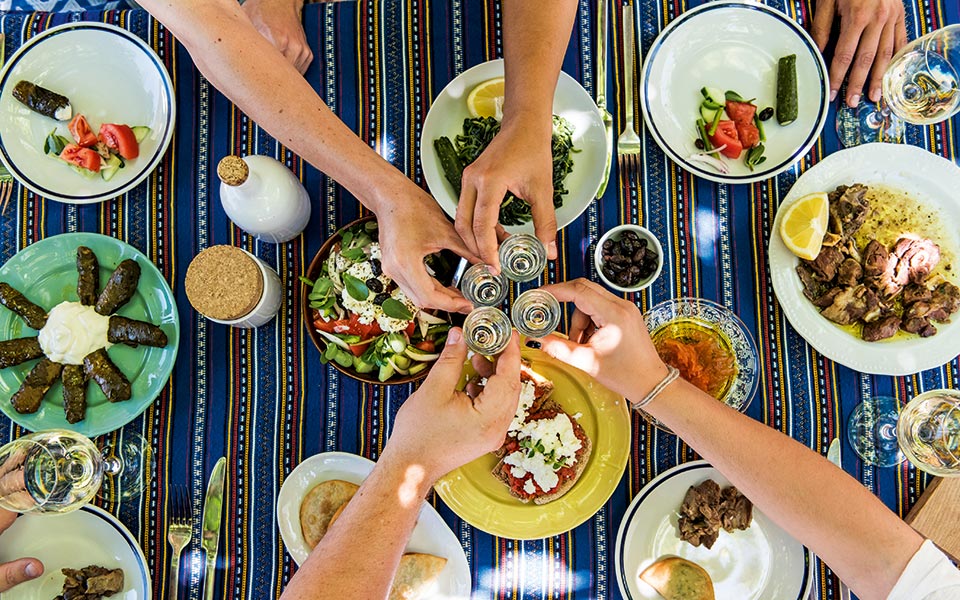 Kissamos offers a variety of traditional tavernas and restaurants where you can enjoy delicious Cretan cuisine, including fresh seafood and local specialties.
Cretan dishes are made using fresh, locally sourced ingredients, including vegetables, fruits, grains, herbs, and dairy products. Due to the island's favorable climate, a wide variety of produce is available throughout the year.
Cretans use a variety of aromatic herbs and spices in their cooking, such as oregano, thyme, rosemary, and bay leaves, which give their dishes a distinct and flavorful taste.
Traditional Cretan cuisine includes a variety of grains, such as barley, wheat, and rye. Cretans also have a strong tradition of making bread, and they often consume hearty whole-grain bread.
Crete produces several excellent varieties of cheese, including mizithra, graviera, and anthotyro. These cheeses are widely used in salads, pies, and other dishes.
Being an island, Crete has access to an abundance of fresh seafood, including fish, squid, octopus, and shellfish, which are featured prominently in coastal cuisine.
Cretan cuisine features a wide array of vegetable-based dishes, such as stuffed tomatoes and peppers, fasolakia (green beans cooked with tomatoes and olive oil), and briam (a baked vegetable dish).
While meat is not as central to the Cretan diet as vegetables and grains, lamb, pork, and chicken are commonly consumed in traditional dishes, especially during festive occasions.
Cretan desserts are often made with honey, nuts, and local fruits. Some popular sweets include kalitsounia (cheese or sweet pastries), xerotigana (fried dough soaked in honey), and baklava.
Raki (also known as tsikoudia) is a strong spirit made from grape pomace, and it is often offered as a complimentary drink at the end of a meal.
9. Gorges and Hiking Trails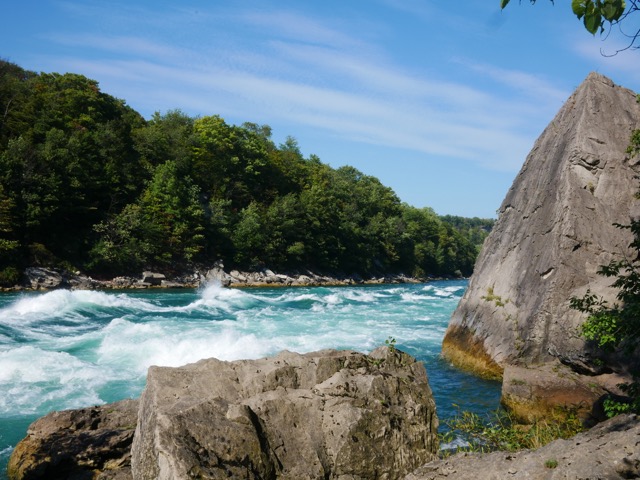 Crete is renowned for its stunning gorges and hiking trails, making it a paradise for nature lovers and outdoor enthusiasts. The island's diverse landscapes offer a range of hiking experiences, from easy walks to challenging treks through magnificent gorges.
Located in the White Mountains (Lefka Ori), the Samaria Gorge is one of the most famous and popular gorges in Europe. It is a UNESCO Biosphere Reserve and a National Park. The hike through the gorge is about 16 kilometers long and takes around 4 to 7 hours, depending on your pace. The trail starts at Xyloskalo and ends at Agia Roumeli, where you can relax on the beach or take a boat to the nearby village of Chora Sfakion.
Also in the White Mountains, the Imbros Gorge offers a less challenging but equally scenic hike. It is about 8 kilometers long and takes around 2 to 3 hours to complete. The trail starts at the village of Imbros and leads down to Komitades village.
This gorge is located near the town of Sougia in southwestern Crete. It is less crowded than Samaria and Imbros, making it a quieter and more peaceful hiking option. The hike is about 7 kilometers long and takes around 2 to 3 hours.
Situated close to the village of Loutro, Aradena Gorge offers a more challenging hike with steep descents and ascents. It is about 6 kilometers long and takes around 2 to 3 hours to complete.
Located in eastern Crete near Sitia, Richtis Gorge is known for its lush vegetation, natural springs, and beautiful waterfall at the end of the trail. The hike is about 3.5 kilometers long and takes around 1 to 2 hours.
Ha Gorge (also known as Sarakina Gorge) is located near the town of Ierapetra in southeastern Crete. It is a narrow and impressive gorge with vertical walls, offering a unique hiking experience. The hike is about 2.5 kilometers long and takes around 1 to 2 hours.
Crete is part of the E4 European long-distance path, which offers numerous hiking opportunities across the island. The E4 trail passes through various landscapes, including gorges, mountains, and coastal areas.
Conclusion
Finally, If you are planning a trip to Kissamos or Chania and want to take a boat excursion to Gramvousa and Balos Lagoon, we recommend checking with local tour operators or the port authorities for the latest information on boat schedules, availability, and safety measures.