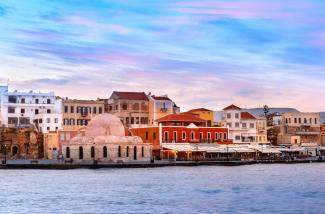 Explore the Charm of Chania, Crete: 13 Top Things to Do
Submitted by discoverd1 |
When it comes to the perfect Mediterranean getaway, Chania, Crete, stands out as a top destination. With its rich history, stunning landscapes, and vibrant culture, this charming city offers an array of activities and attractions for travelers of all interests. Whether you're a history enthusiast, a nature lover, or someone who simply enjoys the beauty of a coastal town, Chania has something special to offer. In this guide, we will explore the many things to do in Chania, Crete, to ensure your visit is a memorable one.
---

Nature and Adventure
1. Hike the Samaria Gorge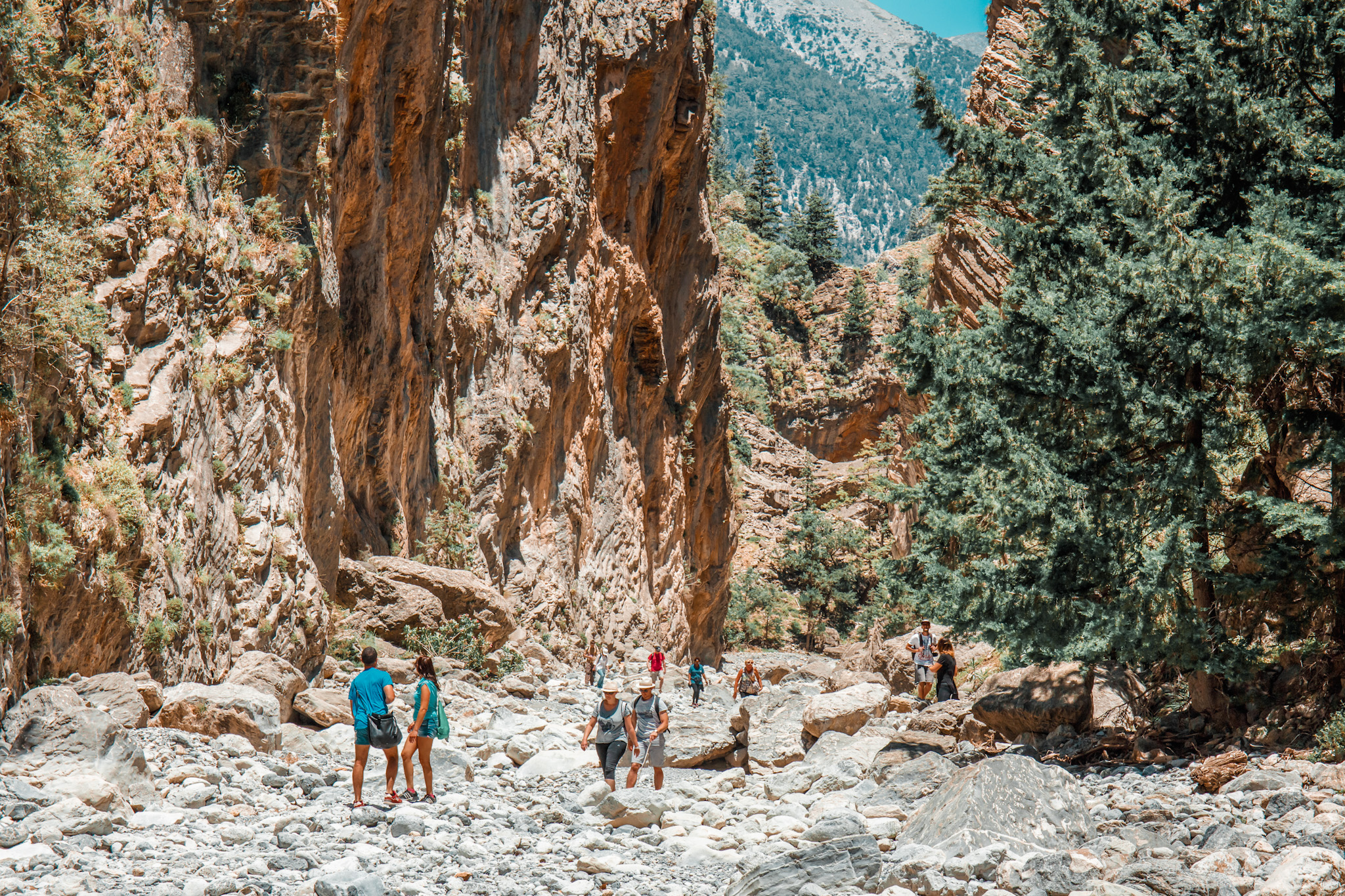 One of the most well-liked and stunning natural landmarks in Greece's Crete is the Samaria Gorge. Located in the southwest region of Crete, in the White Mountains (Lefka Ori), is a 16-kilometer-long, narrow, and deeply gorge.
The gorge is a protected region with remarkable natural beauty and unique flora and fauna because it is both a recognized national park and a UNESCO Biosphere Reserve. Book the most adventurous day tour here SAMARIA GORGE DAY TOUR FROM CHANIA .
Trekkers from all over the world go to the gorge, which is a nature lover's dream come true. Trekking down the gorge from the Omalos Plateau to the coastal settlement of Agia Roumeli is the most popular activity.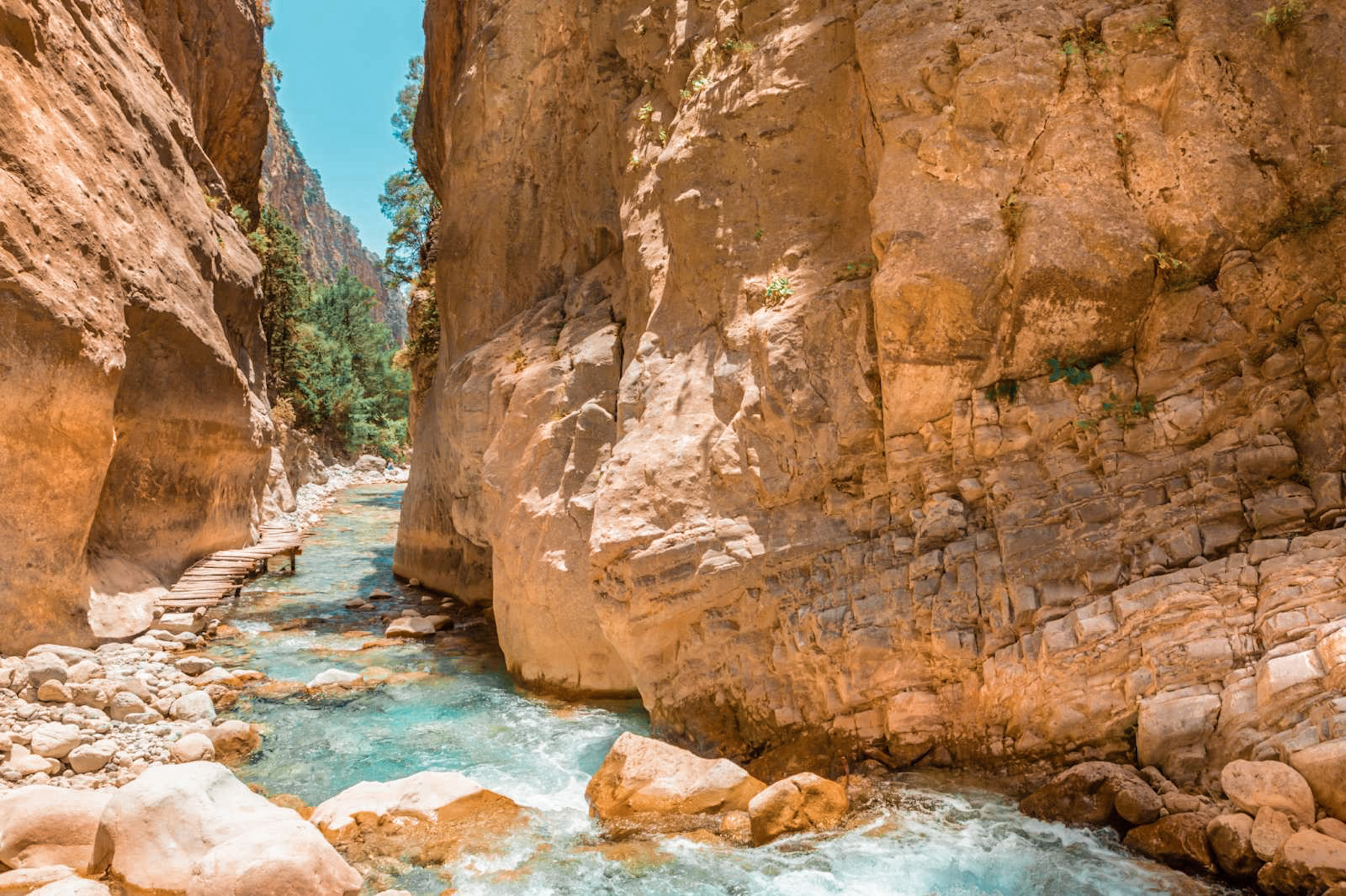 The Samaria Gorge is well-known for its breathtaking vistas, sheer cliffs, and river that meanders through it. The "Iron Gates," where the cliffs rise sharply on either side, are the narrowest point of the gorge.
Numerous plant and animal species, some of which are local to the gorge, can be found there. Along the trip, lucky hikers may see various indigenous plant species, wild goats, and raptors.
Before starting your journey, you may discover parking lots, eateries, and basic amenities in the alpine community of Omalos.
This is where the walk within Samaria Gorge officially begins. You start your descend from a wooden platform that has steps heading down into the gorge.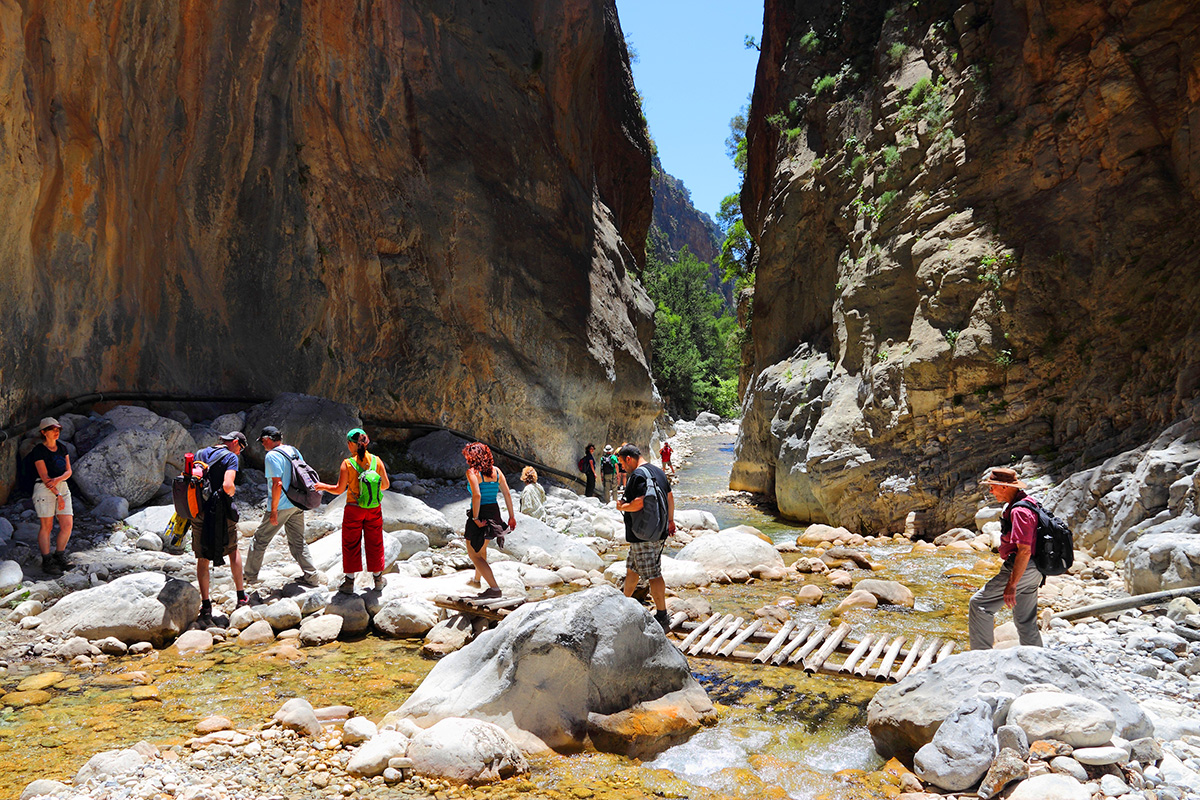 Numerous water springs may be found throughout the hiking track, providing an opportunity to refuel and relax.
The seaside community of Agia Roumeli, where hikers can unwind on the beach, bathe in the Libyan Sea, and savor a well-earned dinner, is where the journey through the valley ends.
The gorge is safeguarded as a national park, and rules are in place to protect hikers' safety as well as the ecological integrity of the area.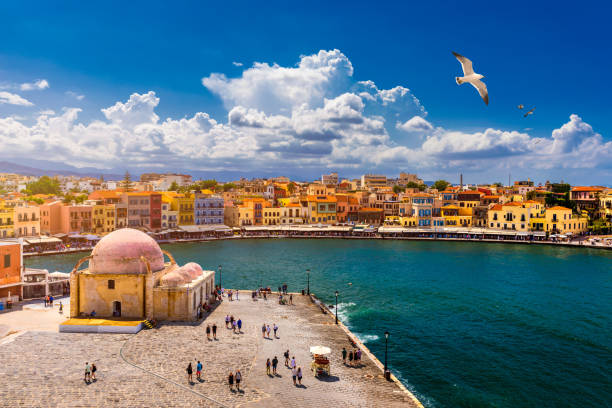 Is Chania Town worth visiting?
Enthusiastically exploring Chania Town will reveal a hidden treasure. It is a place that should definitely make it into your travel bucket list because of its fascinating history, stunning natural beauty, delicious cuisine, and friendly residents. The allure of Chania Town is more than simply a sight to behold; it's an encounter that will linger in your memory forever.
So, is a trip to Chania Town worthwhile? Certainly. It's a place that provides a special fusion of culture, history, nature, and kind hospitality, ensuring that your trip there will be one you remember for a lifetime.
 
 2. Discover all Beaches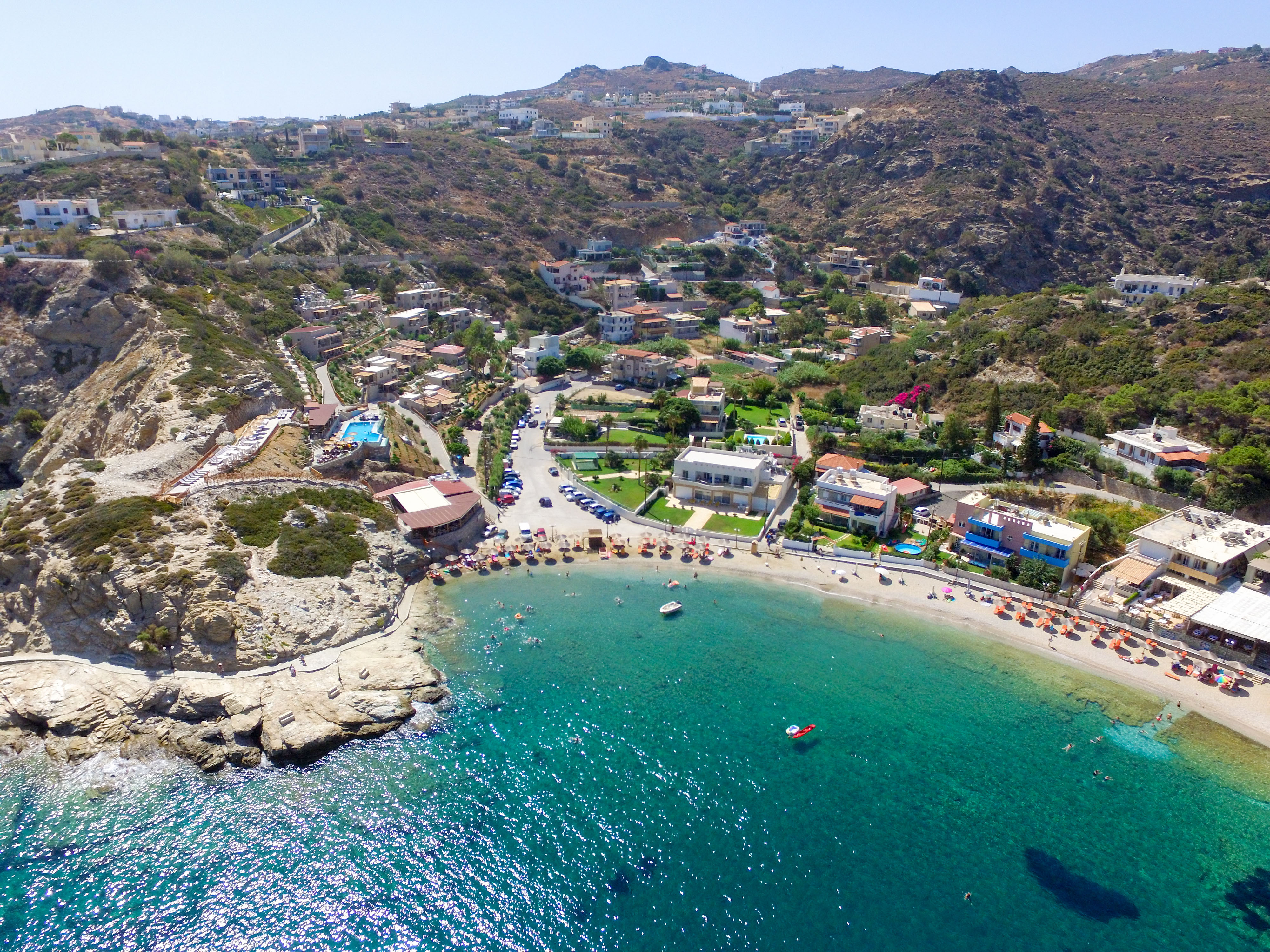 Whether you're looking for a quiet cove for relaxation or a bustling beach with water sports, Chania, which is situated on the lovely island of Crete, has some breathtaking beaches to suit your tastes.
Elafonissi is a well-known and attractive beach in Crete, renowned for its turquoise seas and pinkish sand. Situated approximately 75 kilometers southwest of Chania, it provides a distinctive and remarkable beach experience.
Find out ELAFONISSI TOUR FROM CHANIA .
Balos is a gorgeous beach featuring a gorgeous lagoon and crystal-clear blue waters. It is located 56 kilometers northwest of Chania on the northwest coast of Crete. The surrounding settlement of Kaliviani offers boat or trekking access to the beach. Find out BALOS & GRAMVOUSA BOAT TRIP FROM CHANIA .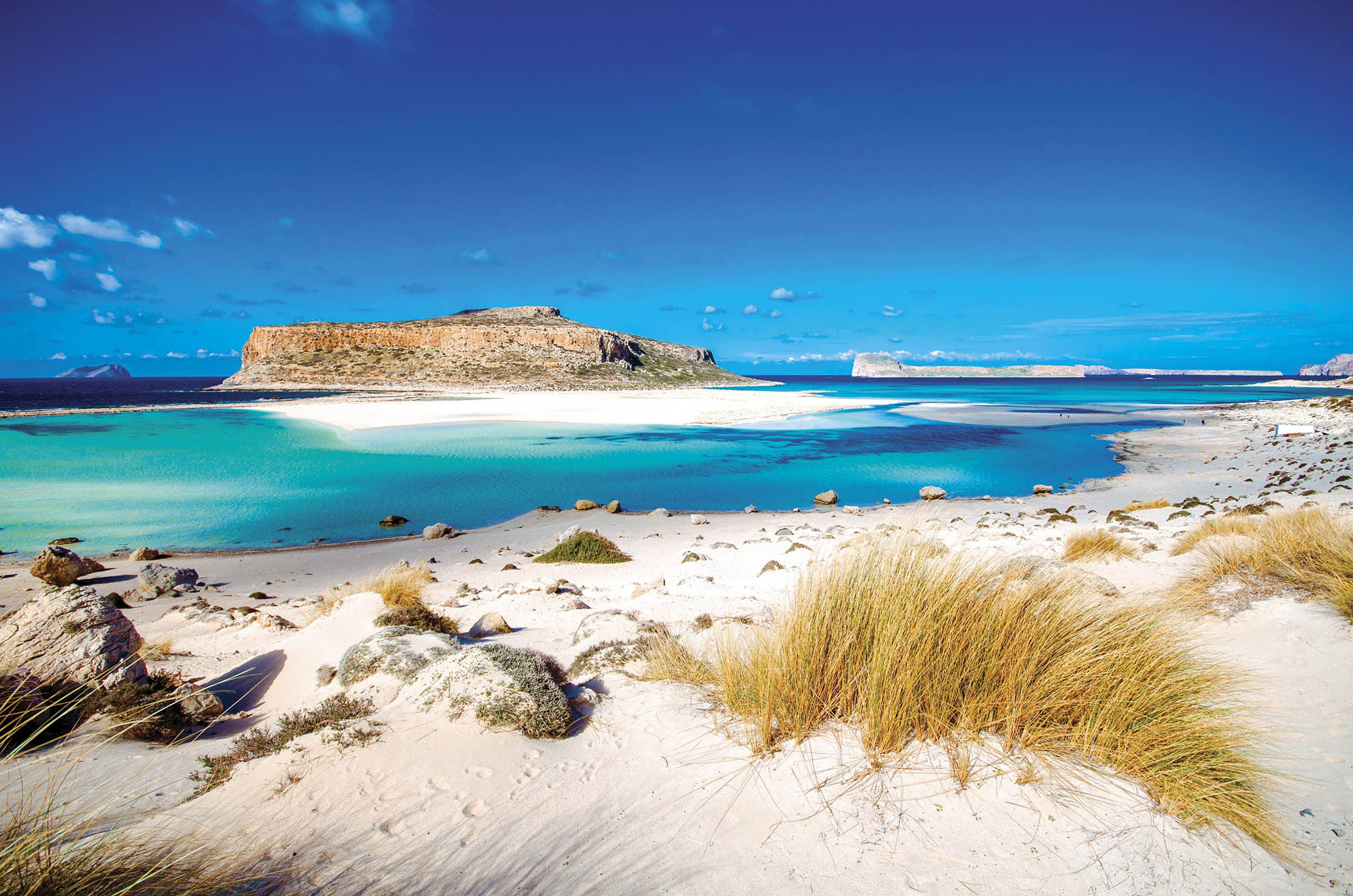 Falassarna is a sizable and well-liked sandy beach with excellent waters that is located around 59 kilometers west of Chania. It's a great place to swim, lounge, and take in stunning sunsets.
Stavros, which is roughly 17 kilometers northeast of Chania, is well-known for both the filming of the "Zorba the Greek" dance scene and its unusual horseshoe form. The beach is appropriate for families with small children because of its shallow seas.
Seitan Limania, sometimes called Stefanou Beach, is a remote beach 20 kilometers northeast of Chania. It is tucked away in a beautiful, tranquil environment between two sheer cliffs.
About 16 km east of Chania is the family-friendly beach of Marathi. It's a terrific place for a leisurely day by the sea because it has shallow waves and a variety of tavernas along the shoreline.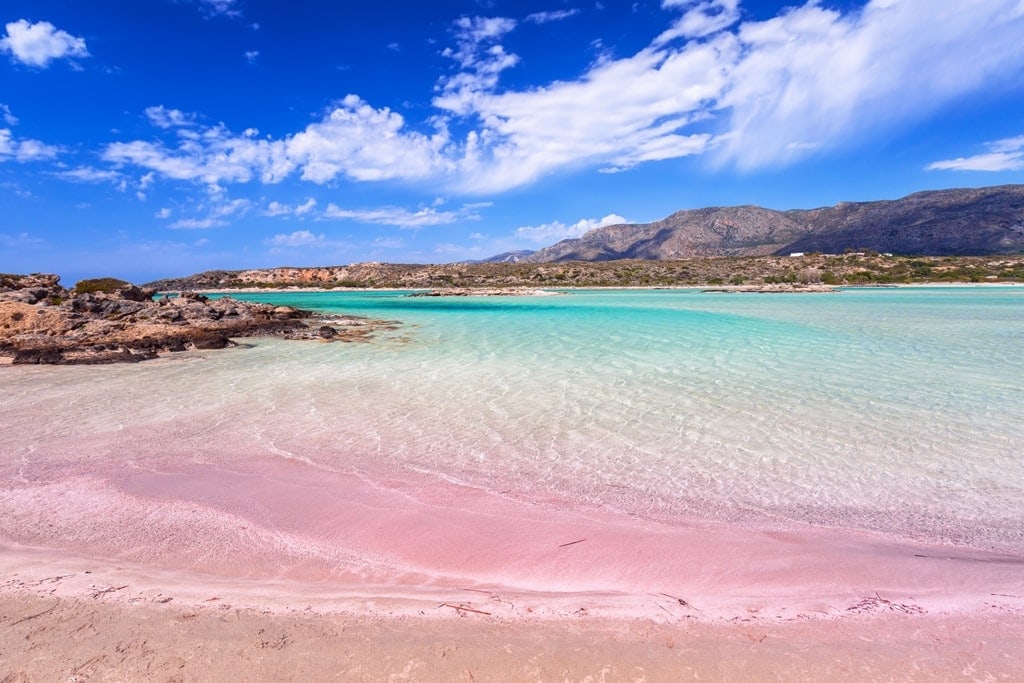 These little sandy beaches are a mere 4 kilometers to the west of Chania. Families and tourists looking for comfort will find the beaches convenient due to their organization and amenities.
Agia Marina is a well-liked beach with a long stretch of golden sand and lovely waves, located roughly 9 kilometers west of Chania. Additionally, the neighborhood is well-developed, with a variety of lodging options and tavernas beside the shore.
Approximately eighteen kilometers east of Chania is the wonderful sandy beach of Kalyves. It provides a blend of arranged spaces and more private sections, making it ideal for water sports and leisure.
How to get to Balos Beach from Chania?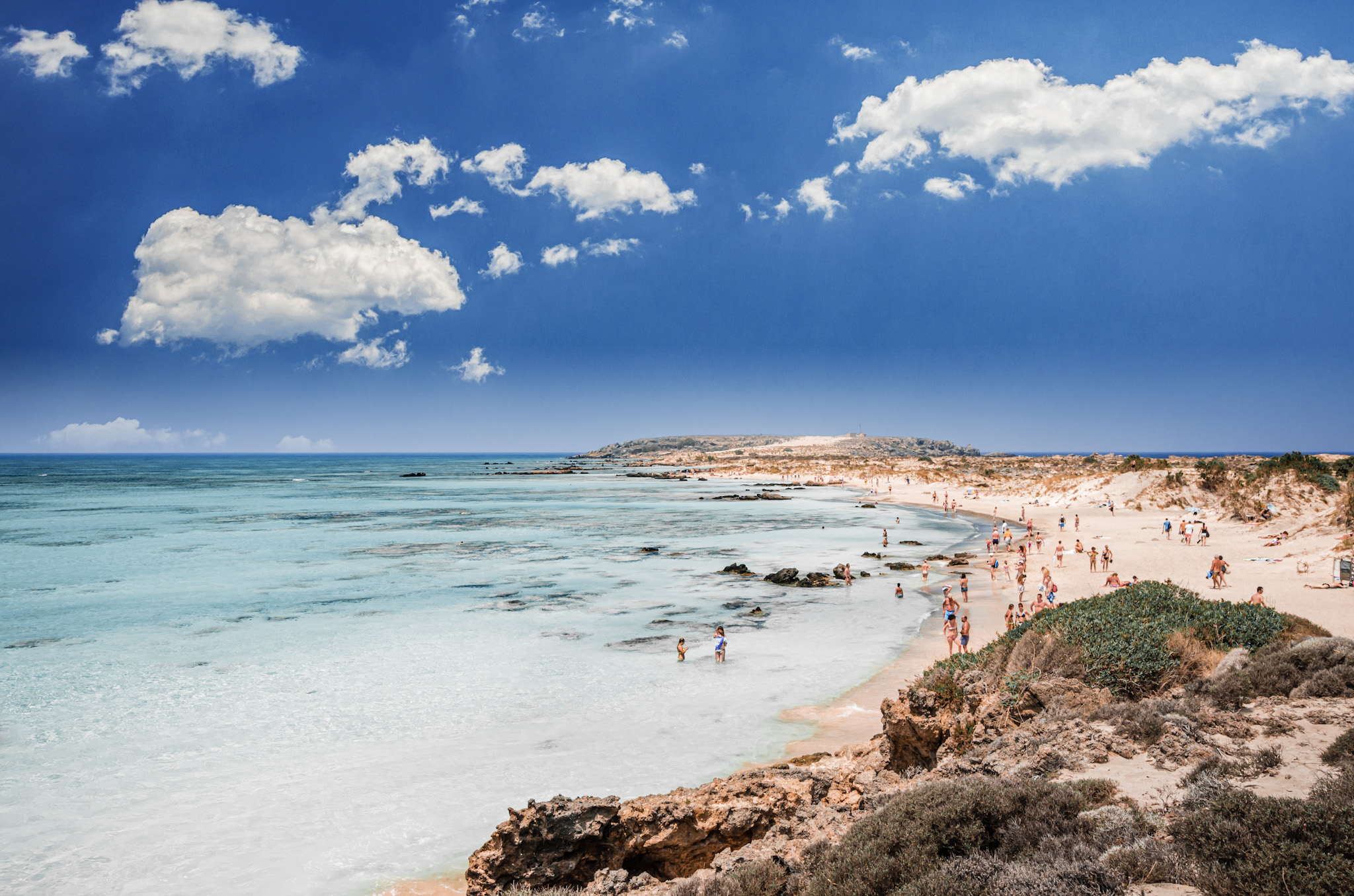 Balos Beach is a beautiful destination in Crete, Greece. It's located in the western part of the island, and Chania is the nearest major city to Balos Beach.
To get to Balos Beach from Chania, you have a few options:
By Car:

Renting a car is the most convenient way to reach Balos Beach. You can pick up a rental car in Chania and drive to the beach. The journey will take approximately 1.5 to 2 hours, depending on traffic and road conditions.
From Chania, take the road to Kissamos (also known as Kastelli). Once you reach Kissamos, follow the signs to Balos Beach. The road will take you to the port of Kissamos, where you can choose between two options for reaching Balos Beach:

By Car: Drive to the port of Kissamos, where you can park your car in a designated parking area. From there, you can take a boat to Balos Beach. The boat trip is a scenic and enjoyable way to reach the beach, and it usually takes around 30-40 minutes.
On Foot: If you're feeling adventurous, you can also hike to Balos Beach from the parking area at the port. The hike takes approximately 1-1.5 hours, and it offers stunning views of the surrounding landscape.

By Tour:

Another option is to join a guided tour from Chania to Balos Beach. Many tour operators in Chania offer day trips to Balos Beach, which typically include transportation, a guided tour, and sometimes lunch. This can be a convenient option if you prefer not to drive yourself.

By Public Transportation:

Public buses also run between Chania and Kissamos. You can take a bus from the Chania central bus station to Kissamos and then follow the same options mentioned above for reaching Balos Beach from Kissamos.
3. Botanical Park & Gardens of Crete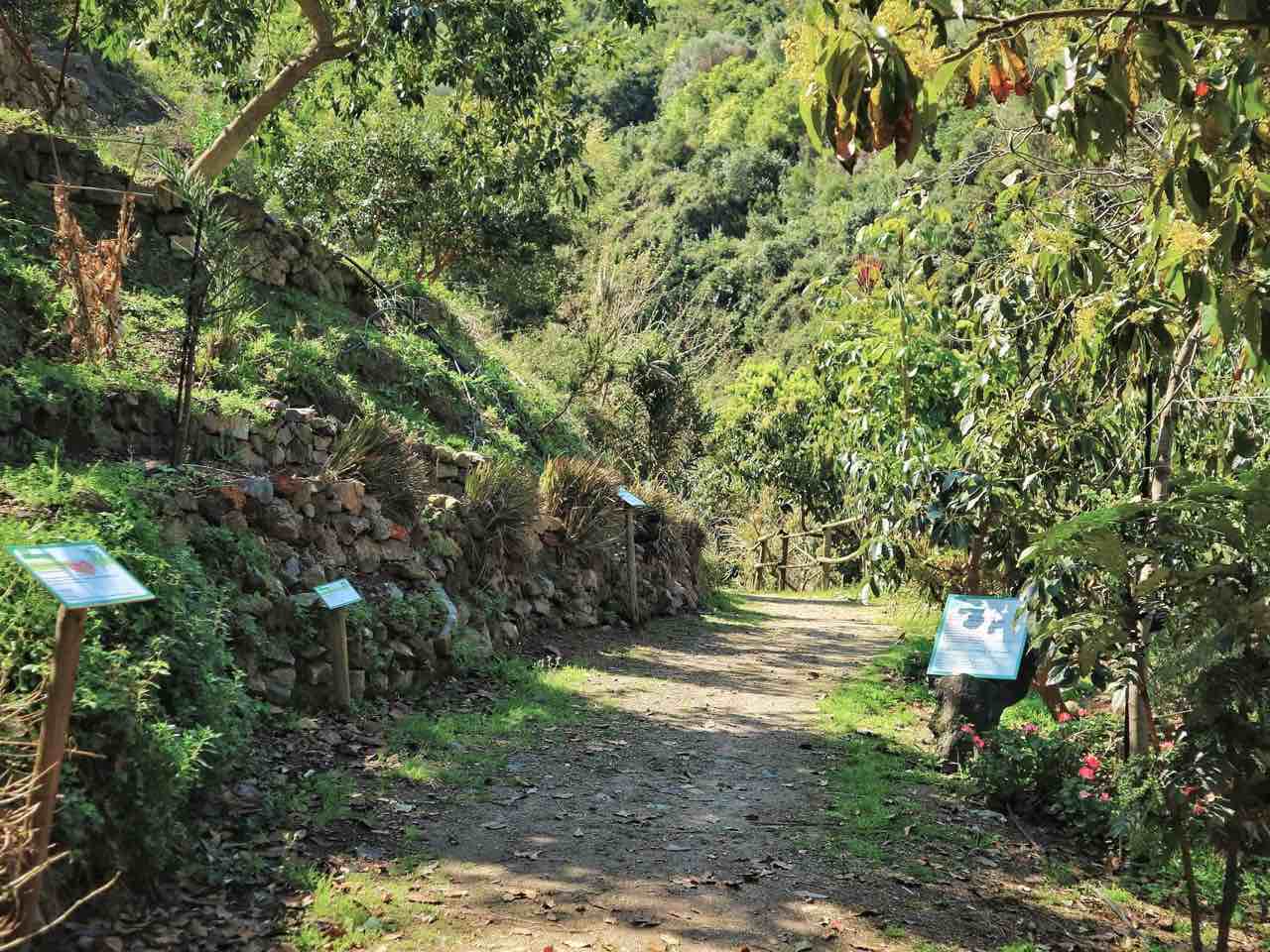 About eighteen kilometers southeast of Chania, Crete, Greece, lies the stunning and distinctive Botanical Park & Gardens of Crete, also called the Botanical Park of Chania. It is situated on the foothills of the White Mountains (Lefka Ori).
The park is home to a wide variety of native and exotic plant species, making it a sanctuary for botany aficionados, nature lovers, and anybody looking for a tranquil and instructive experience.
The park, which covers an area of more than 20 hectares (49 acres), is home to an amazing variety of plants, including rare species from around the globe and indigenous species from Crete. The park is home to more than 1500 distinct plant species.
A sizable olive grove in the park serves to highlight the significance of olives to Cretan culture and industry. Oranges, lemons, and mandarins of all kinds are grown in aromatic citrus groves that are open for visitors to stroll around.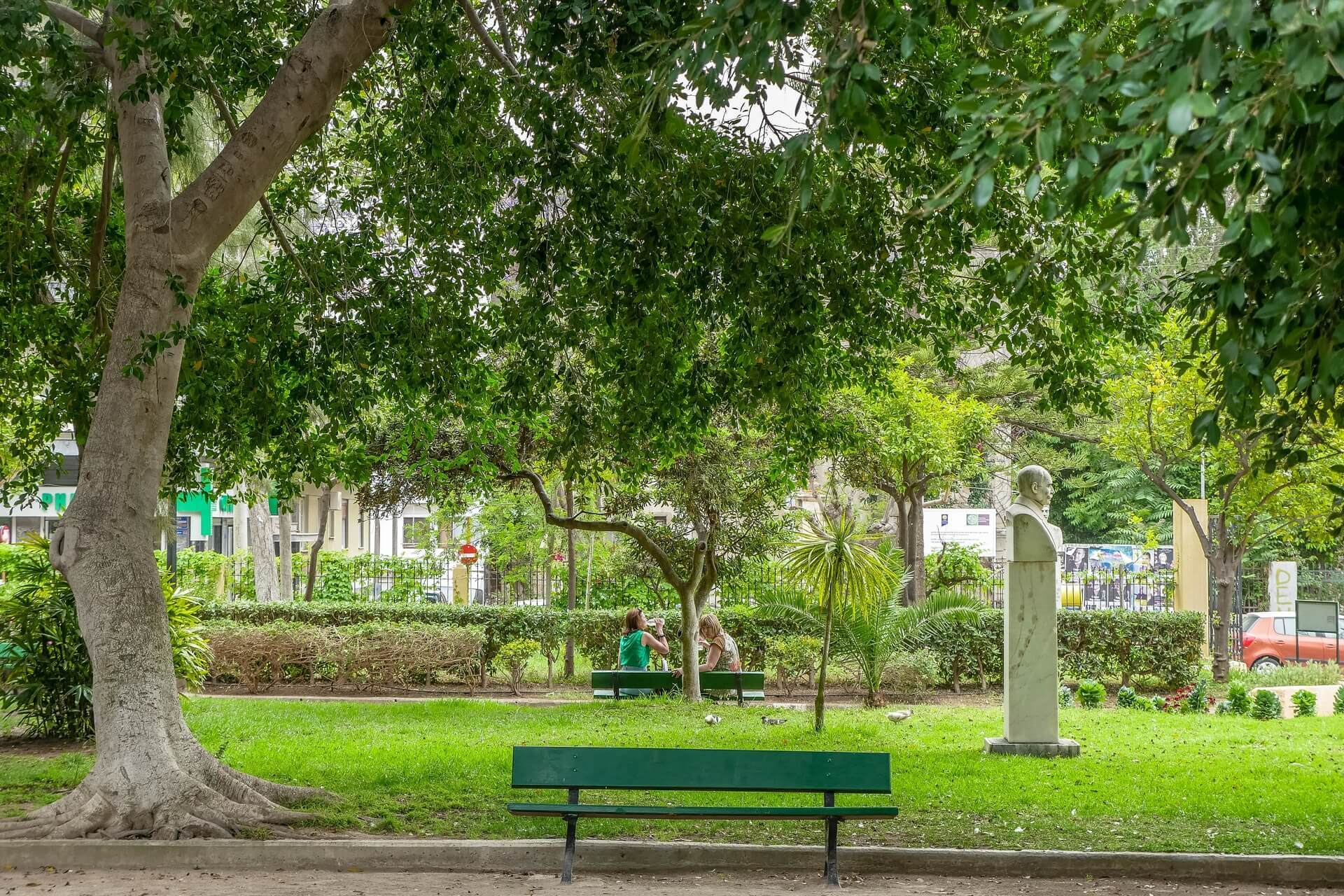 There are designated sections in the park where a vast array of aromatic herbs used in traditional Cretan medicine and cuisine can be grown and displayed.
The park is filled with clearly designated walking routes that let visitors explore the various regions and take in the tranquil surroundings.
With its breathtaking views of the neighboring valleys and mountains, the park makes for a charming location for a leisurely stroll. Children can play and enjoy the outdoors at the playground area, which is a great feature for families with young children.
For anyone interested in learning more about the plants, ecosystems, and sustainable agricultural methods, the park offers guided tours and educational events.
Within the park, there is a café and restaurant where guests may unwind, eat, and try meals prepared using local, fresh products. A selection of locally made goods, souvenirs, and botanical products are available at the park's gift shop.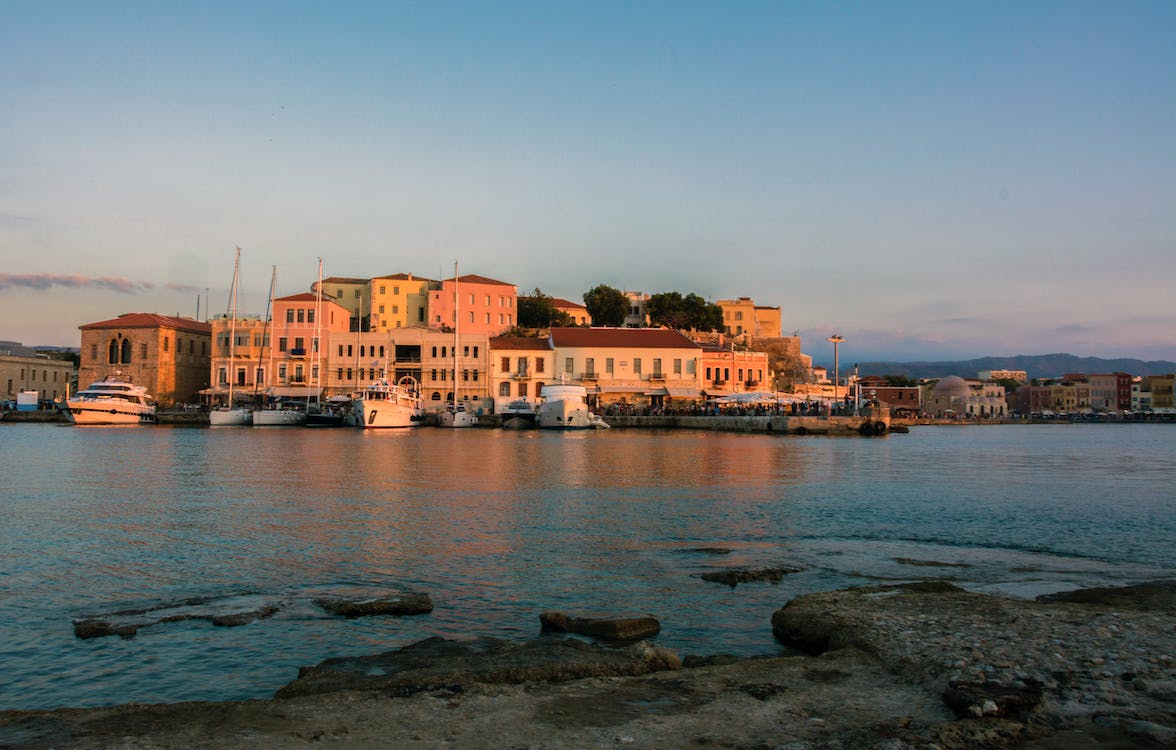 Is Chania walkable?
One of Chania's main attractions is how walkable it is. Whether you want to take in the breathtaking natural beauty, taste the regional food, or immerse yourself in history, walking is frequently the most convenient and pleasurable way to explore this lovely town. Therefore, Chania is undoubtedly a walking location.
 4. Water sports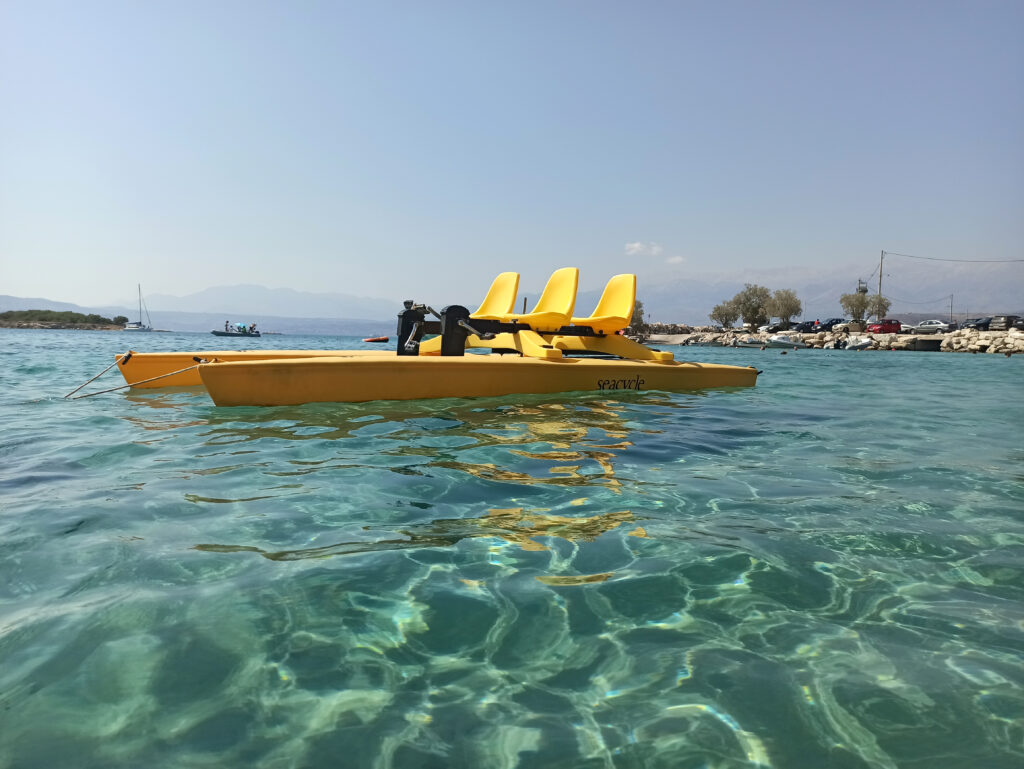 Adventurers and water lovers can enjoy a wide range of thrilling water sports and activities in Chania, which boasts a stunning shoreline and pristine waters. There are several possibilities available to you, regardless of your level of experience in water activities.
Because of the reliable winds found on Chania's beaches, windsurfing is a popular activity. Visit beaches like Platanias, Elafonissi, or Falassarna to locate windsurfing shops that provide lessons and equipment rental.
Chania's wind conditions also make it an excellent place to go kitesurfing. A few of the beaches that are good for kitesurfing are Falassarna, Elafonissi, and Stavros.
Experience the thrill of adventure and relaxation on a stand-up paddleboard. There are several beaches in Chania where SUP is available, including Marathi and Stavros, which have calmer waters.
Kayak across the undiscovered coves and along the coast of Chania. Numerous tour companies provide guided kayak tours so that visitors can experience the area's splendor from a new angle. Rent a jet ski and have an exhilarating trip along the coast if you're looking for some heart-pounding action.
Wakeboarding and water skiing are available at water sports complexes located on some of Chania's beaches, such as Agia Marina and Platanias.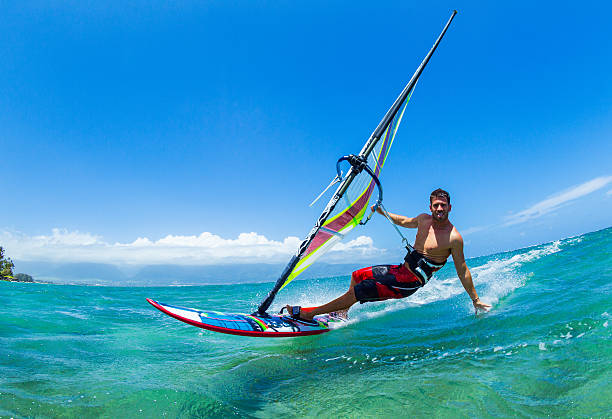 Scuba dive and explore Chania's underwater environment. Divers of all skill levels can take advantage of the training and guided dives that dive centers provide to explore the marine life and amazing underwater scenery.
Without scuba gear, snorkeling is an excellent way to take in the undersea splendor. The crystal-clear waters of Chania's several beaches are ideal for snorkeling.
Try parasailing for a thrilling experience and amazing views of the coastline. Parasailing operators and other organized water sports activities can be found around the beaches.
 5. Chania Municipal Garden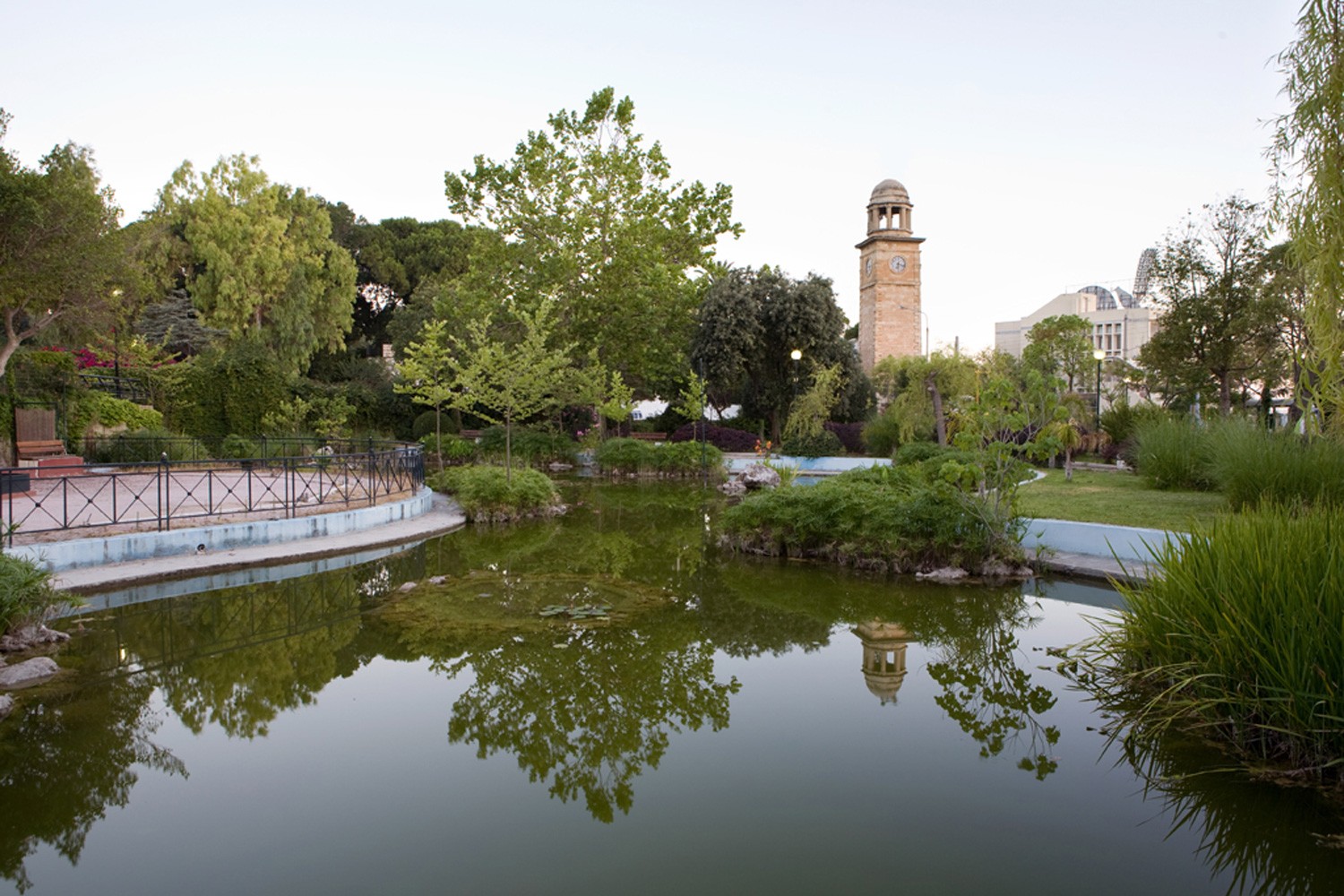 In the center of Chania, Crete, Greece, lies the Chania Municipal Garden, sometimes called the Public Garden of Chania or Kipos. It is a picturesque green haven.
It is a well-liked location for both locals and tourists looking for a tranquil getaway from the busy city streets. The garden's rich foliage, lovely flowers, and covered walkways provide a tranquil and enjoyable atmosphere.
A diverse range of trees, plants, and flowers cover the garden, creating a calm and revitalizing atmosphere ideal for leisurely strolls and picnics.
The playgrounds in the garden are available to families with kids, making it a great area for them to have fun and burn off some energy.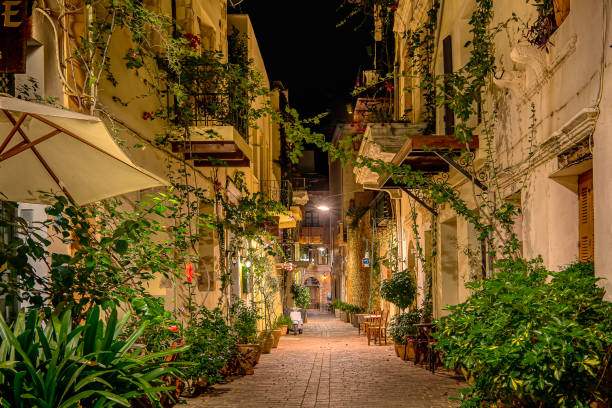 There are several benches strewn throughout the area, so guests may sit and soak in the tranquil surroundings, read a book, or just take a break from visiting the city.
The park's natural attractiveness is enhanced by the variety of birds and small animals that call the Chania Municipal Garden home.
The park's aesthetic appeal is further enhanced by the garden, which has a central fountain surrounded by sculptures and statues. The garden occasionally offers concerts, exhibitions, and other activities that enhance the area's aesthetic appeal.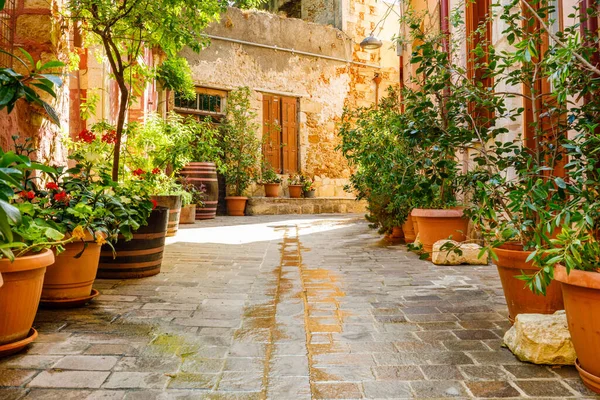 Within the garden is a small café where you may relax with drinks, nibbles, or ice cream in a peaceful setting.
The Chania Municipal Garden is not only a stunning park but also a historical landmark, having been established in the middle of the 19th century. Tall trees with dense foliage offer welcome relief from the summer heat by casting much-needed shade.
Where to Stay in Chania?
Chania offers a wide range of accommodation options, from luxury hotels to charming guesthouses. Depending on your preferences, you can choose to stay in the heart of the Old Town for a more authentic experience or opt for a beachfront resort for a touch of luxury.
Dining Delights
6. Wine Tasting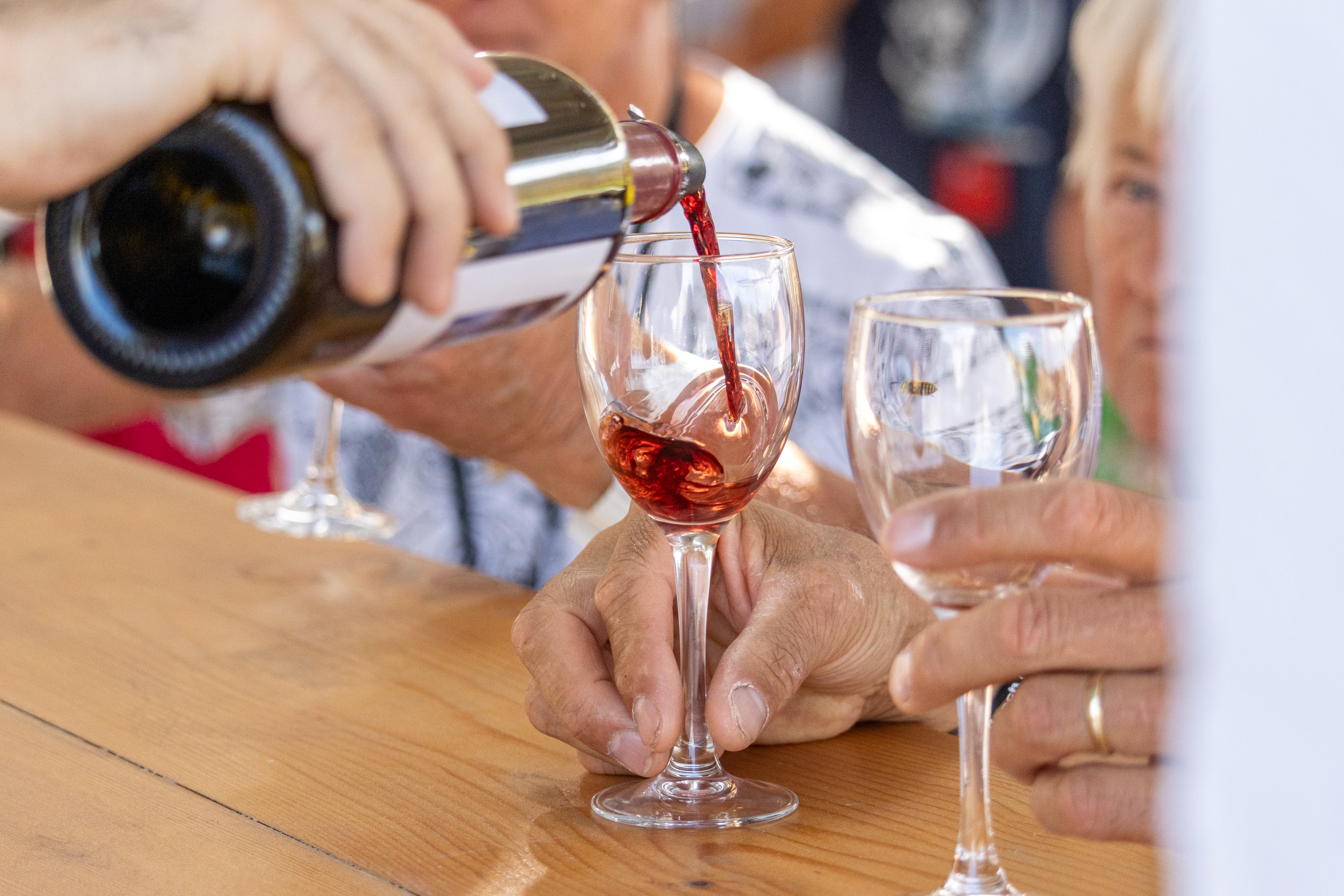 Situated on the island of Crete, Chania is a great place to taste wine because the area has a long history of winemaking and produces some really good wines. Because of the soil and climate of the island, Cretan wines are renowned for having distinct flavors and aromas.
Wine tastings and excursions are available at a number of the wineries in and around Chania. Manousakis Winery, Karavitakis Winery, Dourakis Winery, and Anoskeli Winery are a few well-known wineries. Every one of these wineries offers a chance to learn about the winemaking process in addition to producing a range of wines.
There are wine taverns and stores that provide wine tastings in Chania's Old Town and other locations. These places frequently have a large assortment of Cretan wines, so you can try several types and vintages.
Chania hosts a number of wine festivals and events all year long where you may sample wines from various growers and locations. To make the most of your wine-tasting experience, keep an eye out for regional wine festivals and cultural events.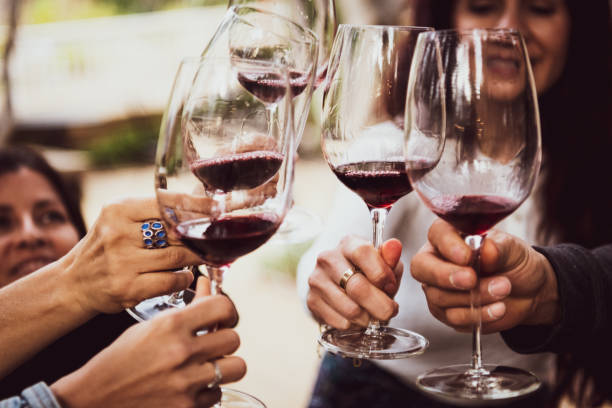 Think about signing up for a guided wine tour that visits several local wineries. These excursions offer a simple and all-inclusive method to experience Cretan wines, usually including transportation, winery visits, and guided tastings.
Wine and food matching experiences are available at a lot of Chania's eateries and tavernas. For a special dining experience, try complementing native Cretan foods with their corresponding wines to bring out the flavors even more.
Local wines are available at traditional Cretan tavernas that you may stumble upon while exploring the city. Seize the chance to sample some local wines with mouthwatering cuisine.
Native grape varietals including Vidiano, Vilana, and Kotsifali are frequently used in Cretan wines. Asking locals or the personnel at the wine venues for advice won't hurt you because they may help you choose wines that fit your preferences.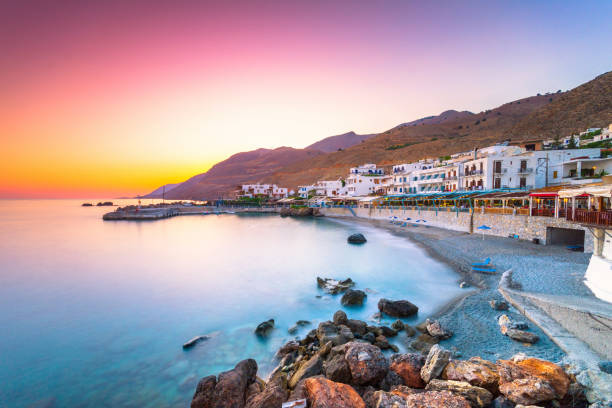 How cheap is Chania?
Travelers on a variety of budgets can have a pleasant trip to Chania. You can enjoy a reasonably priced and pleasurable stay in this lovely Cretan town by dining at traditional restaurants, choosing to engage with the locals, and exercising financial restraint.
7. Cretan Cuisine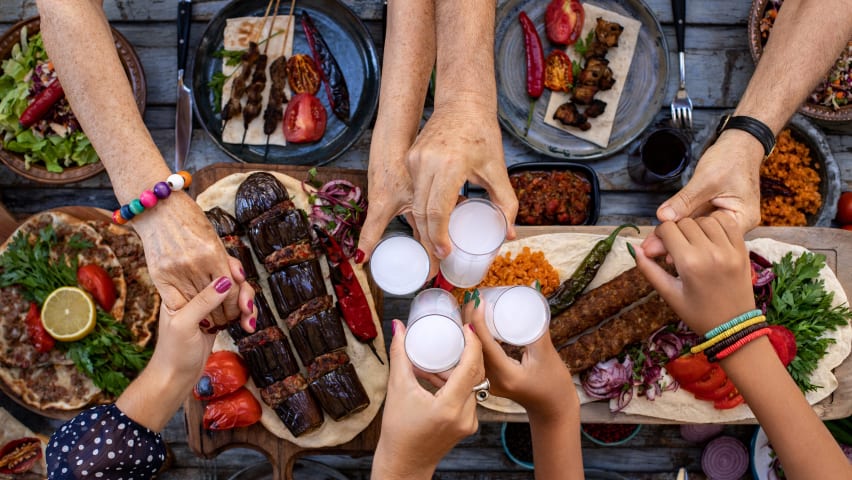 The island's history, topography, and natural resources are all reflected in the cuisine of the Creta. One of the healthiest diets in the world is thought to consist of Cretan food, which is renowned for its simplicity, freshness, and healthfulness.
The island's long history of agriculture, pleasant temperature, and closeness to the sea all contribute to the variety and richness of Cretan cuisine.
The main ingredient in Cretan cooking is olive oil. It is a mainstay of the health benefits of the Cretan diet and is used widely in cooking, salads, and dips.
Fresh, regional ingredients, like as fruits, vegetables, cereals, legumes, herbs, and fish, are the mainstay of Cretan cuisine. Dakos is a classic Cretan salad consisting of tomatoes, feta cheese, olives, dry barley rusk, and a liberal amount of olive oil.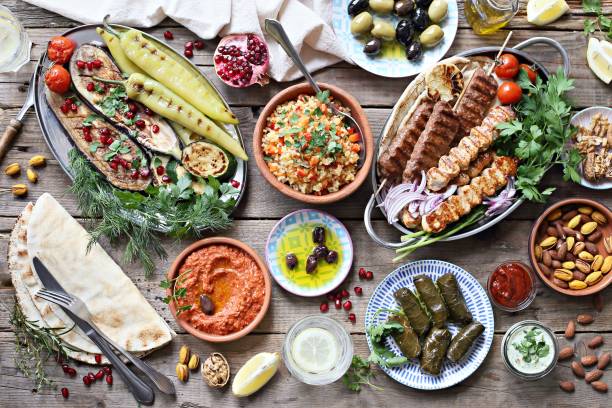 These are little savory pastries that can be filled with cheese, herbs, or vegetables, among other things. They are frequently offered as snacks or appetizers.
Like the popular Greek salad, the Cretan salad has tomatoes, cucumbers, onions, olives, and feta cheese that are farmed nearby. Grilled meat, especially lamb and hog, is a favorite dish of the Cretans, who often season it with thyme and oregano from the area.
Because it is an island, Crete has an abundance of fresh seafood available, such as fish, squid, and octopus, all of which are prepared in easy yet delectable ways.
Snails are a special treat in Cretan cooking; they're prepared with lots of different herbs and spices to make a tasty meal.
A common ingredient in Cretan kitchens, dried barley rusks are coated in olive oil and eaten with regional cheeses and olives, or they can be the foundation for recipes such as Dakos.
The quality of Cretan honey is well known, and the island also produces several very good cheeses, like anthotyro, myzithra, and graviera. This classic Cretan spirit is made from grape pomace and is frequently served as a welcome beverage to guests.
What is the typical food in Chania?
The cuisine of the area celebrates the island's rich history, traditional recipes, and fresh ingredients. In order to really experience the flavors of Crete, make sure to savor these mouthwatering and authentic delicacies when you visit Chania.
Discover Chania's Monuments
8. Chania Old Town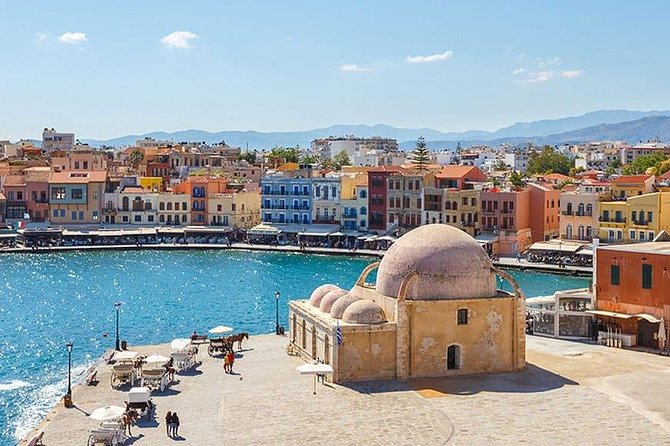 Greece's Chania Old Town is a charming, beautifully preserved neighborhood on the northwest coast of the island of Crete. It's among the island's most quaint and important historical districts.
With a rich history spanning several centuries and a distinct blend of Greek, Ottoman, and Venetian influences, Chania Old Town is a must-see destination.
As was already mentioned, the Old Town's attraction is greatly enhanced by its close proximity to the Venetian Harbor.
Explore the Old Town's winding, maze-like alleyways and lanes, where you can see stunning Venetian and Ottoman structures, arches, and fountains. The city's rich cultural legacy and past are reflected in its architecture.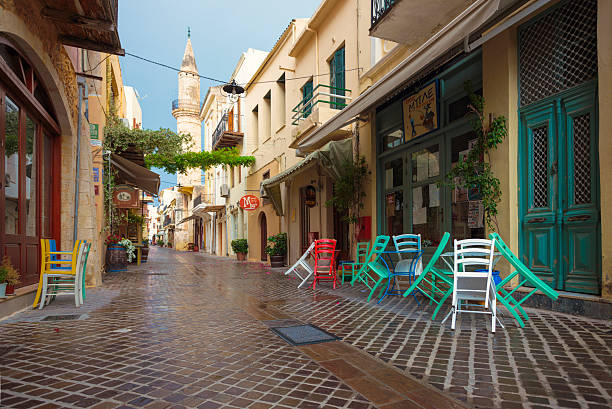 This museum, which is situated right in the middle of Old Town, has an amazing collection of items from several historical eras, such as the Minoan, Roman, and Byzantine periods. Discover the renovated old Etz Hayyim Synagogue, a symbol of Chania's once-vibrant Jewish community.
An impressive Venetian structure known as the "Megalo Arsenali" was formerly a shipyard and is currently the site of exhibitions and cultural activities.
Discover Chania Old Town's Splantzia, a Turkish neighborhood with a blend of Ottoman and regional Greek architecture.
A vibrant marketplace offering fresh fruit, regional goods, and souvenirs, the Agora marketplace is a terrific place to fully experience the local way of life.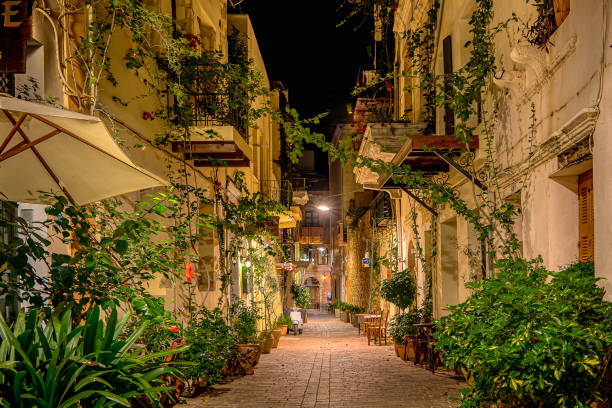 Numerous medieval churches, including the Church of St. Nicholas and the Cathedral of the Presentation of the Virgin Mary, can be found in Chania Old Town.
Explore a variety of art galleries, boutiques, and craft stores to find one-of-a-kind souvenirs and handcrafted goods. Take in breathtaking views of the city and the sea as you stroll along the Venetian walls that formerly encircled the Old Town.
Known as "Agora," this market structure combines Ottoman and Venetian architectural styles and is a fantastic way to get a glimpse of local life.
There are tons of quaint cafes, authentic tavernas, and restaurants in the Old Town where you can enjoy mouthwatering Cretan food and take in the lively environment.
 
9. Archaeological Museum of Chania
Situated in Chania, Crete, Greece, the Archaeological Museum of Chania, also called the Chania Archaeological Museum, is a prominent cultural establishment.
Among the most significant museums on the island, it has an amazing collection of objects that illuminate the complex history of Crete, which extends from the Neolithic to the Roman eras.
Archaeological discoveries from all around western Crete are included in the museum's collection, including artifacts from ancient towns such as Kydonia (the prehistoric name for Chania), Aptera, Polyrrhenia, and other Minoan and Roman sites.
The museum's vast collection of Minoan artifacts is one of its primary draws. One of Europe's oldest and most developed civilizations, the Minoan is represented at the museum with ceramics, sculptures, tools, and other artifacts that shed light on Minoan customs and way of life.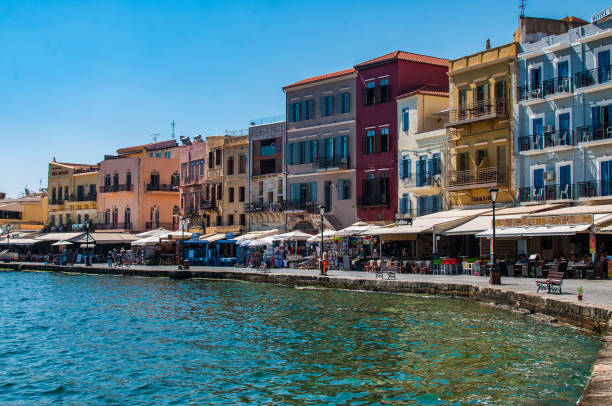 In addition, the museum has Roman-era items such as mosaics, sculptures, and commonplace items that provide insights into the Roman influence on the island. The museum features a variety of intact frescoes and inscriptions that are on display for visitors to admire.
The museum's layout, with multiple exhibition halls devoted to various historical eras and subjects, facilitates visitors' exploration of Crete's rich historical legacy.
Situated within a stunning 16th-century Venetian structure, the museum's architectural design contributes to the whole cultural encounter.
Multimedia displays and interactive exhibits are used in some museum areas to create a more interesting and instructive experience. Periodically, the museum holds temporary exhibitions that provide an expanded scope of coverage on historical and archaeological subjects.
What is the best time to visit Chania, Crete?
When the weather is nice and there are less tourists, spring or fall are the ideal seasons to visit.
10. Maritime Museum of Crete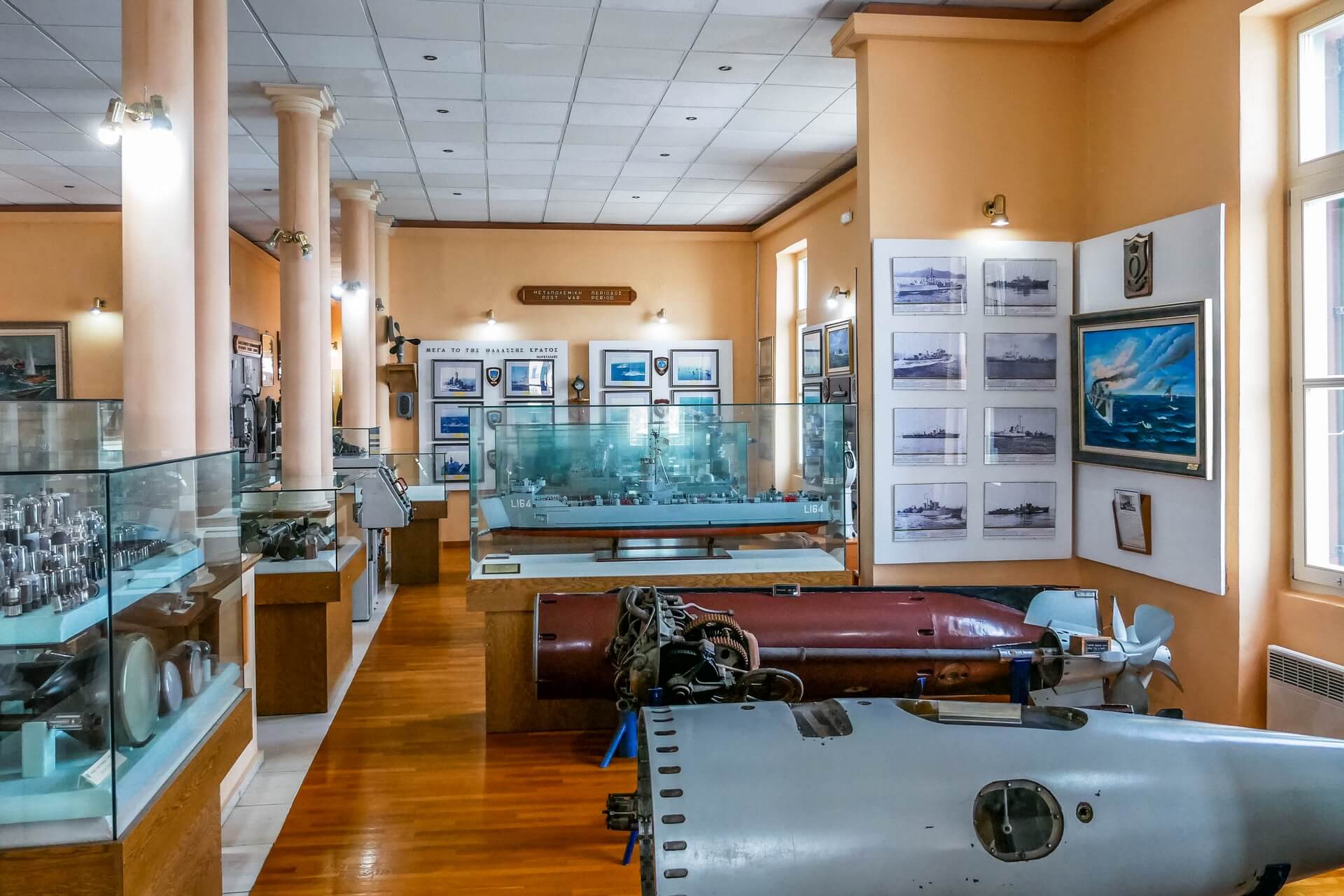 Located in Chania, Crete, Greece, the Maritime Museum of Crete is another important cultural institution. The museum, as its name implies, emphasizes Crete's marine heritage and history, emphasizing the island's close relationship to the sea.
It offers tourists an engrossing voyage through Crete's nautical heritage, highlighting the island's strategic significance throughout history, shipbuilding accomplishments, and seafaring customs.
A thorough history of Crete's maritime history, spanning antiquity to the present, is provided by the museum. It encompasses trade, piracy, exploration, and naval warfare, among other facets of marine life.
The museum's collection of intricate ship models, which depict various vessels used throughout history, from ancient times to more current times, is one of its highlights.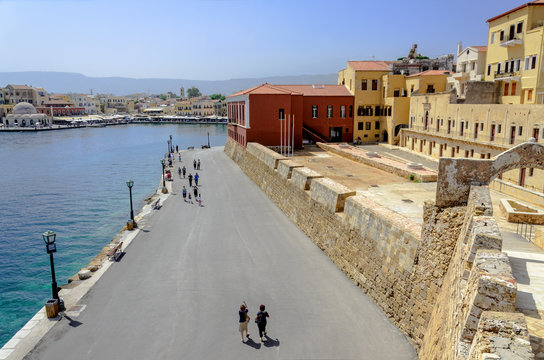 The museum features a variety of nautical instruments, equipment, and navigational gear that have been utilized by navigators and sailors over the years.
A vast array of nautical relics, such as fishing gear, rigging, sails, and anchors, are available for visitors to examine, offering valuable insights into the Cretan maritime way of life.
A collection of historical records, maps, and nautical charts kept in the museum provide insight into the island's marine activities and the evolution of navigation.
The museum adds an artistic element to the exhibition by showcasing photography and art with a marine theme from different eras in addition to the historical objects.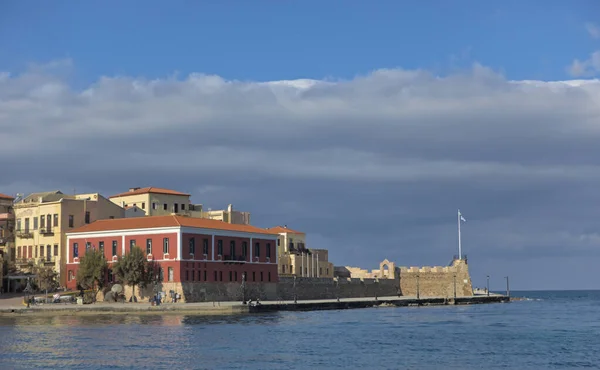 The World War II Battle of Crete is honored in a special space within the museum, together with the memories of those who died in the fighting.
The Maritime Museum of Crete is a family-friendly attraction since it frequently offers educational seminars and events for visitors of all ages.
The historic Venetian Arsenal building, which was formerly utilized for shipbuilding and repair during the Venetian era, is now home to the museum.
 
11. Chania Archaeological Sites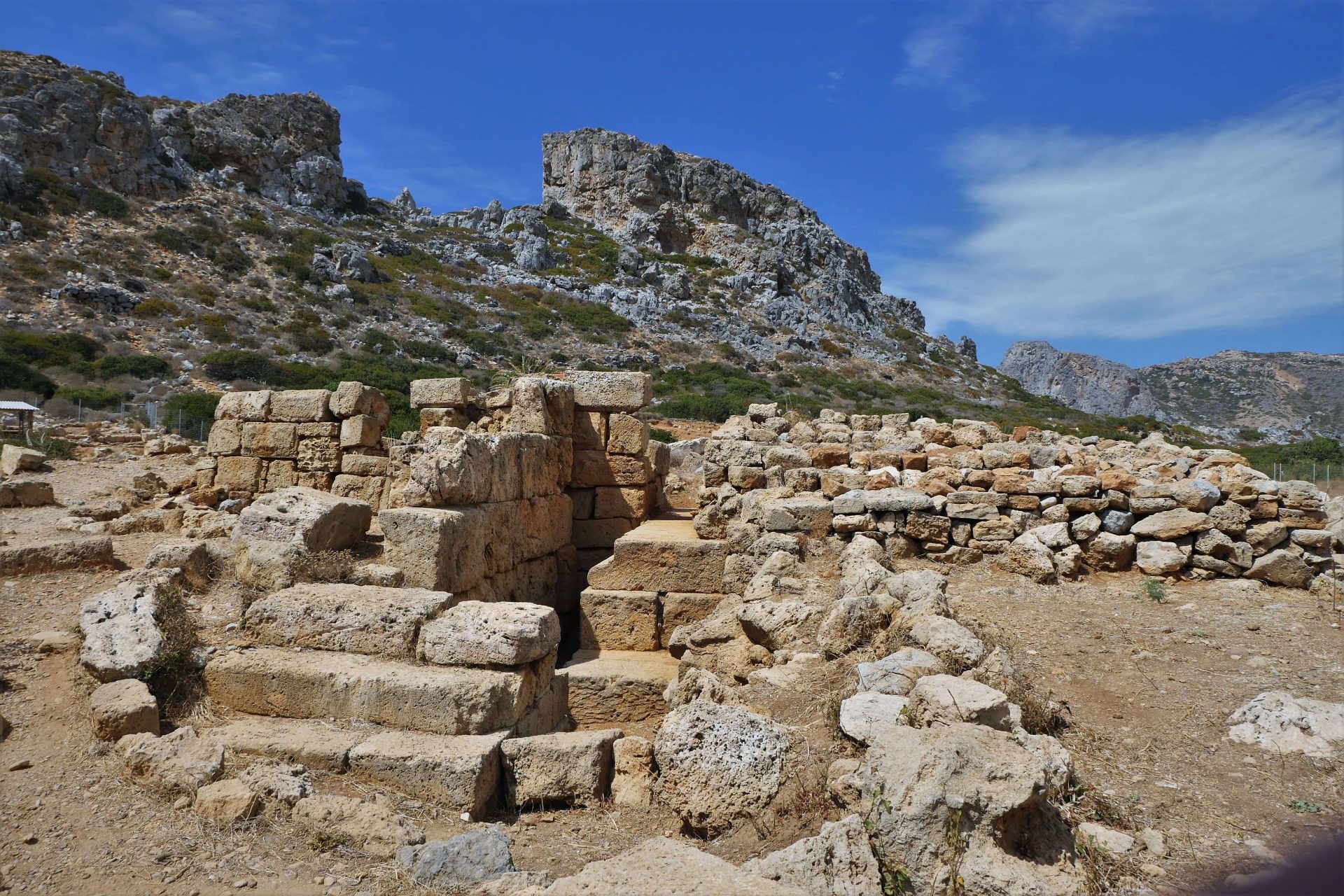 As an old city with a lengthy and illustrious past, Chania is home to a number of intriguing archeological monuments that highlight the region's rich cultural legacy.
In the center of contemporary Chania stands the archeological site of ancient Kydonia. The Minoan village of Kydonia, which subsequently developed into a significant Greek city-state, was located here. Parts of the city's necropolis and the old walls' remnants are still visible today.
Near Chania lies Aptera, an ancient Minoan and later Greek city. It provides breathtaking views of the surrounding landscape and Souda Bay. Explore Roman cistern ruins, a theater, temples, and fortifications at the location.
Polyrrhenia is an old Doric city about 40 km west of Chania. It has walls from the Hellenistic era and an acropolis that has been preserved. The location provides expansive views of the mountains and water.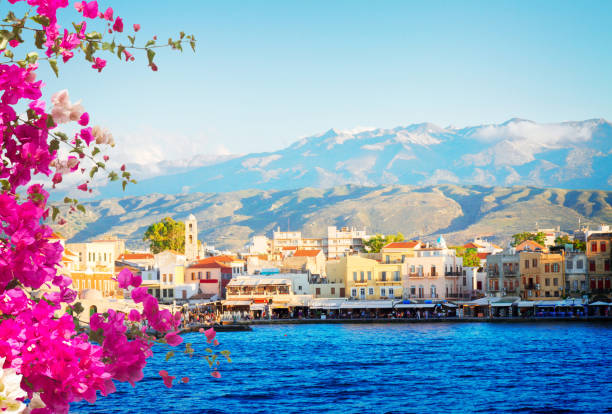 While Falassarna is most famous for its gorgeous beach, it also contains the ruins of an ancient Hellenistic harbor city. Port infrastructure, residential quarters, and portions of the city's walls have all been exposed by archeological digs.
Southwest of Chania is the historic port town of Lissos. During the Hellenistic and Roman eras, it was a significant city renowned for its Asclepius-dedicated healing shrine. Roman baths, tombs, and temple remnants can all be found at the location.
The historic Yiali Tzamisi mosque, which dates back to the Ottoman era, is situated in Chania, close to the Venetian Harbor. It is a unique architectural feature of the waterfront area and a reflection of the city's Ottoman past.
 12. Old Venetian Harbour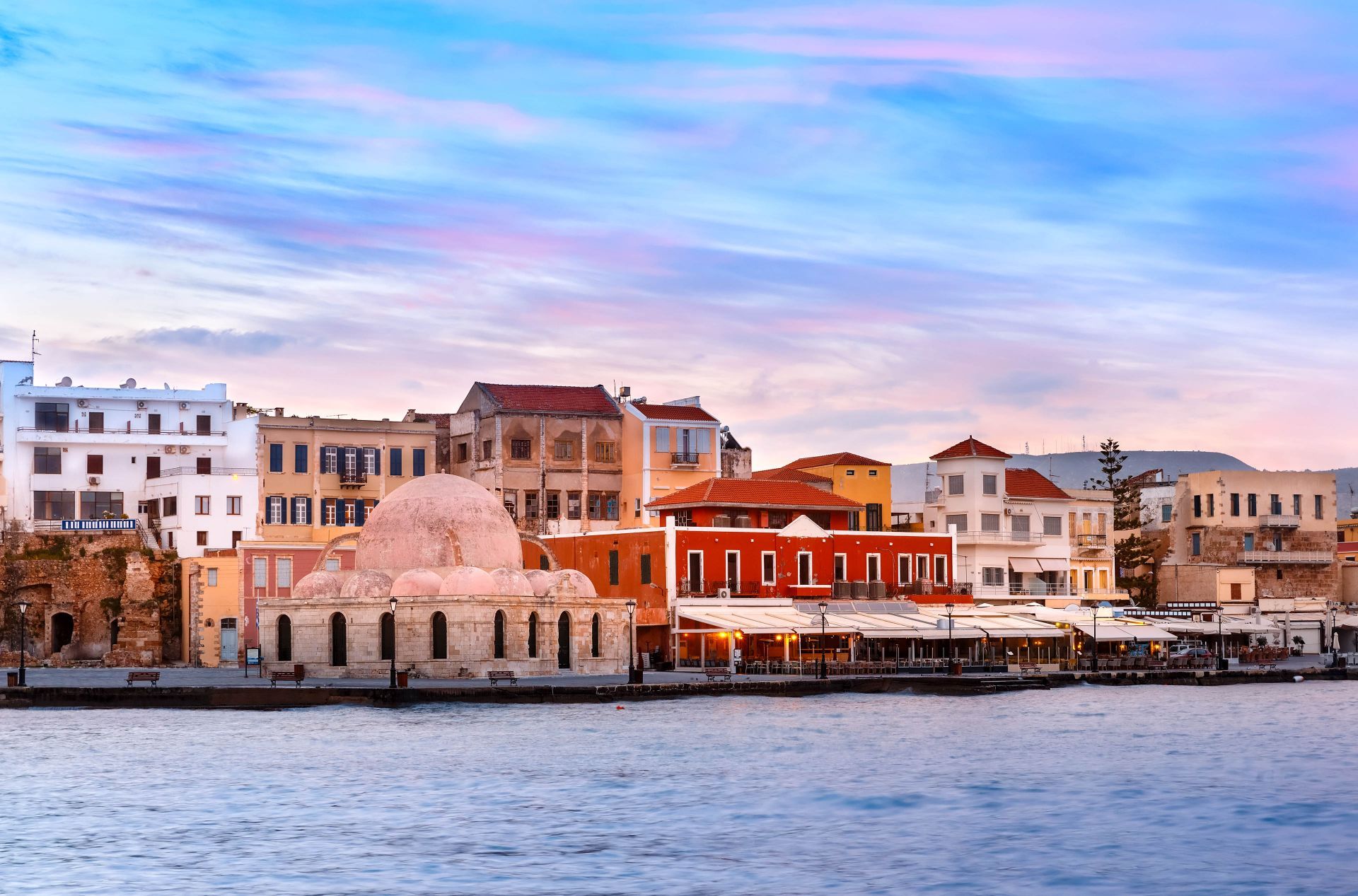 One of Chania's most recognizable and gorgeous landmarks is the Old Venetian Harbor. It is a historically significant harbor that stretches back to Chania's Venetian era in the fourteenth century. The harbor is still a busy, lively place today, drawing both residents and visitors with its quaint atmosphere and breathtaking views.
Situated at the harbor's entrance, the famous Venetian lighthouse, dubbed "Faros," represents Chania. It provides an excellent vantage point and a terrific place to observe the sunset.
Enjoy a stroll around the waterfront while taking in the vibrant Venetian and Ottoman architecture that hugs the bay. A quaint and romantic ambiance is created by the little streets and picturesque lanes.
Take a boat cruise to see the harbor and the surrounding area. Numerous travel companies provide boat excursions to neighboring sites like the Balos Lagoon and the island of Agioi Theodoroi.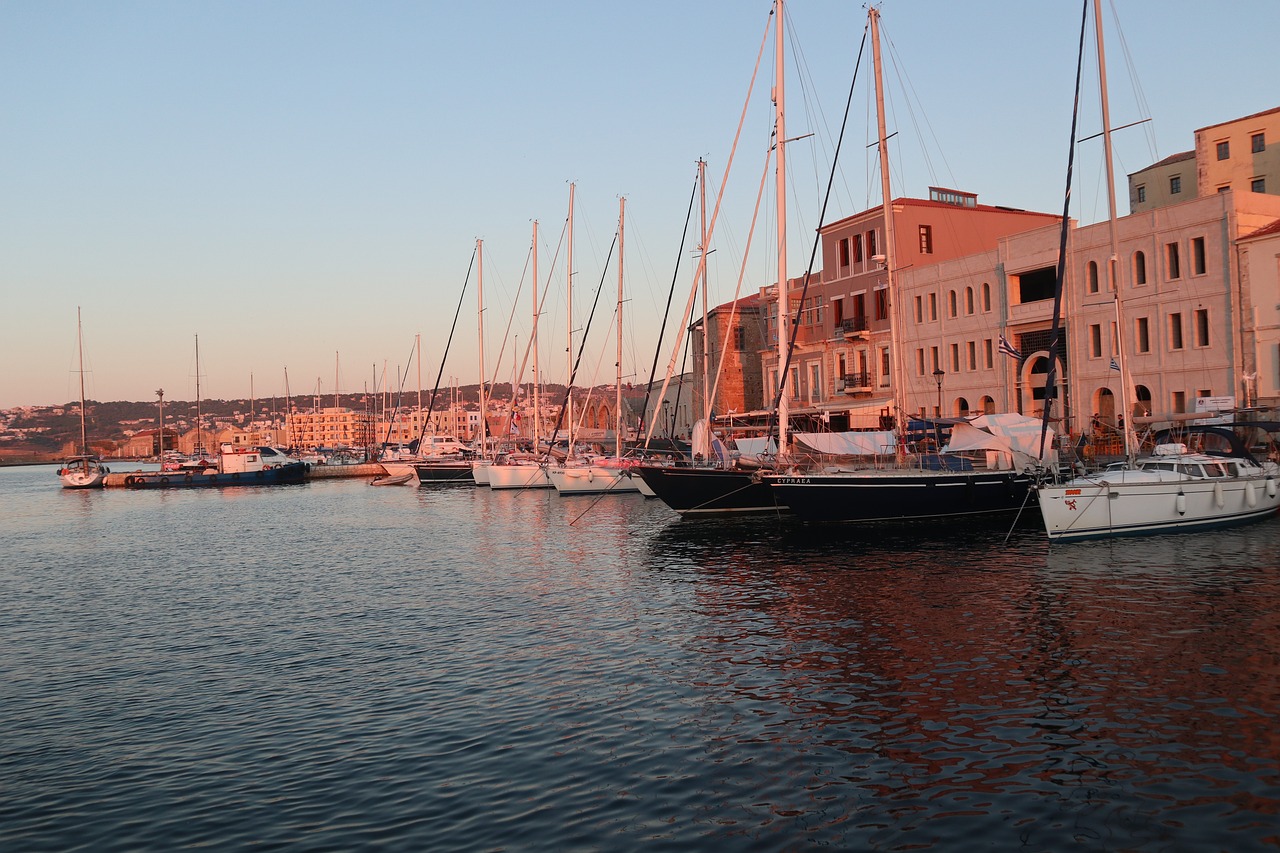 There are a lot of cafes, tavernas, and seafood eateries strewn throughout the waterfront. Savor a leisurely lunch or a cool beverage while admiring the breathtaking scenery.
Numerous stores offering handcrafted goods, souvenirs, local crafts, and traditional Cretan products line the harbor area.
Archaeological structures like the Yiali Tzami mosque, which represents the Ottoman influence in the area, are located close to the harbor.
Particularly in the summer, the Old Venetian Harbor is frequently the site of festivals, art exhibitions, and other cultural events.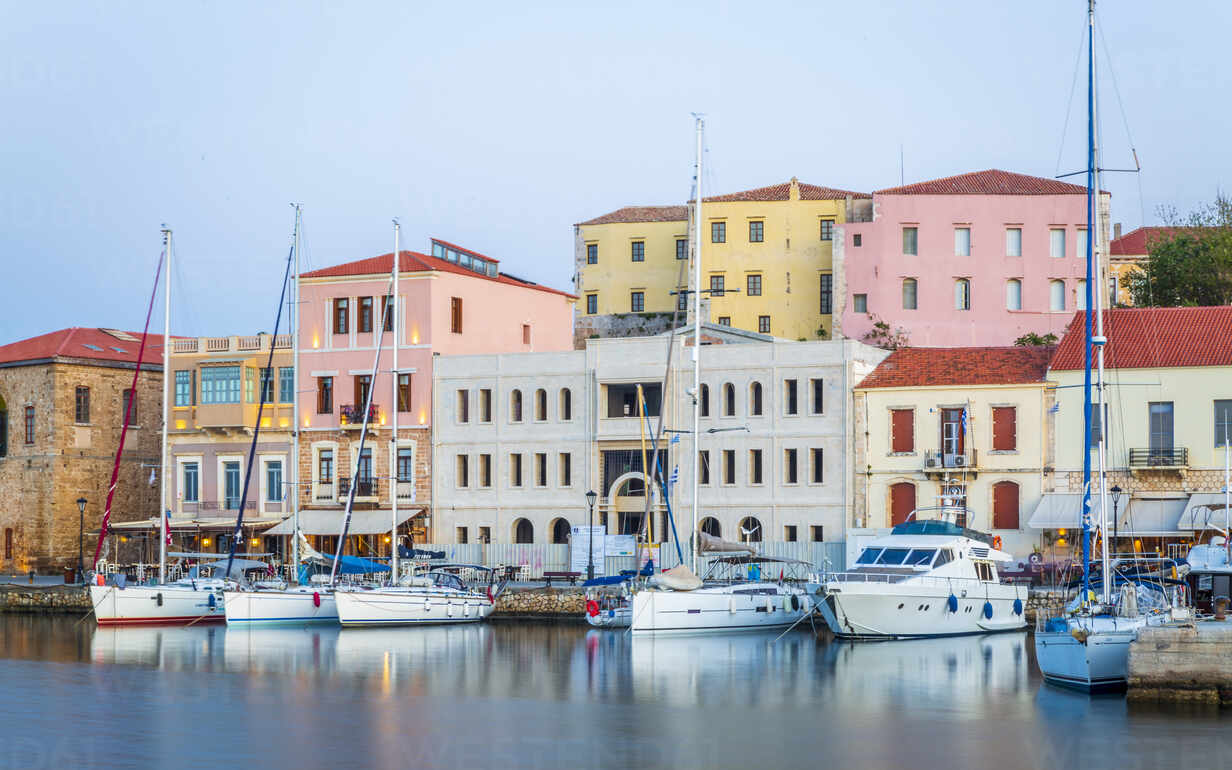 In the Venetian era, this ancient edifice was a shipyard. After renovations, it now hosts exhibitions and cultural activities.
As previously indicated, this museum, which is close to the harbor, provides insightful information on the island's seafaring past while showcasing Crete's rich maritime history.
The waterfront area comes alive with a bustling nightclub scene in the evenings. You may interact, dance, and enjoy live music at a lot of taverns and clubs.
 
Immerse in Local Culture
13. Agora Marketplace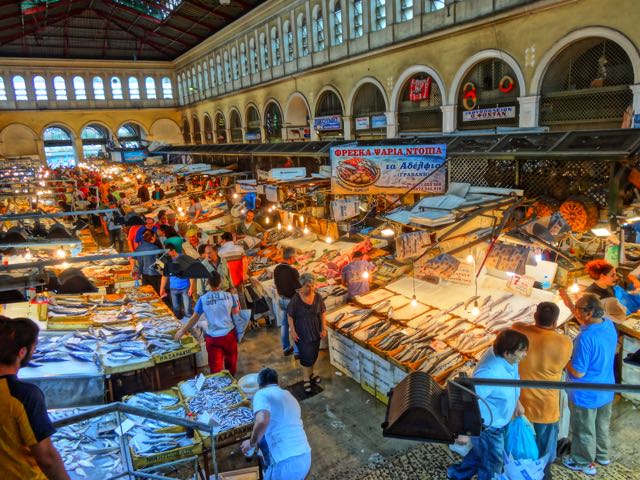 Located in the center of Chania's Old Town, the Agora Marketplace, also called the Chania Municipal Market, is a lively and bustling marketplace. With its enjoyable shopping and cultural offerings, it is one of the city's most well-liked tourist and local sites.
The market is housed in a stunning structure that mixes Ottoman and Venetian architectural elements, giving guests a really unique experience.
For fresh produce, herbs, fruits, and vegetables as well as locally made goods, visit the Agora. It's a fantastic chance to experience the flavors of Crete and learn about the delectable and nutritious vegetables found on the island.
There is a fresh seafood part of the market with a range of fish and other marine specialties that are caught in the Mediterranean.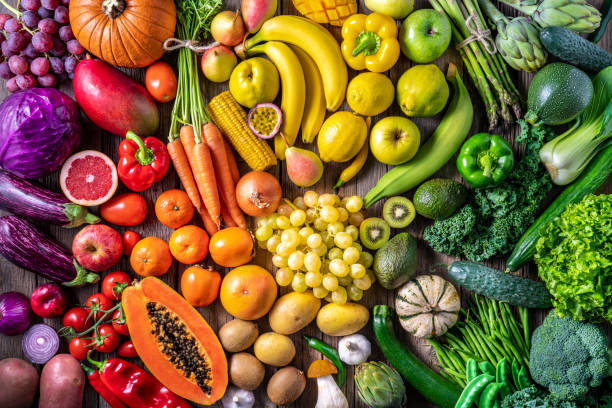 Apart from fresh produce, the Agora provides a choice of premium meats and regional specialties including cheeses, olives, and olive oil.
In addition to food vendors, you may also discover merchants offering a variety of traditional Cretan goods, such as handcrafted items, textiles, ceramics, and mementos.
You may see daily life in Chania and fully immerse yourself in the local culture by paying a visit to the Agora. You can engage with the amiable sellers and discover how real Cretan shopping is done.
It's the ideal place to take a break from shopping because the market building is filled with tiny cafés and tavernas serving traditional Cretan food and drinks.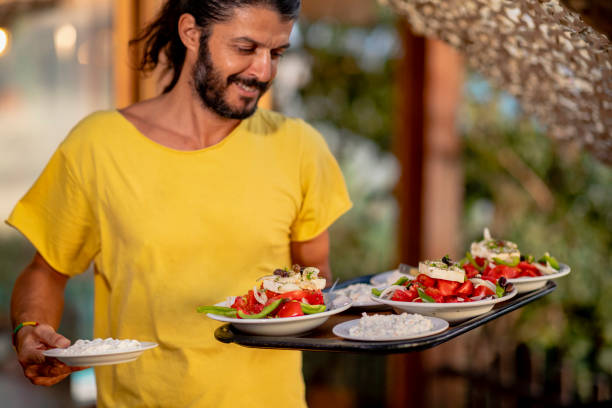 Events, food festivals, and cultural festivities are periodically held at the Agora, offering more chances to immerse oneself in the culture of the region.
The structure is a historical landmark that features an intriguing blend of Ottoman and Venetian architectural elements. As you investigate the market, it's worthwhile to admire the construction.
 
Explore Crete Today with a Guided Tour
The destination of Chania, Crete, promises to be a very remarkable experience. Every traveler will find something to appreciate about this area with its colorful culture, natural beauties, and rich history. For those who enjoy gastronomy, history, or adventure, Chania offers something unique in store. So gather your belongings and set out on an amazing journey to this oasis in the Mediterranean.