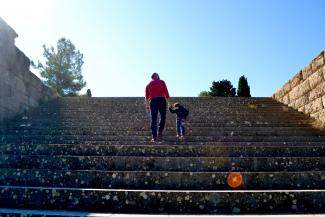 Walking the Asklepeion steps with my son…
Submitted by discoverd1 |
It was March and we were glad that it was a nice day, sunny and warm. We decided to visit the site of the Asklepeion of Kos and actually have a private tour with a guide so that our kids would understand better the importance of the site. Of course that is what we wanted but we didn't actually ask them five year old and the one year old baby about it so instead of listening to the guide they enjoyed the scenery and calmness of the place. 

It is there when I understood that although many locals think they know everything about their island, village, country etc, but then they experience a tour with a professional guide, a person that has studied the place, the history and culture and is there for you to answer your questions, they have a Eureka moment. 

My Eureka moment came while climbing the main staircase of the Askpepeion of Kos holding my son, when I understood that these same steps were used some three thousand years ago by travelers from the known world to get healed. They were coming to this place to find peace, health and support for their problems, and it was there that other people cared about them and wanted them to feel better. It was there that Hippocrates, the father of medicine, learned about healing and the power of nature and our body. Most important of all was the fact that people were getting healed by others even if they didn't have any possession or money, and healers were giving their treatments to other so that they get better. Finally, it was in that sanctuary of Cypresses and pine trees covered ruins, that the idea of hospital and health care was invented, and from then until today doctors from all over the planet are still finishing their studies by reciting the Hippocratic oath. 
I believe that anyone visiting the island of Kos must visit this beautiful part of the forest that Asklepeion rests, and allow for a Eureka moment to happen. 
Our tours are with professional guides and the use of audio visual tools to further enhance the experience of this mind-blowing place.